MySoftToday is an adware that poses as a very useful tool that will allow you to have daily access to the best free or low cost apps for Android. Truth is this program is nothing but a new version of FreeSoftToday, OneSoftPerDay and MyBestOffersToday, programs already covered on the pages of How to Remove. Clearly we're facing an old infection with a bit of a makeover, with no useful traits whatsoever… The French company behind this infection (Tuto4PC, Eorezo) probably thought the previous names for its program were already too recognized to be useful for them anymore.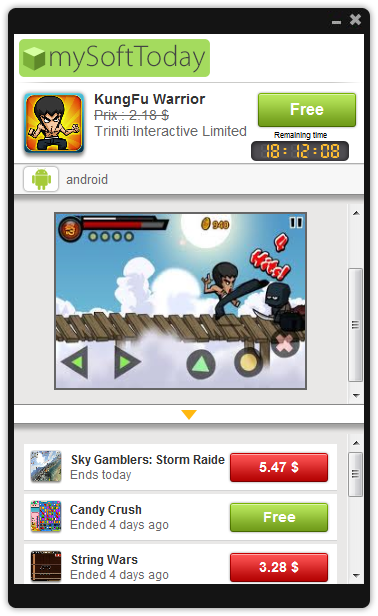 If MySoftToday is installed in your computer it will have everything they need to act without any restriction and execute some of the tasks covered in their conditions of use. Among those tasks, MySoftToday can:
save every web address you visit
send you ads to your cell phone via SMS or MMS
change your web browser parameters (favorites, home page, new page)
show you ads all the time and everywhere
MySoftToday will surely need to use resources from your computer in order to execute all these tasks. No wonder you'll be experiencing strong delays, and might even end up with a non responsive computer.
You should know that
mySoftToday
is considered as suspicious by 31 security software.
File name:
mysofttoday.exe
Analysis date:
25 November 2014
Scanner detections:
31 / 54
ESET-NOD32
Win32/AdWare.EoRezo.AW
BitDefender
Adware.Eorezo.BZ
Kaspersky
not-a-virus:AdWare.Win32.Eorezo.gfr
DrWeb
Adware.Downware.9051
MicroWorld-eScan
Adware.Eorezo.BZ
nProtect
Adware.Eorezo.BZ
McAfee
Artemis!17CEC5C24168
Zillya
Adware.Eorezo.Win32.642
K7GW
Adware ( 004a076c1 )
K7AntiVirus
Adware ( 004a076c1 )
NANO-Antivirus
Riskware.Win32.Eorezo.cwggok
TrendMicro-HouseCall
Suspicious_GEN.F47V1109
Avast
Win32:Adware-ASG [PUP]
Tencent
Win32.Adware.Eorezo.Eaeg
Emsisoft
Adware.Eorezo.BZ (B)
F-Secure
Adware.Eorezo.BZ
McAfee-GW-Edition
Artemis
AhnLab-V3
PUP/Win32.Eorezo
Baidu-International
Adware.Win32.Eorezo.ak
Show the other 27 anti-virus detections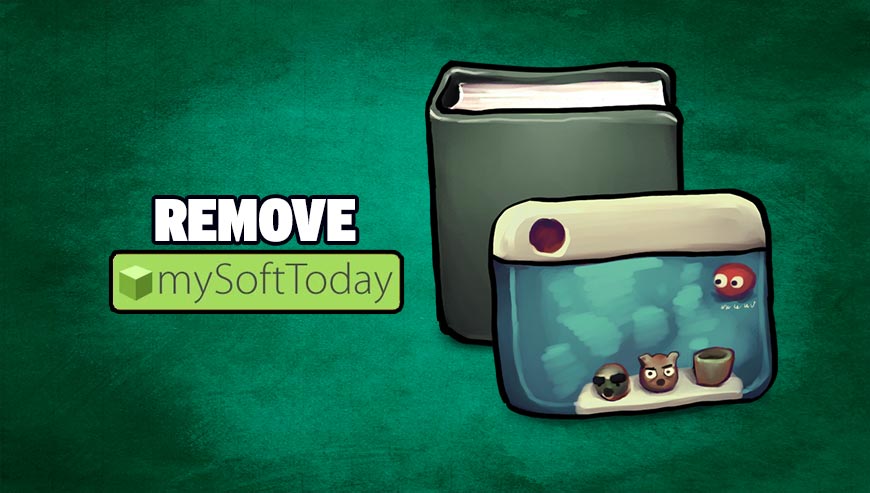 How to remove MySoftToday ?
All tools used in this guide are completely free to use and should remove any trace of MySoftToday from your computer. Follow all steps as described in this removal guide to remove MySoftToday and all additional adware that may have been installed on your computer.
Remove MySoftToday with CCleaner
Download and install CCleaner by Piriform by clicking the button below.
Download CCleaner

Once the program is installed go to the Cleaner section and click the Analyze button. Once the scan is complete, click the Run Cleaner button.
Then go to Tools > Startup and locate in each tab (starting with Windows, Internet Explorer) of suspicious statements which involve MySoftToday or similar names. Whenever click Remove and Delete .
Finally go to Tools > Uninstall , search for MySoftToday from the list and click Remove if you find it.
Remove MySoftToday with AdwCleaner
The AdwCleaner program will scan your pc and web browser for MySoftToday, browser extensions and registry keys, that may have been put in your computer without your consent.
You can download AdwCleaner utility from the below button :
Download AdwCleaner
Before starting AdwCleaner, close all open programs and internet browsers, then double-click on the file AdwCleaner.exe.
If Windows prompts you as to whether or not you wish to run AdwCleaner, please allow it to run.
When the AdwCleaner program will open, click on the Scan button.
To remove malicious files that were detected in the previous step, please click on the Clean button.
Please click on the OK button to allow AdwCleaner reboot your computer.
Remove MySoftToday with MalwareBytes Anti-Malware
Malwarebytes Anti-Malware detects and removes malware like worms, Trojans, rootkits, rogues, spyware, and more. All you have to do is launch Malwarebytes Anti-Malware Free and run a scan. If you want even better protection, consider Malwarebytes Anti-Malware Premium and its instant real-time scanner that automatically prevents malware and websites from infecting your PC.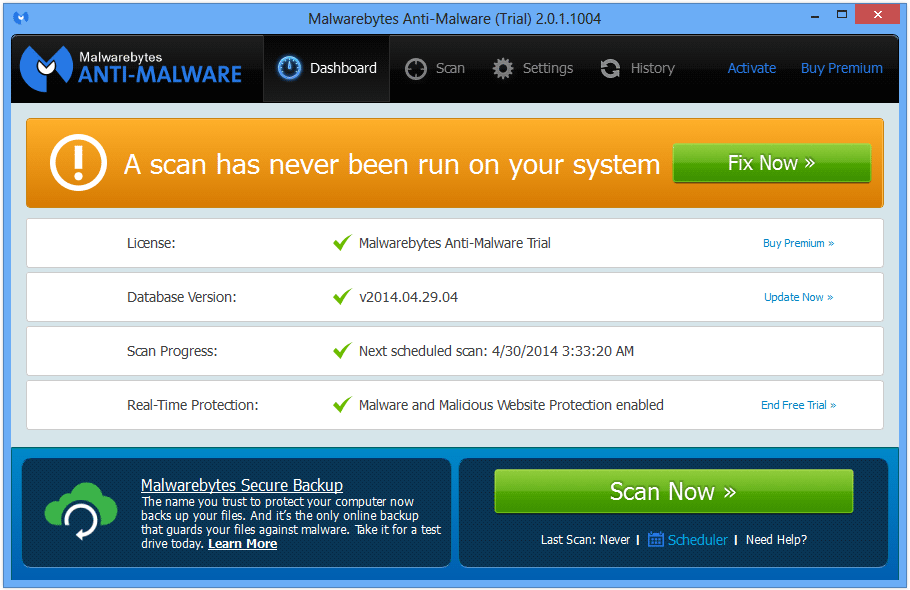 Download MalwareBytes Anti-Malware :
Premium Version Free Version (without Real-time protection)
Install MalwareBytes Anti-Malware using the installation wizard.
Once installed, Malwarebytes Anti-Malware will automatically start and you will see a message stating that you should update the program, and that a scan has never been run on your system. To start a system scan you can click on the Fix Now button.
Malwarebytes Anti-Malware will now check for updates, and if there are any, you will need to click on the Update Now button.
Once the program has loaded, select Scan now.
When the scan is done, you will now be presented with a screen showing you the malware infections that Malwarebytes' Anti-Malware has detected. To remove the malicious programs that Malwarebytes Anti-malware has found, click on the Quarantine All button, and then click on the Apply Now button.
When removing the files, Malwarebytes Anti-Malware may require a reboot in order to remove some of them. If it displays a message stating that it needs to reboot your computer, please allow it to do so.
Your machine should now be free of MySoftToday. If you are still experiencing problems while trying to remove MySoftToday from your machine, please start a new thread in our support page. Someone will give you free assistance very fast !
Click here to go to our support page
.