MyBestOffersToday is an adware developed by French, the company TUTO4PC which is already known for having published  other programs too. MyBestOffersToday is a potentially unwanted program based on an already existing one, namely FreeSoftToday. Like the last one, MyBestOffersToday offer you on daily basis free applications or their partners at reduced cost.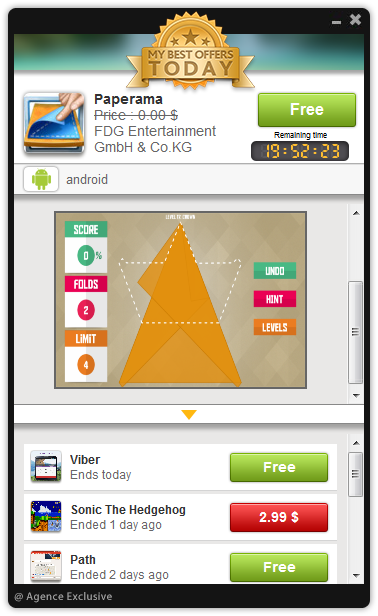 However, MyBestOffersToday is not limited there. If you see carefully the conditions of use, you can notice that if you have MyBestOffersToday on your computer, you agree, among others, with:
Collecting web addresses that you visit
Sending you SMS or MMS advertising to your mobile phone
Changing the settings of your browser (favorites, homepage, new tab)
Displaying ads at any time on your computer
Shortly, there is nothing like high-leveled data privacy or user's tranquility…and providing that its creators count on inattentive users, it's a bit much…
You should know that
MyBestOffersToday
is considered as a malware by 14 security software.
File name:
setup_mbot_gb.exe
Common path:
C:\Users\Jean\AppData\Local\Microsoft\Windows\Inetcache\Content.ie5\Random\setup_mbot_gb.exe
Analysis date:
17 October 2014
Scanner detections:
14 / 54
Malwarebytes
PUP.Optional.MyBestOffersToday.A
ESET-NOD32
a variant of Win32/AdWare.EoRezo.AU
Kaspersky
not-a-virus:AdWare.Win32.Eorezo.emv
DrWeb
Adware.Downware.3239
McAfee
Artemis!D07EF089DC99
K7AntiVirus
Adware ( 004a9be21 )
K7GW
Adware ( 004a9be21 )
Avast
Win32:Adware-ASG [PUP]
McAfee-GW-Edition
Artemis
Antiy-AVL
GrayWare[AdWare:not-a-virus]/Win32.Eorezo
Show the other 10 anti-virus detections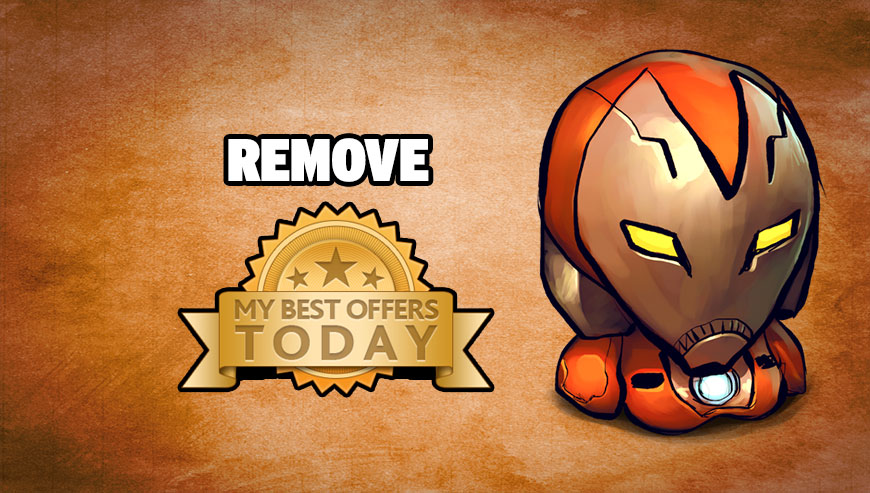 How to remove MyBestOffersToday ?
This guide and removal tools are completely FREE. Follow all steps in correct order to completely and successfully remove MyBestOffersToday.
Remove MyBestOffersToday from your browser
Open Chrome and go to the 3 stripes icon in top right corner.
Select Settings and on the left side Extensions.
Remove MyBestOffersToday by clicking the trash can icon.
Restart Google Chrome.
Open Firefox
Click on the Big Orange Firefox button in top left corner, then select Add-ons
Remove MyBestOffersToday by clicking the Remove button.
Restart Mozilla Firefox
Open Internet Explorer
Click on the Gear icon , then click on Manage Addons
Go to the tabToolbars and Extensions
Select and disable MyBestOffersToday if you can't find it or if you can't remove it, go to the next step.
Restart Internet Explorer
Remove MyBestOffersToday with AdwCleaner
AdwCleaner is a very useful tool made to eliminate unwelcome toolbars, browser hijackers, redirects and potentially unwanted programs (PUPs) in Internet Explorer, Firefox, Chrome or Opera. AdwCleaner requires no installation and can be ran in a instant to scan your system.
Please download AdwCleaner by Xplode and save to your Desktop :
Download AdwCleaner
Double-click on AdwCleaner.exe to run the tool (Windows Vista/7/8 users : right-click and select Run As Administrator).
Click on the Scan button.
After the scan has finished, click on the Clean button..
Press OK again to allow AdwCleaner to restart the computer and complete the removal process.
Remove MyBestOffersToday with Junkware Removal Tool
Junkware Removal Tool will remove MyBestOffersToday from your computer, and will scan and remove any threat from your computer that is malicious.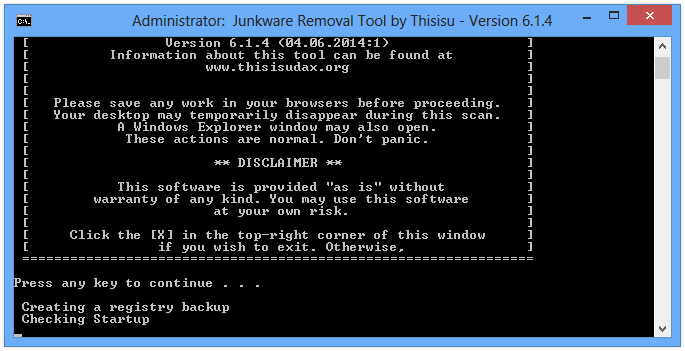 Please download Junkware Removal Tool to your desktop :
Download Junkware Removal Tool
Shut down your protection software now to avoid potential conflicts.
Run the tool by double-clicking it. If you are using Windows Vista, 7, or 8; instead of double-clicking, right-mouse click JRT.exe and select "Run as Administrator".
The tool will open and start scanning your system.
Please be patient as this can take a while to complete depending on your system's specifications.
Remove MyBestOffersToday with MalwareBytes Anti-Malware
Malwarebytes Anti-Malware detects and removes malware like worms, Trojans, rootkits, rogues, spyware, and more. All you have to do is launch Malwarebytes Anti-Malware Free and run a scan. If you want even better protection, consider Malwarebytes Anti-Malware Premium and its instant real-time scanner that automatically prevents malware and websites from infecting your PC.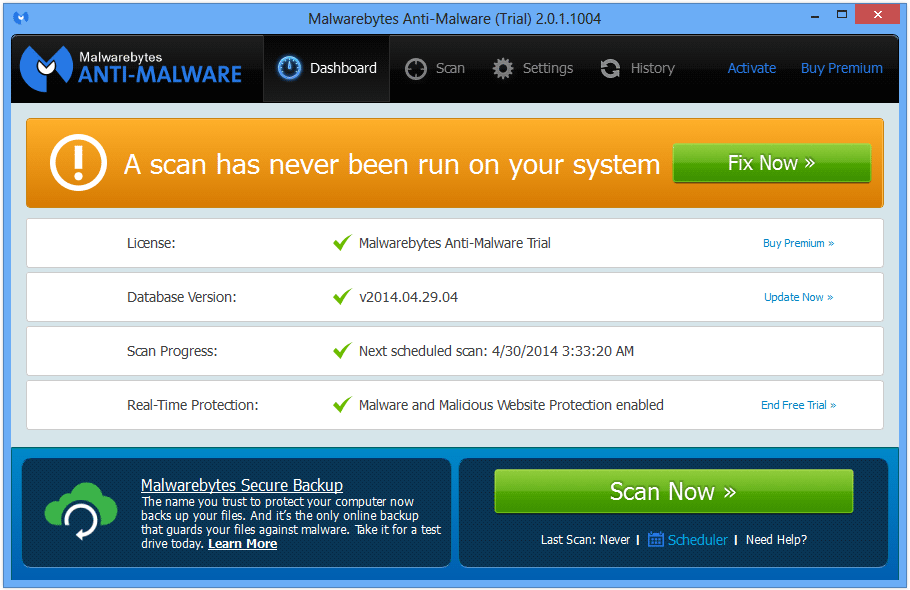 Download MalwareBytes Anti-Malware :
Premium Version Free Version (without Real-time protection)
Install MalwareBytes Anti-Malware using the installation wizard.
Once installed, Malwarebytes Anti-Malware will automatically start and you will see a message stating that you should update the program, and that a scan has never been run on your system. To start a system scan you can click on the Fix Now button.
Malwarebytes Anti-Malware will now check for updates, and if there are any, you will need to click on the Update Now button.
Once the program has loaded, select Scan now.
When the scan is done, you will now be presented with a screen showing you the malware infections that Malwarebytes' Anti-Malware has detected. To remove the malicious programs that Malwarebytes Anti-malware has found, click on the Quarantine All button, and then click on the Apply Now button.
When removing the files, Malwarebytes Anti-Malware may require a reboot in order to remove some of them. If it displays a message stating that it needs to reboot your computer, please allow it to do so.
Reset your browser (if necessary)
If you still see traces of MyBestOffersToday after following all the steps above you can reset your browser performing this operation:
Your bookmarks and saved passwords are not deleted or modified.
Open Chrome.
Click on the Chrome menu button on the browser toolbar.
Select Settings.
Scroll down to the end of the page, search for Show advanced settings.
Scroll down once again to the end of the page and click Reset browser settings button.
Click Reset once more.
Your bookmarks and saved passwords are not deleted or modified.
Open Firefox
At the top of the Firefox window, click the Firefox button.
Click on Help then Troubleshooting information.
Click the Repair Firefox button in the upper-right corner of the page.
Mozilla Firefox will automatically restart.
Your bookmarks and saved passwords are not deleted or modified.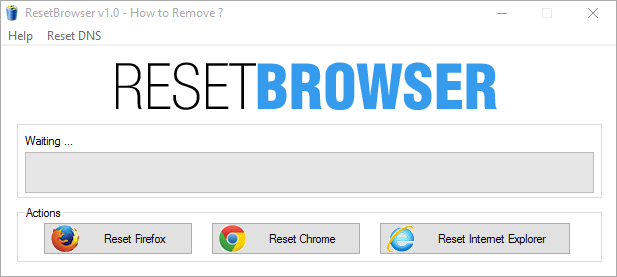 Download ResetBrowser :
Download ResetBrowser
Download the tool, save it on your desktop and double-click on it.
Read the disclaimer and press the Ok button.
Click the Reset Chrome button and wait.
Once the process is finished, click onOpen Chrome MyBestOffersToday should now be deleted from Firefox.
Your machine should now be free of MyBestOffersToday. If you are still experiencing problems while trying to remove MyBestOffersToday from your machine, please start a new thread in our support page. Someone will give you free assistance very fast !
Click here to go to our support page
.