MyPCBackup is software that allows you to save files from your computer to the cloud. MyPCBackup is developed by justdevelop.it , a young technology company specializing in creating "simple online solutions for the mass market in the complex world of the Internet."
In our opinion, MyPCBackup is probably the worst solution for your online backups. The software may already be on your PC without your really wanting to have it since it is proposed via false updates that install a bunch of adware on your computer: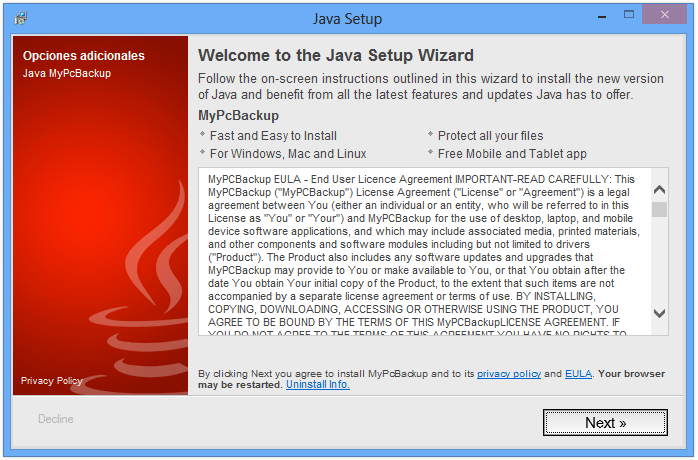 MyPCBackup isn't stopped in questionable business practices because, once it is a software on your PC (installed with or without your consent), it will not forget to try to sell you the backup space (or even a faster frequency of backups!) at a price often prohibitive in price competition. And everything goes: many popups and notifications come from nowhere, and if you have the misfortune to configure the software by giving your email, you will receive a tremendous amount of e-mails …
Finally, having tested MyPCBackup, we can say that it has other drawbacks: it is not a more rational software, its use is very laborious, and transfer times are much slower than that proposed by other competitors.
You should know that
myPCBackup
is detected as a parasite by 8 anti-viruses.
Common path:
C:\Users\Jean\AppData\Local\Temp\Random.tmp\mypcbackup.exe
Signed by:
JDI BACKUP LIMITED
Analysis date:
4 November 2014
Scanner detections:
8 / 54
ESET-NOD32
Win32/MyPCBackup.A
DrWeb
Program.Unwanted.62
McAfee
Artemis!C75499E58ED1
VIPRE
Trojan.Win32.Generic!BT
McAfee-GW-Edition
Artemis
AVware
Trojan.Win32.Generic!BT
Show the other 4 anti-virus detections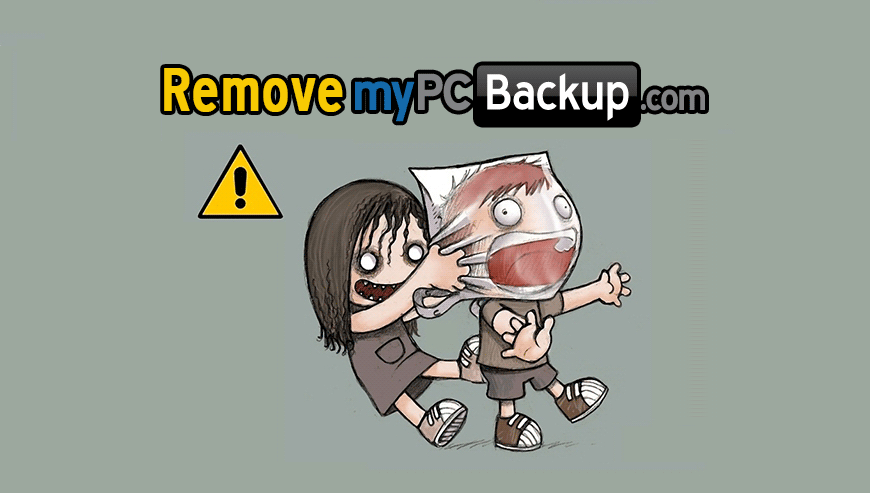 How to remove MyPCBackup ?
This is a complete tutorial to delete MyPCBackup from your pc. Please perform all the steps in the correct order. All the tool provided in this removal guide is free and known to clean and boost your computer.
Remove MyPCBackup with CCleaner
Download and install CCleaner by Piriform by clicking the button below.
Download CCleaner

Once the program is installed go to the Cleaner section and click the Analyze button. Once the scan is complete, click the Run Cleaner button.
Then go to Tools > Startup and locate in each tab (starting with Windows, Internet Explorer) of suspicious statements which involve MyPCBackup or similar names. Whenever click Remove and Delete .
Finally go to Tools > Uninstall , search for MyPCBackup from the list and click Remove if you find it.
Remove MyPCBackup with AdwCleaner
AdwCleaner is a useful tool developed to remove unwelcome toolbars, browser hijackers, redirects and potentially unwanted programs (PUPs) in Internet Explorer, Firefox, Chrome or Opera. AdwCleaner will require no set up and can be ran in a instant to scan your system.
Please download AdwCleaner by Xplode and save to your Desktop :
Download AdwCleaner
Double-click on AdwCleaner.exe to run the tool (Windows Vista/7/8 users : right-click and select Run As Administrator).
Click on the Scan button.
After the scan has finished, click on the Clean button..
Press OK again to allow AdwCleaner to restart the computer and complete the removal process.
Remove MyPCBackup with ZHPCleaner
ZHPCleaner is a program that searches for and deletes Adware, Toolbars, Potentially Unwanted Programs (PUP), and browser Hijackers from your computer. By using ZHPCleaner you can easily remove many of these types of programs for a better user experience on your computer and while browsing the web.
If Avast is installed on you computer you have to disable it during the process.
You can download AdwCleaner utility from the below button :
Download ZHPCleaner
Select ZHPCleaner.exe with right mouse click and Run as Administrator.
Accept the user agreement.
Click on the Scanner button.
After the scan has finished, click on the Repair button.
Reboot your computer.
Your computer should now be free of MyPCBackup. If you are still experiencing problems while trying to remove MyPCBackup from your machine, please start a new thread in our support page. Someone will give you free assistance very fast !
Click here to go to our support page
.