OneSoftPerDay is an alternate version of FreeSoftToday and MyBestOffersToday, which are programs designed by Tuto4Pc/Eorezo company, already known for being behind of many parasite programs.
This program is the same except for the name that changes. By installing OneSoftPerDay, you are promised to have daily access to free applications or to partner applications at low cost.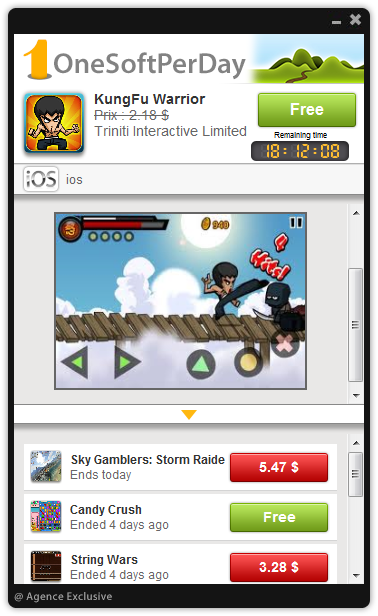 In fact, OneSoftPerDay can do more than that but it's not really clarified. You have to examine in detail the terms and conditions of use of the program to realize that as long as it's on your machine, you allow without restriction to OneSoftPerDay to:
Collect the addresses of webpages that you visit
Send you ads by SMS or MMS on your mobile phone (if you give your number in the application).
Modify the browser settings (favorites, homepage, new tab page etc.)
Display ads at any time
Apart from running continuously on your computer, it will also slow down your PC and display webpages on your browser…
You should know that
OneSoftPerDay
is detected as a malware by 8 security software.
File name:
majospd_gentleus.exe
Common path:
C:\Users\Jean\AppData\Local\Ospd_us_209\Download\majospd_gentleus.exe
Analysis date:
9 October 2014
Scanner detections:
8 / 54
ESET-NOD32
Win32/AdWare.EoRezo.AW
K7GW
Adware ( 004a9be21 )
K7AntiVirus
Adware ( 004a9be21 )
Avast
Win32:Adware-ASG [PUP]
Baidu-International
Adware.Win32.EoRezo.BAW
Show the other 4 anti-virus detections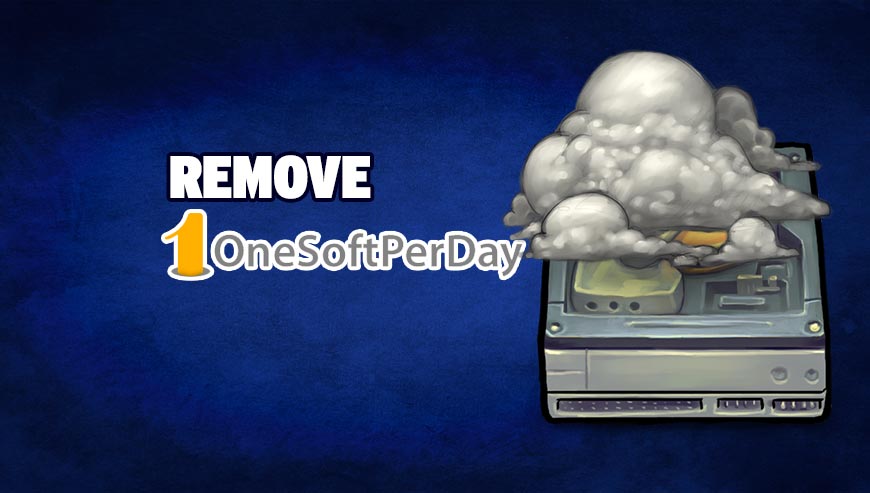 How to remove OneSoftPerDay ?
This is a complete guide to remove OneSoftPerDay from your system. Please perform all the instructions in the right order. All the tool provided in this removal guide is totally free and known to clean and boost your computer.
Reset your browser (if necessary)
If after following the above steps OneSoftPerDay is still present on your computer, you can reset your browser by following the instructions below.
Your bookmarks and saved passwords are not deleted or modified.
Open Chrome.
Click on the three stripes button in the right top corner.
Select Settings.
Scroll down to the end of the page, search for Show advanced settings.
Scroll down once again to the end of the page and click Reset browser settings button.
Click Reset once more.
Your bookmarks and saved passwords are not deleted or modified.
Open Firefox
At the top of the Firefox window, click the Firefox button.
Click on Help then Troubleshooting information.
Click on the Repair Firefox button and confirm.
Mozilla Firefox will automatically restart.
Open Internet Explorer.
Click on the gear icon , in the upper right part of your browser, then click again on Internet Options..
Select the tab Advanced and then on the Reset button.
In the Reset Internet Explorer settings section, select the Delete personal settings check box, then click on Reset button.
When Internet Explorer has completed its task, click on the Close button in the confirmation dialogue box.
Remove OneSoftPerDay with CCleaner
Download and install CCleaner by Piriform by clicking the button below.
Download CCleaner

Once the program is installed go to the Cleaner section and click the Analyze button. Once the scan is complete, click the Run Cleaner button.
Then go to Tools > Startup and locate in each tab (starting with Windows, Internet Explorer) of suspicious statements which involve OneSoftPerDay or similar names. Whenever click Remove and Delete .
Finally go to Tools > Uninstall , search for OneSoftPerDay from the list and click Remove if you find it.
Remove OneSoftPerDay with AdwCleaner
The AdwCleaner program will examine your computer and web browser for OneSoftPerDay, browser extensions and registry keys, that may have been put in your system without your knowledge.
You can download AdwCleaner utility from the below button :
Download AdwCleaner
Before starting AdwCleaner, close all open programs and internet browsers, then double-click on the file AdwCleaner.exe.
If Windows prompts you as to whether or not you wish to run AdwCleaner, please allow it to run.
When the AdwCleaner program will open, click on the Scan button.
To remove malicious files that were detected in the previous step, please click on the Clean button.
Please click on the OK button to allow AdwCleaner reboot your computer.
Remove OneSoftPerDay with MalwareBytes Anti-Malware
Malwarebytes Anti-Malware is a light-weight anti-malware program that is excellent at removing the latest detections.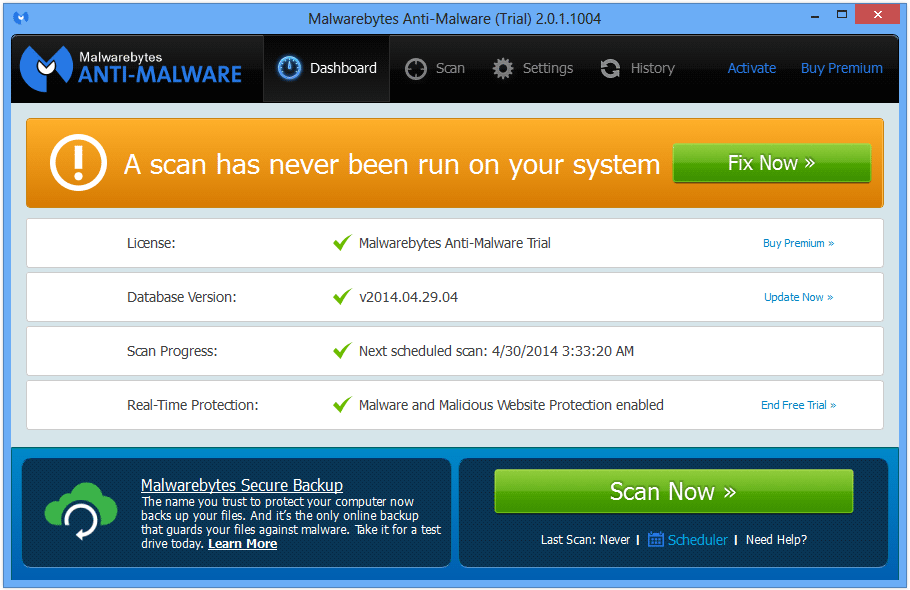 Download Malwarebytes Anti-Malware to your desktop.
Premium Version Free Version (without Real-time protection)
Install MalwareBytes Anti-Malware using the installation wizard.
Once installed, Malwarebytes Anti-Malware will automatically start and you will see a message stating that you should update the program, and that a scan has never been run on your system. To start a system scan you can click on the Fix Now button.
If an update is found, you will be prompted to download and install the latest version.
Malwarebytes Anti-Malware will now start scanning your computer for OneSoftPerDay.
When the scan is complete, make sure that everything is set to Quarantine, and click Apply Actions.
When removing the files, Malwarebytes Anti-Malware may require a reboot in order to remove some of them. If it displays a message stating that it needs to reboot your computer, please allow it to do so.
Your machine should now be free of OneSoftPerDay. If you are still experiencing problems while trying to remove OneSoftPerDay from your machine, please start a new thread in our support page. Someone will give you free assistance very fast !
Click here to go to our support page
.