Right Backup is an online backup software program developed by the Systweak company, which is where rather untrustworthy programs originate- RegClean Pro or Advanced System Optimizer among them. Just like it does for its other programs, Systweak tries to force you into installing its software on your system alongside other free programs that you can download from the Internet. It works so well that  99% of people who have Right Backup on their computer never really wanted to install it in the first place.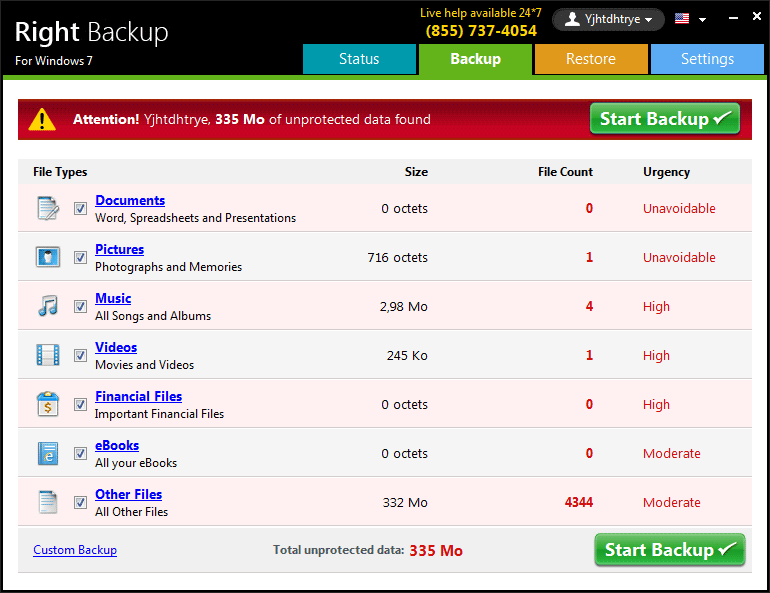 Even if Right Backup is actually a backup program, it does a bare-bones job compared to other fixes. It's always installed as a trial version and uses techniques that rogues use so that you'll buy the full version of the software. To do this, Right Backup alerts you regularly by saying that it's urgent to save your files because they're not protected. In order to convince you to buy it, this software program also highlights that it belongs to the Microsoft Gold Partner program, which doesn't necessarily mean that Microsoft has approved the software…
Right Backup is also a pretext for gathering as much information about you as it can so that it can expand its commercial databases and then display a large number of advertisements. In short, if this software is installed on your computer, we advise you to uninstall it without a moment's delay.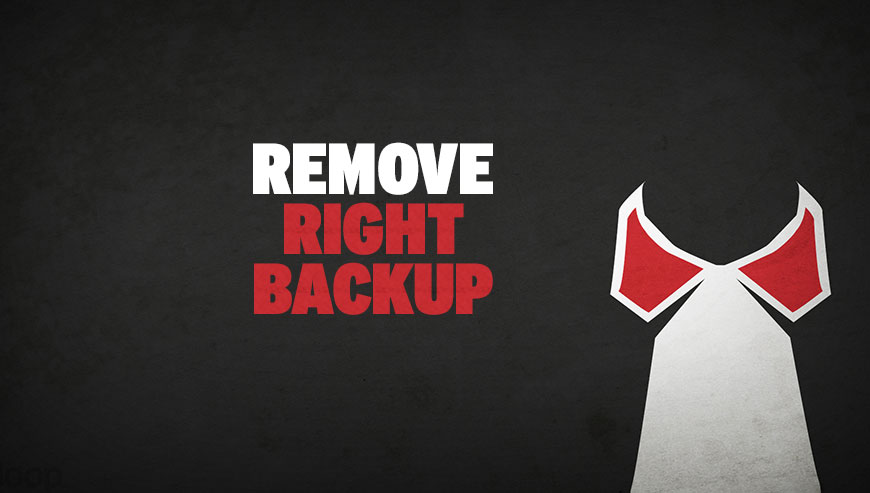 How to remove Right Backup ?
This guide and removal tools are completely FREE. Follow all steps in correct order to completely and successfully remove Right Backup.
Remove Right Backup with CCleaner
Download and install CCleaner by Piriform by clicking the button below.
Download CCleaner

Once the program is installed go to the Cleaner section and click the Analyze button. Once the scan is complete, click the Run Cleaner button.
Then go to Tools > Startup and locate in each tab (starting with Windows, Internet Explorer) of suspicious statements which involve Right Backup or similar names. Whenever click Remove and Delete .
Finally go to Tools > Uninstall , search for Right Backup from the list and click Remove if you find it.
Remove Right Backup with AdwCleaner
AdwCleaner is a helpful tool designed to delete unwelcome toolbars, browser hijackers, redirects and potentially unwanted programs (PUPs) in Internet Explorer, Firefox, Chrome or Opera. AdwCleaner will require no installation and can be ran in a instantaneous to scan your system.
Please download AdwCleaner by Xplode and save to your Desktop :
Download AdwCleaner
Double-click on AdwCleaner.exe to run the tool (Windows Vista/7/8 users : right-click and select Run As Administrator).
Click on the Scan button.
After the scan has finished, click on the Clean button..
Press OK again to allow AdwCleaner to restart the computer and complete the removal process.
Remove Right Backup with MalwareBytes Anti-Malware
Malwarebytes Anti-Malware is a light-weight anti-malware program that is excellent at removing the latest detections.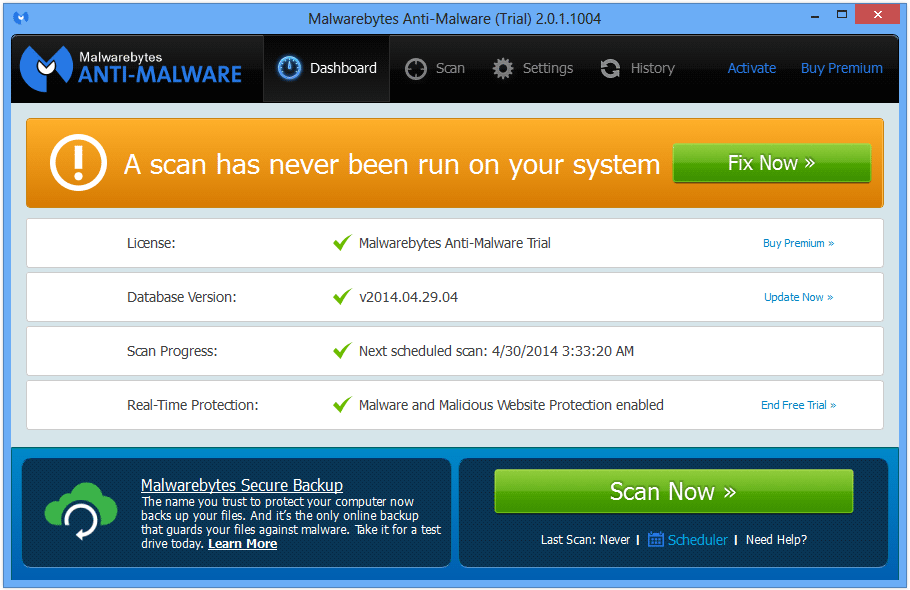 Download Malwarebytes Anti-Malware to your desktop.
Premium Version Free Version (without Real-time protection)
Install MalwareBytes Anti-Malware using the installation wizard.
Once installed, Malwarebytes Anti-Malware will automatically start and you will see a message stating that you should update the program, and that a scan has never been run on your system. To start a system scan you can click on the Fix Now button.
If an update is found, you will be prompted to download and install the latest version.
Malwarebytes Anti-Malware will now start scanning your computer for Right Backup.
When the scan is complete, make sure that everything is set to Quarantine, and click Apply Actions.
When removing the files, Malwarebytes Anti-Malware may require a reboot in order to remove some of them. If it displays a message stating that it needs to reboot your computer, please allow it to do so.
Your machine should now be free of Right Backup. If you are still experiencing problems while trying to remove Right Backup from your computer, please start a new thread in our support page. Someone will give you free assistance very fast !
Click here to go to our support page
.