Very much like Taplika, Binkiland can be related with two unwanted programs. First one is Binkiland Search, a search engine linked to the address Binkiland.com; this search engine emulates Google's visual look and forces itself as a default home page in Firefox, Chrome or Internet Explorer. The way in which this page can be harmful depends on how much you use it, as you'll be exposed to be redirected towards malicious websites; even though the results presented are based in Google, Binkiland Search inserts its own results making them look legit.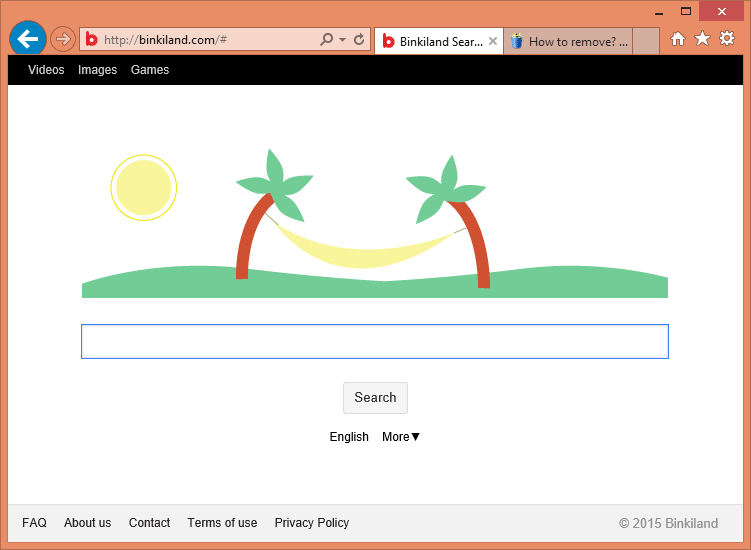 Binkiland is also related to a Chromium based web browser, and because it's based in Chromium it looks a lot like Chrome. Clearly Chromium's source code has been modified to become Binkiland, you can identify it by its red "b" icon, but beware it goes beyond being a browser, as it acts as a spyware.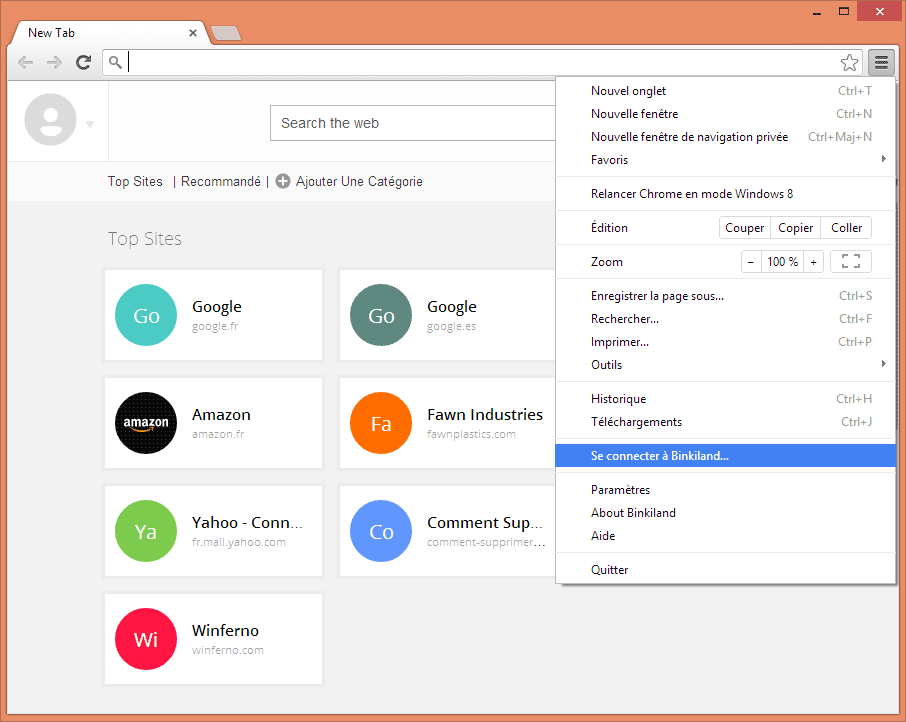 In any of its forms, whether the web browser or the browser hijacker, Binkiland is installed behind the user's back, specially since most users are not concerned with customizing the setup programs of what they download. Some unscrupulous websites like softonic.com pack a bunch of adwares or unwanted programs with the softwares you wish to install. Thus, be very vigilant with what you install, always verify the source and customize your setup process!
Here's an example of a setup program that includes Binkiland: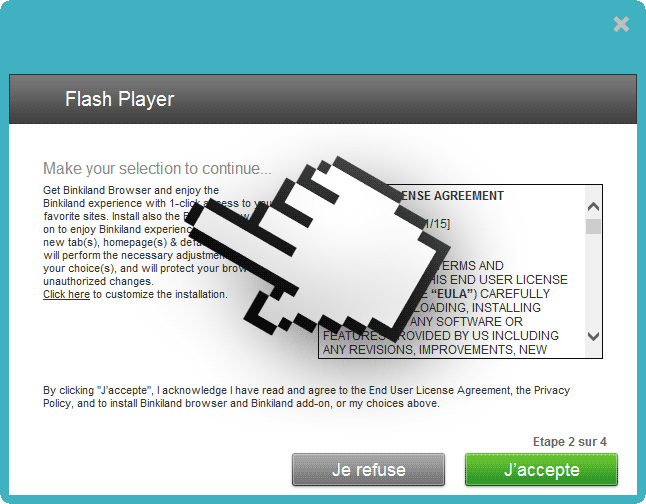 For your information please know that
Binkiland
is considered as suspicious by 23 security software.
File name:
binkiland_iobitdel.exe
Common path:
C:\Users\Jean\AppData\Local\Binkiland\Application\binkiland_iobitdel.exe
Analysis date:
22 February 2015
Scanner detections:
23 / 54
BitDefender
Adware.Adinstaller.C
Kaspersky
not-a-virus:RiskTool.Win32.ADInstaller.d
MicroWorld-eScan
Adware.Adinstaller.C
nProtect
Adware.Adinstaller.C
CAT-QuickHeal
RiskTool.ADInstaller.r6 (Not a Virus)
ALYac
Adware.Adinstaller.C
K7GW
Riskware ( 0040eff71 )
K7AntiVirus
Riskware ( 0040eff71 )
TrendMicro-HouseCall
TROJ_GEN.R08OC0EBG15
Agnitum
Riskware.ADInstaller!
Emsisoft
Adware.Adinstaller.C (B)
F-Secure
Adware.Adinstaller.C
VIPRE
Trojan.Win32.Generic!BT
TrendMicro
TROJ_GEN.R08OC0EBG15
Antiy-AVL
RiskWare[RiskTool:not-a-virus]/Win32.ADInstaller
GData
Adware.Adinstaller.C
AVware
Trojan.Win32.Generic!BT
Baidu-International
Hacktool.Win32.ADInstaller.d
Fortinet
Riskware/AdInstaller
Qihoo-360
Win32/Virus.RiskTool.a62
Show the other 19 anti-virus detections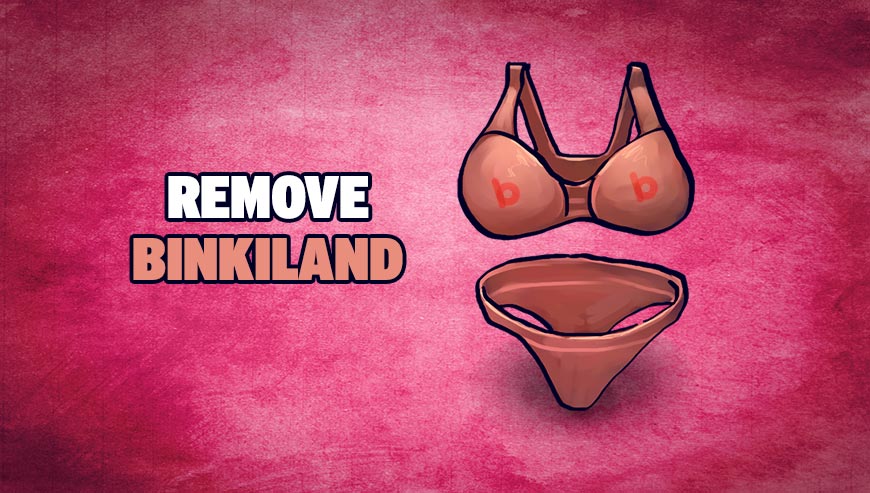 How to remove Binkiland ?
This page is a comprehensive guide, which will remove Binkiland from your computer. Please perform all the steps in the correct order.
Remove Binkiland with CCleaner
Download and install CCleaner by Piriform by clicking the button below.
Download CCleaner

Once the program is installed go to the Cleaner section and click the Analyze button. Once the scan is complete, click the Run Cleaner button.
Then go to Tools > Startup and locate in each tab (starting with Windows, Internet Explorer) of suspicious statements which involve Binkiland or similar names. Whenever click Remove and Delete .
Finally go to Tools > Uninstall , search for Binkiland from the list and click Remove if you find it.
Remove Binkiland with AdwCleaner
AdwCleaner is a very useful tool designed to remove unwelcome toolbars, browser hijackers, redirects and potentially unwanted programs (PUPs) in Internet Explorer, Firefox, Chrome or Opera. AdwCleaner will require no installation and can be ran in a instantaneous to examine your computer.
Please download AdwCleaner by Xplode and save to your Desktop :
Download AdwCleaner
Double-click on AdwCleaner.exe to run the tool (Windows Vista/7/8 users : right-click and select Run As Administrator).
Click on the Scan button.
After the scan has finished, click on the Clean button..
Press OK again to allow AdwCleaner to restart the computer and complete the removal process.
Remove Binkiland with MalwareBytes Anti-Malware
Malwarebytes Anti-Malware detects and removes malware like worms, Trojans, rootkits, rogues, spyware, and more. All you have to do is launch Malwarebytes Anti-Malware Free and run a scan. If you want even better protection, consider Malwarebytes Anti-Malware Premium and its instant real-time scanner that automatically prevents malware and websites from infecting your PC.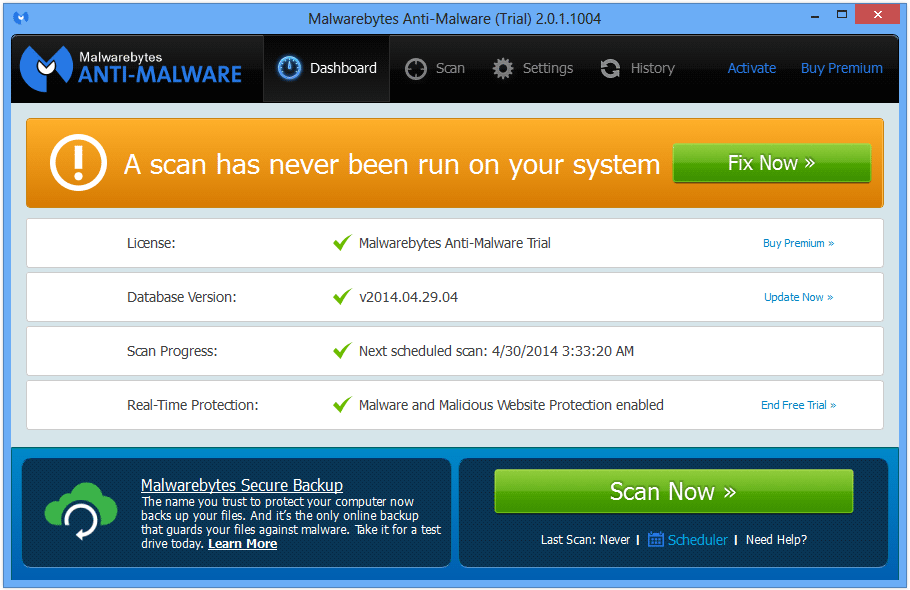 Download MalwareBytes Anti-Malware :
Premium Version Free Version (without Real-time protection)
Install MalwareBytes Anti-Malware using the installation wizard.
Once installed, Malwarebytes Anti-Malware will automatically start and you will see a message stating that you should update the program, and that a scan has never been run on your system. To start a system scan you can click on the Fix Now button.
Malwarebytes Anti-Malware will now check for updates, and if there are any, you will need to click on the Update Now button.
Once the program has loaded, select Scan now.
When the scan is done, you will now be presented with a screen showing you the malware infections that Malwarebytes' Anti-Malware has detected. To remove the malicious programs that Malwarebytes Anti-malware has found, click on the Quarantine All button, and then click on the Apply Now button.
When removing the files, Malwarebytes Anti-Malware may require a reboot in order to remove some of them. If it displays a message stating that it needs to reboot your computer, please allow it to do so.
Remove Binkiland with HitmanPro
HitmanPro is an anti-virus program that describes itself as a second opinion scanner that should be used in conjunction with another anti-virus program that you may already have installed.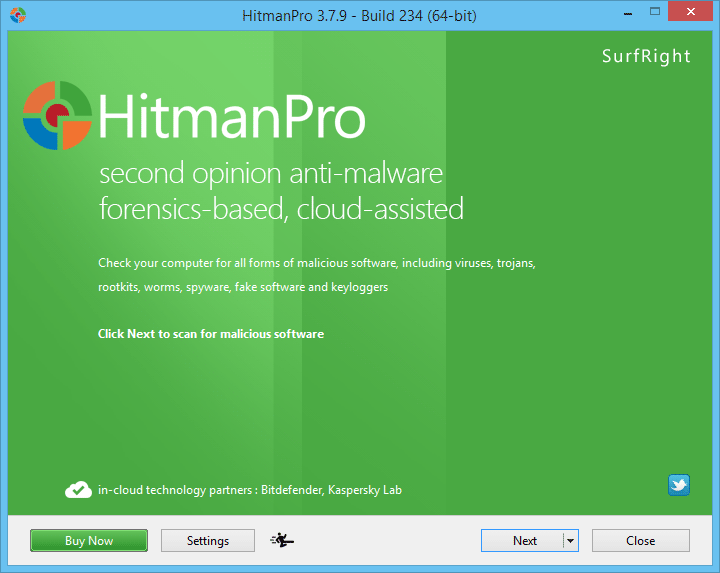 You can download HitmanPro from the below link:
Download HitmanPro
Double-click on the file named HitmanPro.exe (for 32-bit versions of Windows) or HitmanPro_x64.exe (for 64-bit versions of Windows).
Click on the Next button, to install HitmanPro on your computer.
HitmanPro will now begin to scan your computer for Binkiland malicious files.
When it has finished it will display a list of all the malware that the program found as shown in the image below. Click on the Next button, to remove Binkiland virus.
Reset your browser (if necessary)
If after following the above steps Binkiland is still present on your computer, you can reset your browser by following the instructions below.
Your bookmarks and saved passwords are not deleted or modified.
Open Chrome.
Click on the three stripes button in the right top corner.
Select Settings.
Scroll down to the end of the page, search for Show advanced settings.
Scroll down once again to the end of the page and click Reset browser settings button.
Click Reset once more.
Your bookmarks and saved passwords are not deleted or modified.
Open Firefox
At the top of the Firefox window, click the Firefox button.
Click on Help then Troubleshooting information.
Click the Repair Firefox button in the upper-right corner of the page.
Mozilla Firefox will automatically restart.
Your bookmarks and saved passwords are not deleted or modified.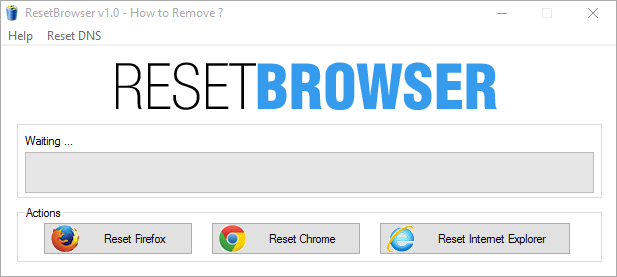 Download ResetBrowser :
Download ResetBrowser
Download the tool, save it on your desktop and double-click on it.
Read the disclaimer and press the Ok button.
Click the Reset Chrome button and wait.
Once the process is finished, click onOpen Chrome Binkiland should now be deleted from Firefox.
Your machine should now be free of Binkiland. If you are still experiencing problems while trying to remove Binkiland from your computer, please start a new thread in our support page. Someone will give you free assistance very fast !
Click here to go to our support page
.