It has become quite difficult to tell apart the legitimate security apps from the fake ones that float around the net these days. WinThruster is an application classified as a scareware. This software has no advantages at all, quite the contrary because it attempts to scare you enough into paying them.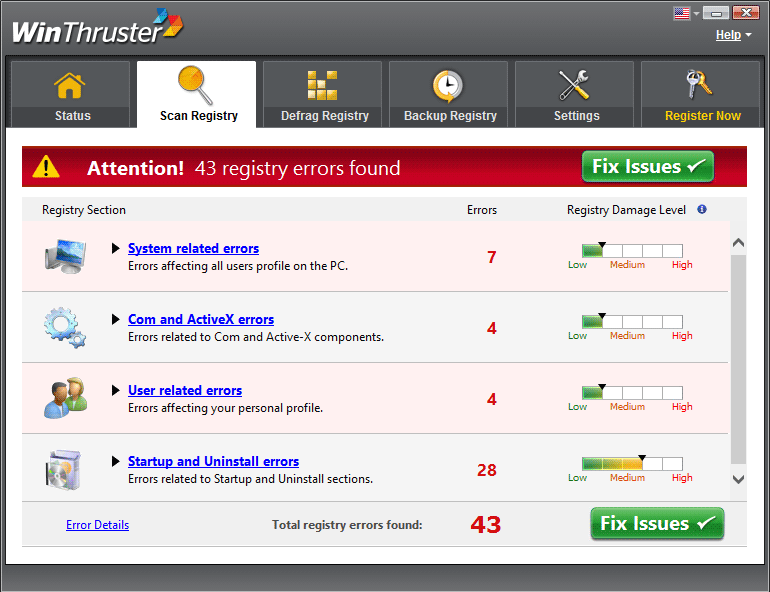 WinThruster is usually installed at the same time as some other free software you downloaded from the internet whose setup program include one or more optional apps. These apps tend to be offered discretely and it's only through customizing the install process that we can stop them from being installed.
Once WinThruster has been installed in your PC it will start scans when least expected, specially just after the start process has completed; in this way their results (completely fake results we might add) can be shown as quickly as possible. While in out testing phase, we used a brand new Windows 8 installation and it found no less than 43 supposedly urging bugs: 7 system bugs, 7 com and ActiveX bugs, 4 issues around users accounts and 25 errors related to the start process and uninstall mistakes.
If we try to use the option included to fix these so called problems, oh surprise… they ask us to pay for it!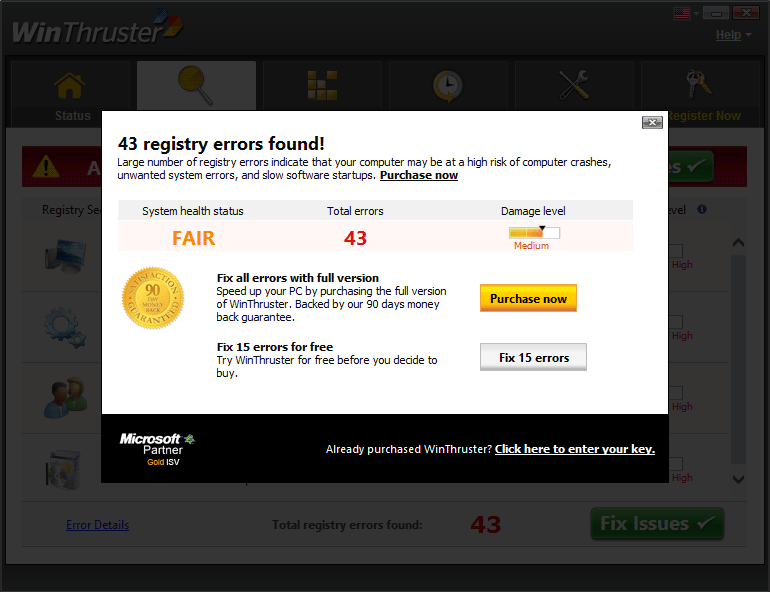 If you don't pay the software will stalk you all the time with pressing alerts related to exposure to system breakdowns, system errors and performance issues among others.
If you try to uninstall it, you'll find yourself in a though spot, because it has been developed to stay in your computer as long as possible so they can make you yield!
Execute every step in the following guide including free tools to remove WinThruster. 
For your information please know that
WinThruster
is detected as suspicious by 49 anti-viruses.
Show the other 45 anti-virus detections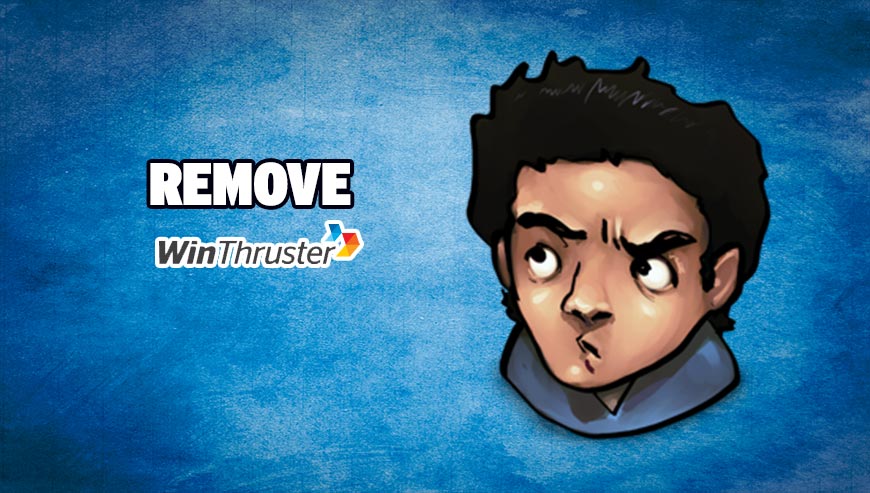 How to remove WinThruster ?
Remove WinThruster with CCleaner
Download and install CCleaner by Piriform by clicking the button below.
Download CCleaner

Once the program is installed go to the Cleaner section and click the Analyze button. Once the scan is complete, click the Run Cleaner button.
Then go to Tools > Startup and locate in each tab (starting with Windows, Internet Explorer) of suspicious statements which involve WinThruster or similar names. Whenever click Remove and Delete .
Finally go to Tools > Uninstall , search for WinThruster from the list and click Remove if you find it.
Remove WinThruster with AdwCleaner
AdwCleaner is a useful tool made to eliminate unwelcome toolbars, browser hijackers, redirects and potentially unwanted programs (PUPs) in Internet Explorer, Firefox, Chrome or Opera. AdwCleaner needs no installation and can be ran in a instant to examine your computer.
Please download AdwCleaner by Xplode and save to your Desktop :
Download AdwCleaner
Double-click on AdwCleaner.exe to run the tool (Windows Vista/7/8 users : right-click and select Run As Administrator).
Click on the Scan button.
After the scan has finished, click on the Clean button..
Press OK again to allow AdwCleaner to restart the computer and complete the removal process.
Remove WinThruster with MalwareBytes Anti-Malware
Malwarebytes Anti-Malware detects and removes malware like worms, Trojans, rootkits, rogues, spyware, and more. All you have to do is launch Malwarebytes Anti-Malware Free and run a scan. If you want even better protection, consider Malwarebytes Anti-Malware Premium and its instant real-time scanner that automatically prevents malware and websites from infecting your PC.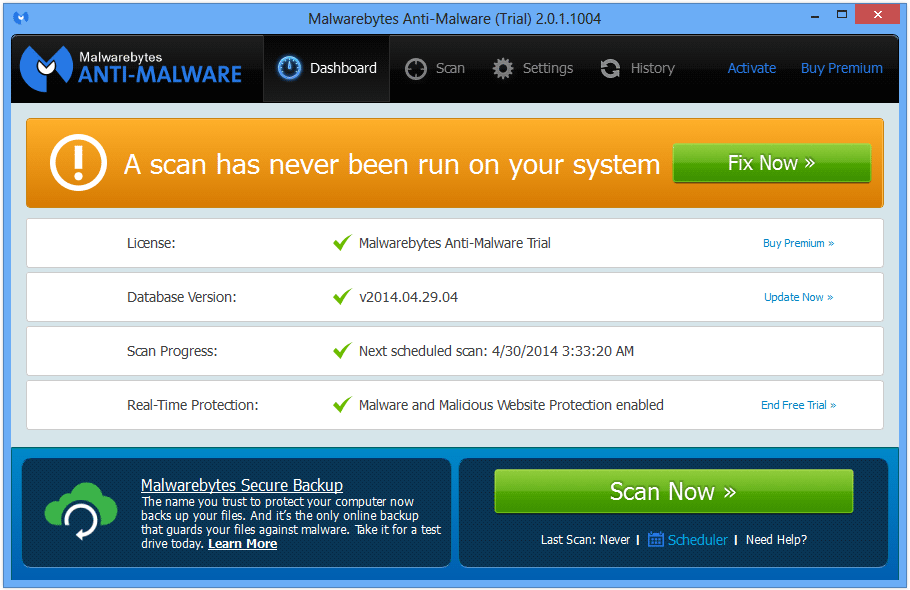 Download MalwareBytes Anti-Malware :
Premium Version Free Version (without Real-time protection)
Install MalwareBytes Anti-Malware using the installation wizard.
Once installed, Malwarebytes Anti-Malware will automatically start and you will see a message stating that you should update the program, and that a scan has never been run on your system. To start a system scan you can click on the Fix Now button.
Malwarebytes Anti-Malware will now check for updates, and if there are any, you will need to click on the Update Now button.
Once the program has loaded, select Scan now.
When the scan is done, you will now be presented with a screen showing you the malware infections that Malwarebytes' Anti-Malware has detected. To remove the malicious programs that Malwarebytes Anti-malware has found, click on the Quarantine All button, and then click on the Apply Now button.
When removing the files, Malwarebytes Anti-Malware may require a reboot in order to remove some of them. If it displays a message stating that it needs to reboot your computer, please allow it to do so.