Wanna Cry is a computer virus that went all around the world in May 2017. It affected users in at least 150 different countries on the planet. Many enterprises and businesses were affected, although individual users could also be touched by it.
This virus is a ransomware, a category used to identify a kind of malware that crypts all your files and stop you from doing anything at all unless you pay a ransom. In the screenshot shown below, we see $300 (USD) are asked per computer infected.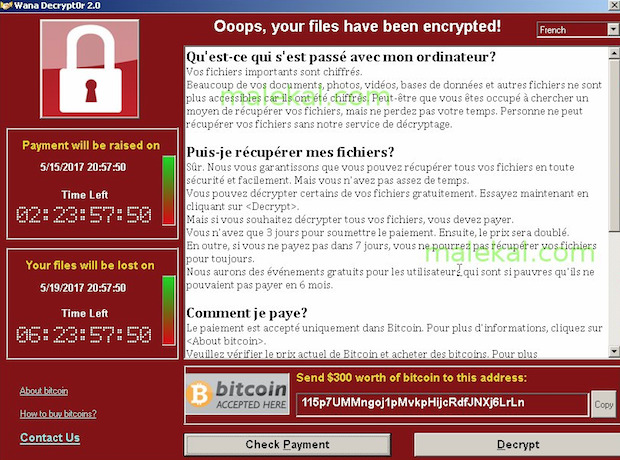 "Shadow Brokers" a hackers group has claimed responsibility over Wanna Cry. They were already known around the world since last year, because of their hacked NSA tools they were offering for sale.
The French agency for IT security, (ANSSI – Agence Nationale de la Sécurité des Systèmes d'Information) offers a set of tips to follow in case of infection:
immediately unplug any infected computers from the network; the goal here is to stop the spreading and encrypting of further files, and/or the destruction of shared files and folders.
warn your IT security specialist at once;
back-up the most important files in external storage devices. Those files might be altered or infected already, so you must treat them with extreme care. Also, make sure to protect old backups from being replaced with new backups.
do not pay the ransom under any circumstances; such payment will not represent a real warranty that your files will be decrypted, plus you could jeopardize your credit card number.
As for us, we provide you with free tools to remove Wanna Cry.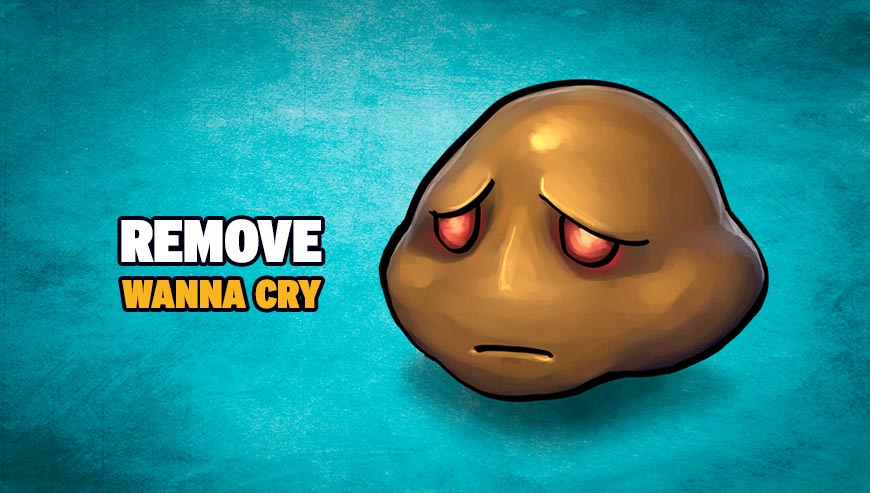 How to remove Wanna Cry ?
Please note that all the software we offer to remove Wanna Cry is free, our instruction is tested and works to remove this threat from Chrome, Internet Explorer or Firefox. We do not supply any shareware which detects the threat and asks a license in order to remove Wanna Cry. Follow all steps in correct order to completely and successfully remove Wanna Cry.
Remove Wanna Cry with MalwareBytes Anti-Malware
Malwarebytes Anti-Malware detects and removes malware like worms, Trojans, rootkits, rogues, spyware, and more. All you have to do is launch Malwarebytes Anti-Malware Free and run a scan. If you want even better protection, consider Malwarebytes Anti-Malware Premium and its instant real-time scanner that automatically prevents malware and websites from infecting your PC.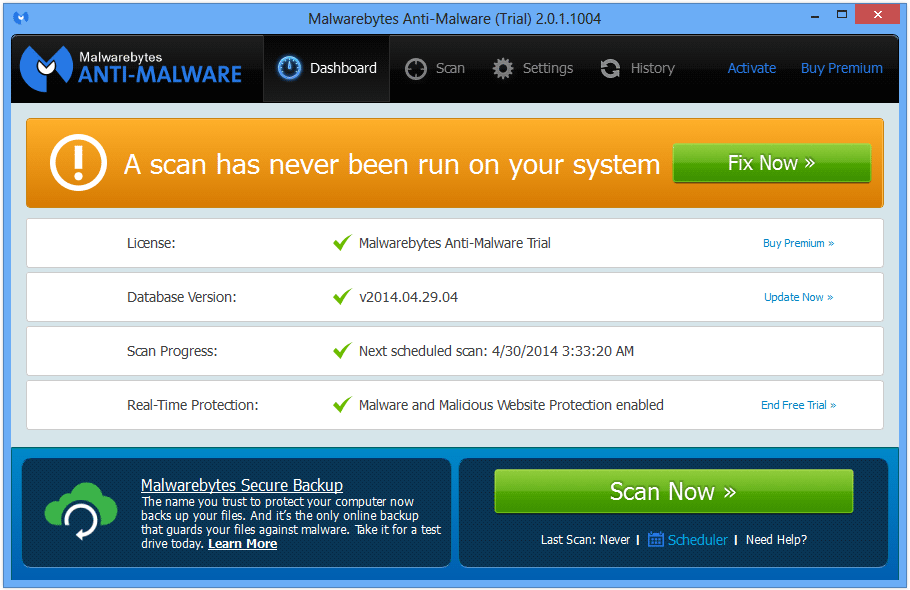 Download MalwareBytes Anti-Malware :
Premium Version Free Version (without Real-time protection)
Install MalwareBytes Anti-Malware using the installation wizard.
Once installed, Malwarebytes Anti-Malware will automatically start and you will see a message stating that you should update the program, and that a scan has never been run on your system. To start a system scan you can click on the Fix Now button.
Malwarebytes Anti-Malware will now check for updates, and if there are any, you will need to click on the Update Now button.
Once the program has loaded, select Scan now.
When the scan is done, you will now be presented with a screen showing you the malware infections that Malwarebytes' Anti-Malware has detected. To remove the malicious programs that Malwarebytes Anti-malware has found, click on the Quarantine All button, and then click on the Apply Now button.
When removing the files, Malwarebytes Anti-Malware may require a reboot in order to remove some of them. If it displays a message stating that it needs to reboot your computer, please allow it to do so.
Remove Wanna Cry with HitmanPro
HitmanPro is an anti-virus program that describes itself as a second opinion scanner that should be used in conjunction with another anti-virus program that you may already have installed.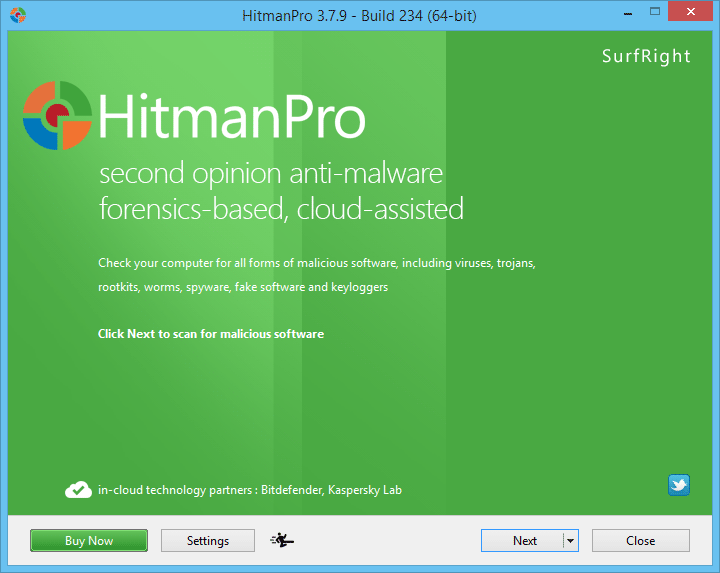 You can download HitmanPro from the below link:
Download HitmanPro
Double-click on the file named HitmanPro.exe (for 32-bit versions of Windows) or HitmanPro_x64.exe (for 64-bit versions of Windows).
Click on the Next button, to install HitmanPro on your computer.
HitmanPro will now begin to scan your computer for Wanna Cry malicious files.
When it has finished it will display a list of all the malware that the program found as shown in the image below. Click on the Next button, to remove Wanna Cry virus.
Your computer should now be free of Wanna Cry. If you are still experiencing problems while trying to remove Wanna Cry from your computer, please start a new thread in our support page. Someone will give you free assistance very fast !
Click here to go to our support page
.