Tictacoupon is a potentially unwanted program, adware that claims to help you save time and money through promotions and online discount coupons. It's installed withou your consent on the main browsers (Internet Explorer, Google Chrome and Mozilla Firefox) if they are present on your system at the time of the infection.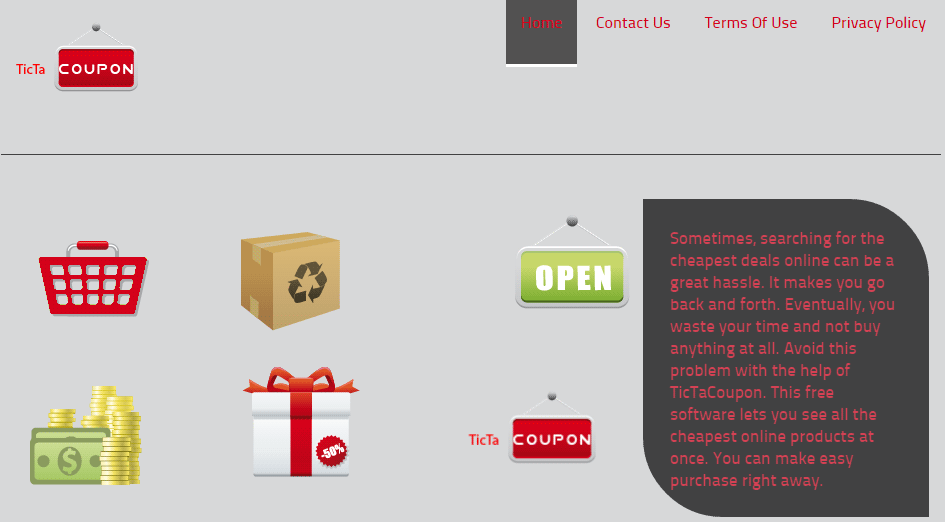 Tictacoupon spreads in a bundle with free programs during their installation. When it's sneakily installed, you'll end up with tons of unwanted and intrusive ads. Except that, your computer will be dramatically slowed down.
The extension records and analyzes your internet activity to display you targeted ads and create a database that can be resold to Tictacoupon partners.
This kind of installations can be prevented if you read carefully the terms of use when you download free software and uncheck the preselected boxes. We recommend that you always choose the advanced options of installation which will allow you to better handle the installation of software and the related extensions.
Is your computer infected by Tictacoupon? If you want to remove it, just follow the instructions below.
For your information please know that
Tictacoupon
is detected as suspicious by 15 security software.
Common path:
C:\ProgramData\Tictacoupon\wthnlzfr.dll
Analysis date:
1 April 2014
Scanner detections:
15 / 54
Malwarebytes
PUP.Optional.MultiPlug.A
ESET-NOD32
a variant of Win32/AdWare.MultiPlug.N
Comodo
ApplicUnwnt.Win32.InstallRex.ALC
SUPERAntiSpyware
Adware.Multiplug/Variant
AntiVir
ADWARE/Adware.Gen
McAfee-GW-Edition
Heuristic.BehavesLike.Win32.Suspicious.H
GData
Win32.Trojan.Multiplug.A
AhnLab-V3
Adware/Win32.Graftor
Rising
PE:Malware.Adware!6.1293
Qihoo-360
HEUR/Malware.QVM30.Gen
Show the other 11 anti-virus detections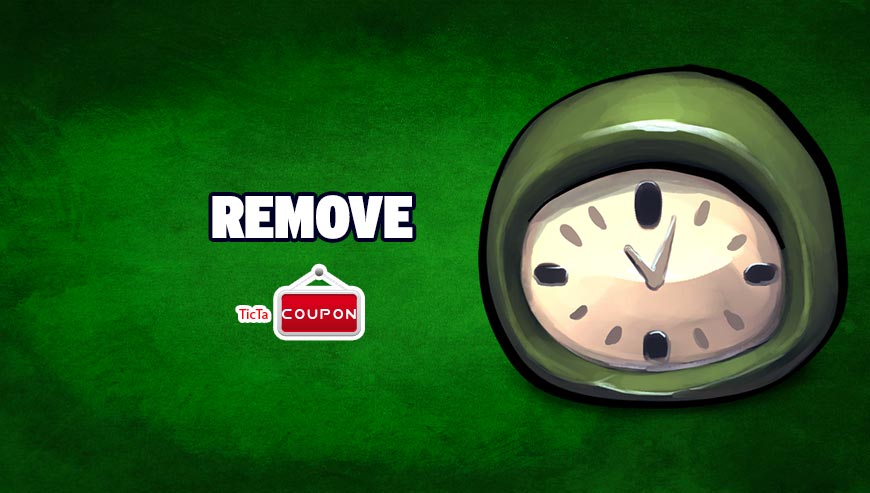 How to remove Tictacoupon ?
This page is a comprehensive guide, which will remove Tictacoupon from your computer. Please perform all the steps in the correct order.
Remove Tictacoupon from your browser
Open Chrome and go to the 3 stripes icon in top right corner.
Select Settings and on the left side Extensions.
Remove Tictacoupon by clicking the trash can icon.
Restart Chrome.
Open Firefox
Click on the Big Orange Firefox button in top left corner, then select Add-ons
Remove Tictacoupon by clicking the Remove button.
Restart Firefox
Open Internet Explorer
Click on the Gear icon , then click on Manage Addons
Go to the tabToolbars and Extensions
Select and disable Tictacoupon if you can't find it or if you can't remove it, go to the next step.
Restart Internet Explorer
Remove Tictacoupon with AdwCleaner
AdwCleaner is a program that looks for and removes Adware, Toolbars, Potentially Unwanted Programs (PUP), and browser Hijackers from your system. By using AdwCleaner you can simply eliminate many of these types of applications for a much better user experience on your computer and while browsing the internet.
Download AdwCleaner (Official link and direct-download) :
Download AdwCleaner
Select AdwCleaner.exe with right mouse click and Run as Administrator.
If User Account Control asks you to allow AdwCleaner.exe to make changes to your computer, press Yes to continue.
Start scanning your computer for any malicious threats by selecting the Scan button, please wait.
If AdwCleaner is done, it will display a list of malicious items detected, If you have nothing to uncheck, continue to the removal process and select the Clean button.
Reboot your computer.
Remove Tictacoupon with MalwareBytes Anti-Malware
Malwarebytes Anti-Malware detects and removes malware like worms, Trojans, rootkits, rogues, spyware, and more. All you have to do is launch Malwarebytes Anti-Malware Free and run a scan. If you want even better protection, consider Malwarebytes Anti-Malware Premium and its instant real-time scanner that automatically prevents malware and websites from infecting your PC.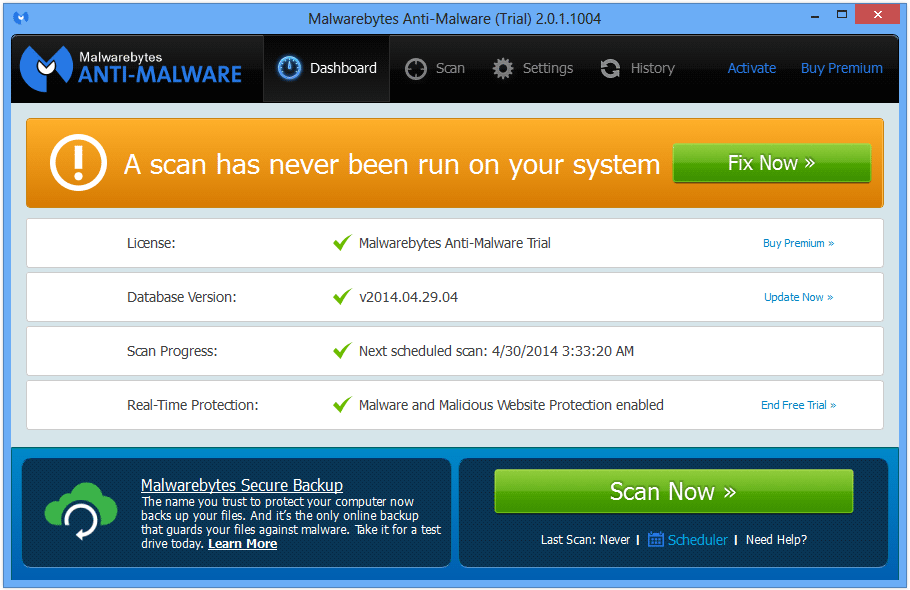 Download MalwareBytes Anti-Malware :
Premium Version Free Version (without Real-time protection)
Install MalwareBytes Anti-Malware using the installation wizard.
Once installed, Malwarebytes Anti-Malware will automatically start and you will see a message stating that you should update the program, and that a scan has never been run on your system. To start a system scan you can click on the Fix Now button.
Malwarebytes Anti-Malware will now check for updates, and if there are any, you will need to click on the Update Now button.
Once the program has loaded, select Scan now.
When the scan is done, you will now be presented with a screen showing you the malware infections that Malwarebytes' Anti-Malware has detected. To remove the malicious programs that Malwarebytes Anti-malware has found, click on the Quarantine All button, and then click on the Apply Now button.
When removing the files, Malwarebytes Anti-Malware may require a reboot in order to remove some of them. If it displays a message stating that it needs to reboot your computer, please allow it to do so.
Reset your browser (if necessary)
If you still see traces of Tictacoupon after following all the steps above you can reset your browser performing this operation:
Your bookmarks and saved passwords are not deleted or modified.
Open Chrome.
Click on the Chrome menu button on the browser toolbar.
Select Settings.
Scroll down to the end of the page, search for Show advanced settings.
Scroll down once again to the end of the page and click Reset browser settings button.
Click Reset once more.
Your bookmarks and saved passwords are not deleted or modified.
Open Firefox
At the top of the Firefox window, click the Firefox button.
Click on Help then Troubleshooting information.
Click on the Repair Firefox button and confirm.
Firefox will automatically restart.
Your bookmarks and saved passwords are not deleted or modified.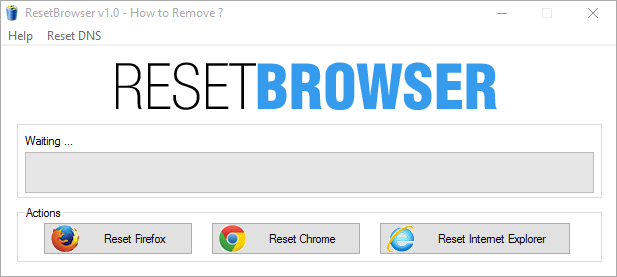 Download ResetBrowser :
Download ResetBrowser
Download the tool, save it on your desktop and double-click on it.
Read the disclaimer and press the Ok button.
Click the Reset Chrome button and wait.
Once the process is finished, click onOpen Chrome Tictacoupon should now be deleted from Firefox.
Your computer should now be free of Tictacoupon. If you are still experiencing problems while trying to remove Tictacoupon from your machine, please start a new thread in our support page. Someone will give you free assistance very fast !
Click here to go to our support page
.