System Healer creates a state of fear, stress or anxiety to its victims through annoying and non-stopping alerts about problems that are largely exaggerated. System Healer's technique consists in convincing users that their computers have some great risk for their privacy, that many registry keys are corrupted, or that the computer's performances are being greatly affected. Afterwards it suggests the victim to purchase the full version of their program so they can allegedly fix all those so called problems.
Even if there's absolutely nothing wrong with your computer, System Healer will tell you that your PC's state is concerning. In our testing phase we used a brand new Window's installation to test System Healer, and it found at least 527 different "problems":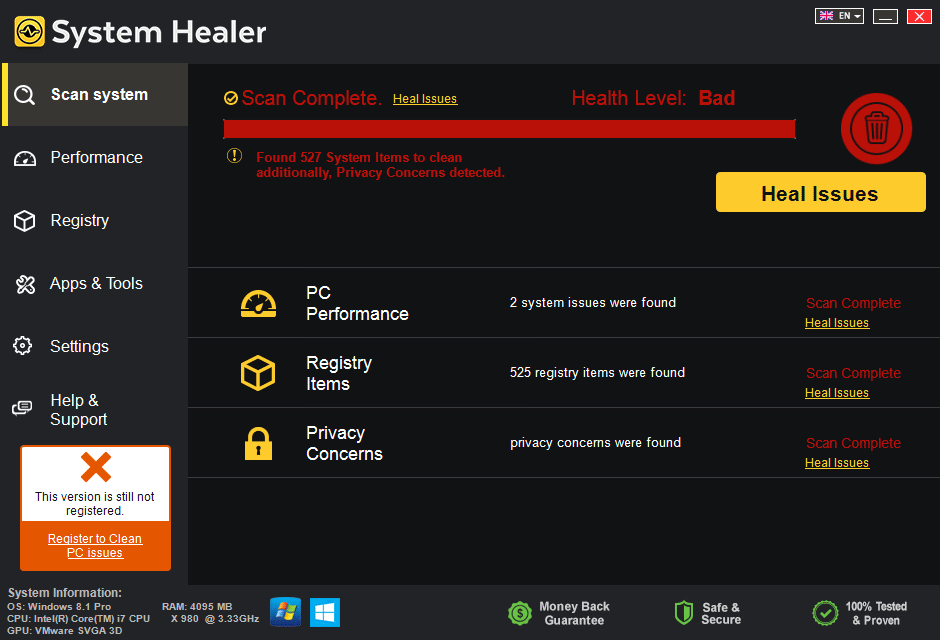 After many annoying alert messages we decided to click on the clean option to see what the program would present: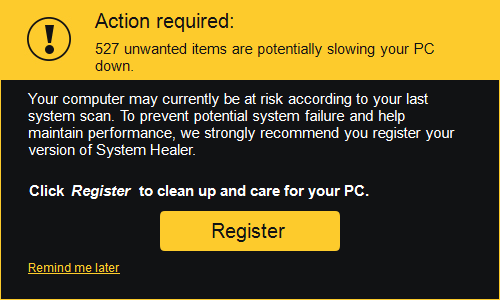 We can clearly see with all these that even if System Healer has its own official website where we can download the software, its victims didn't get it there nor they install it on their own accord. System Healer uses the same technique adware uses to be installed, by attaching itself to some other free software.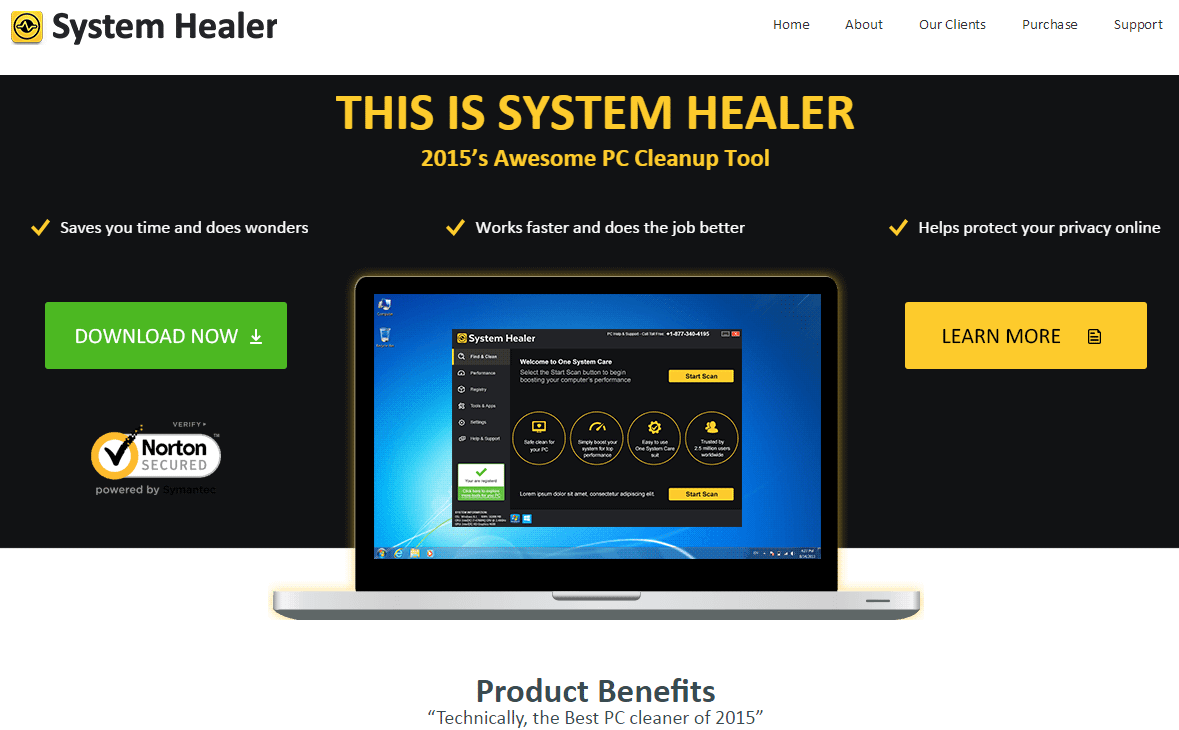 For your information please know that
System Healer
is detected as a parasite by 16 security software.
File name:
systemhealer.exe
Common path:
C:\Users\user\AppData\Local\Temp\random.tmp\228\systemhealer.exe
Signed by:
System Healer Tech Sp. Zo.o.
Analysis date:
10 December 2015
Scanner detections:
16 / 54
Malwarebytes
PUP.Optional.SystemHealer
ESET-NOD32
a variant of Win32/OptimizerEliteMax.E potentially unwanted
BitDefender
Gen:Variant.Application.Jaik.9669
DrWeb
Program.Unwanted.716
MicroWorld-eScan
Gen:Variant.Application.Jaik.9669
Zillya
Trojan.Bundpil.Win32.583
Gen:Variant.Application.Jaik.9669
F-Secure
Gen:Variant.Application.Jaik
VIPRE
Trojan.Win32.Generic!BT
Arcabit
Trojan.Application.Jaik.D25C5
VBA32
BScope.Trojan.Diple
AVware
Trojan.Win32.Generic!BT
GData
Gen:Variant.Application.Jaik.9669
Show the other 12 anti-virus detections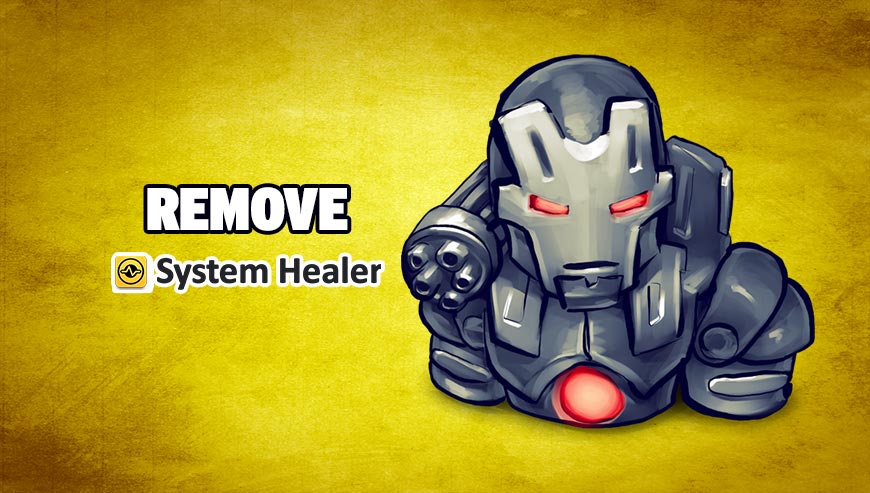 How to remove System Healer ?
Please note that all the software we offer to remove System Healer is free, our instruction is tested and works to remove this threat from Chrome, Internet Explorer or Firefox. We do not supply any shareware which detects the threat and asks a license in order to remove System Healer. Follow all steps in correct order to completely and successfully remove System Healer.
Remove System Healer from Windows (XP, Vista, 7, 8)
In this first step, we will try to identify and remove any malicious program that might be installed on your computer.
Go to the Control Panel
Go to Programs and select Uninstall a program
Search for System Healer and click the Uninstall button
Remove System Healer with MalwareBytes Anti-Malware
Malwarebytes Anti-Malware is an important security program for any computer user to have installed on their computer. It is light-weight, fast, and best of all, excellent at removing the latest infections like System Healer.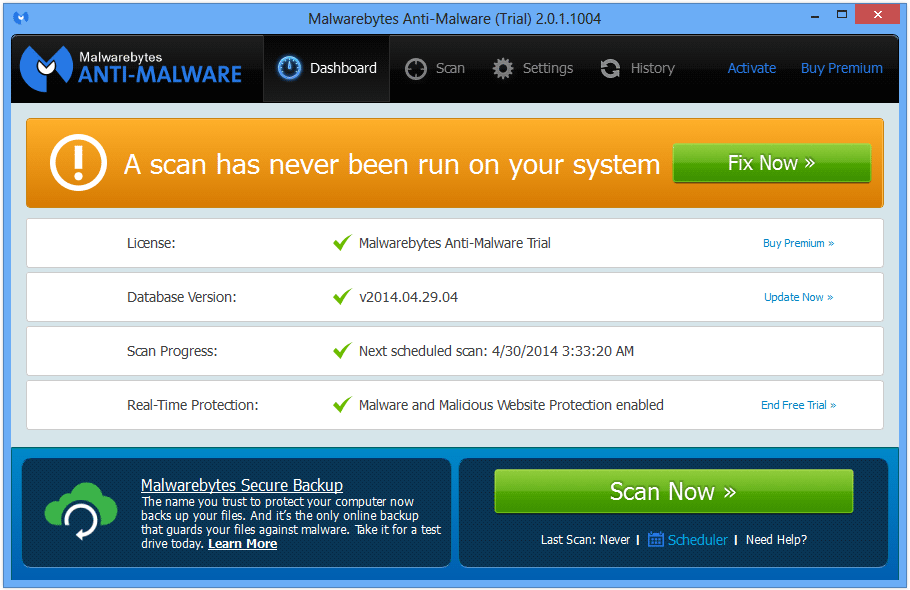 Download MalwareBytes Anti-Malware :
Premium Version Free Version (without Real-time protection)
Double-click mbam-setup-consumer.exe and follow the prompts to install the program.
Once installed, Malwarebytes Anti-Malware will automatically start and you will see a message stating that you should update the program, and that a scan has never been run on your system. To start a system scan you can click on the Fix Now button.
Malwarebytes Anti-Malware will now check for updates, and if there are any, you will need to click on the Update Now button.
Malwarebytes Anti-Malware will now start scanning your computer for System Healer.
When the scan is done, you will now be presented with a screen showing you the malware infections that Malwarebytes' Anti-Malware has detected. To remove the malicious programs that Malwarebytes Anti-malware has found, click on the Quarantine All button, and then click on the Apply Now button.
Reboot your computer if prompted.
Remove System Healer with AdwCleaner
AdwCleaner is a useful tool made to eliminate undesired toolbars, browser hijackers, redirects and potentially unwanted programs (PUPs) in Internet Explorer, Firefox, Chrome or Opera. AdwCleaner requires no set up and can be ran in a instant to scan your pc.
Please download AdwCleaner by Xplode and save to your Desktop :
Download AdwCleaner
Double-click on AdwCleaner.exe to run the tool (Windows Vista/7/8 users : right-click and select Run As Administrator).
Click on the Scan button.
After the scan has finished, click on the Clean button..
Press OK again to allow AdwCleaner to restart the computer and complete the removal process.
Remove System Healer with ZHPCleaner
ZHPCleaner is a program that searches for and deletes Adware, Toolbars, Potentially Unwanted Programs (PUP), and browser Hijackers from your computer. By using ZHPCleaner you can easily remove many of these types of programs for a better user experience on your computer and while browsing the web.
If Avast is installed on you computer you have to disable it during the process.
You can download AdwCleaner utility from the below button :
Download ZHPCleaner
Select ZHPCleaner.exe with right mouse click and Run as Administrator.
Accept the user agreement.
Click on the Scanner button.
After the scan has finished, click on the Repair button.
Reboot your computer.
Your computer should now be free of System Healer. If you are still experiencing problems while trying to remove System Healer from your machine, please start a new thread in our support page. Someone will give you free assistance very fast !
Click here to go to our support page
.