StartupMaximizer is one among the ever growing list of allegedly security and optimization software that tries to scare you into buying a license you don't need, by filling your screen with exaggerated alerts.
StartupMaximizer is usually distributed through two channels, first of all in adware publicity, while the other one is a direct installation included in freeware install processes.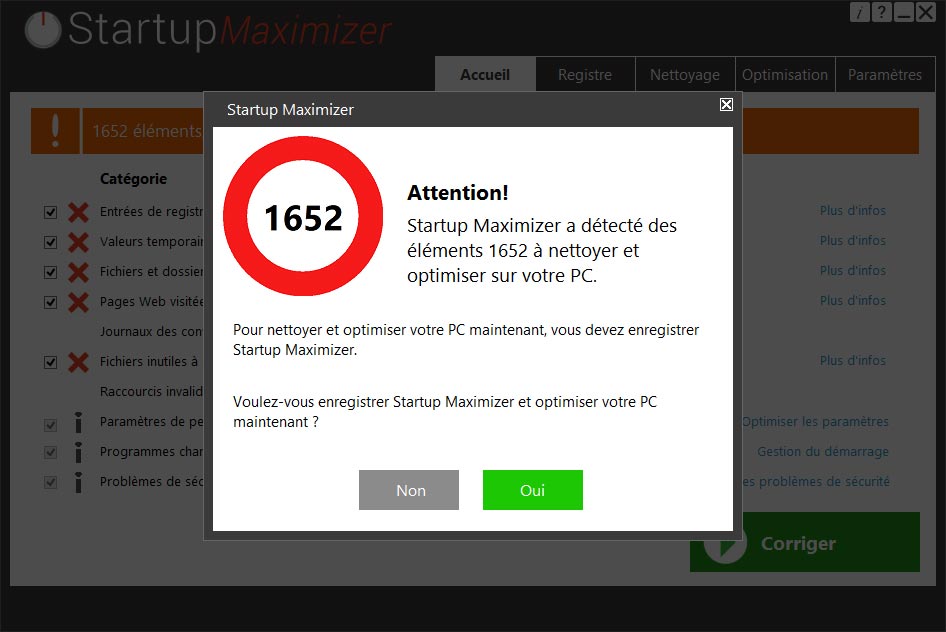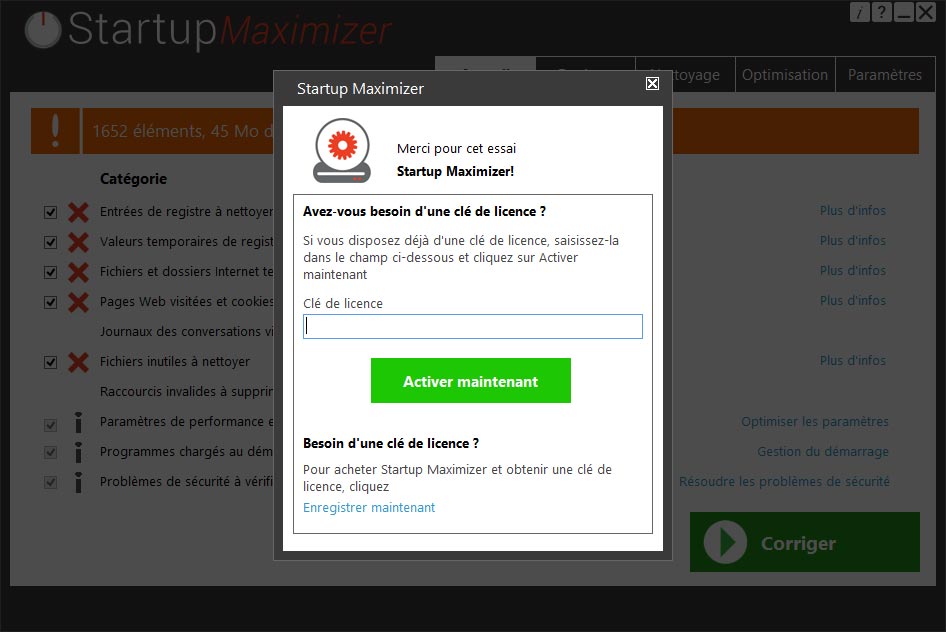 Once StartupMaximizer has been installed, it will start an automatic scan of your computer which will most surely find a huge amount of "urgent" issues or problems, as we showed in the last screenshot.
When you attempt to use the fixing option, it will ask you to register so you can obtain a licence key. In other words… Show me the money!
Among other techniques used by this software to get you to buy, we can notice:
Exaggerated use of logos to give itself a legitimate look.
Offering a discount so you feel like they are saving you money.
Note that the company behind this software offers telephone support, make no mistake they will try to get you to buy even more useless programs.
If you have StartupMaximizer installed in your computer, we strongly advice you to remove it. The following guide is completely free as the software recommended which will enable you to thoroughly clean your computer.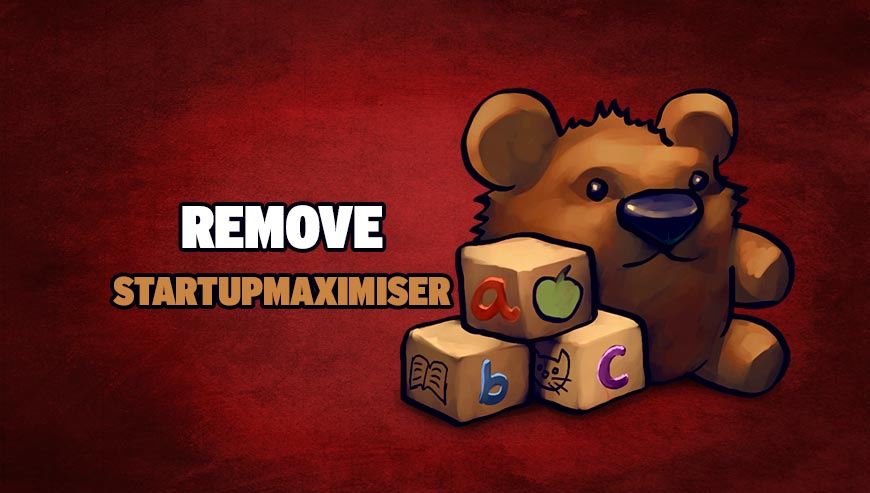 How to remove StartupMaximizer ?
Please note that all the software we offer to remove StartupMaximizer is free, our instruction is tested and works to remove this threat from Chrome, Internet Explorer or Firefox. We do not supply any shareware which detects the threat and asks a license in order to remove StartupMaximizer. Follow all steps in correct order to completely and successfully remove StartupMaximizer.
Remove StartupMaximizer from your computer
Depending on what program has installed StartupMaximizer, the program may have a different name or not be installed on your computer. If you cannot find any unwanted or unknown programs on your machine, then you can proceed directly with the next step.
Click the Start button, then click on the Control Panel menu option. If you are using Windows 8, simply drag your mouse pointer to the right edge of the screen, select Search from the list and search for "control panel".
Click on the Uninstall a program option under Programs category.
Search for StartupMaximizer and click the Uninstall button
Remove StartupMaximizer with AdwCleaner
AdwCleaner is a helpful tool designed to delete unwanted toolbars, browser hijackers, redirects and potentially unwanted programs (PUPs) in Internet Explorer, Firefox, Chrome or Opera. AdwCleaner needs no installation and can be ran in a instantaneous to scan your system.
Please download AdwCleaner by Xplode and save to your Desktop :
Download AdwCleaner
Double-click on AdwCleaner.exe to run the tool (Windows Vista/7/8 users : right-click and select Run As Administrator).
Click on the Scan button.
After the scan has finished, click on the Clean button..
Press OK again to allow AdwCleaner to restart the computer and complete the removal process.
Remove StartupMaximizer with MalwareBytes Anti-Malware
Malwarebytes Anti-Malware detects and removes malware like worms, Trojans, rootkits, rogues, spyware, and more. All you have to do is launch Malwarebytes Anti-Malware Free and run a scan. If you want even better protection, consider Malwarebytes Anti-Malware Premium and its instant real-time scanner that automatically prevents malware and websites from infecting your PC.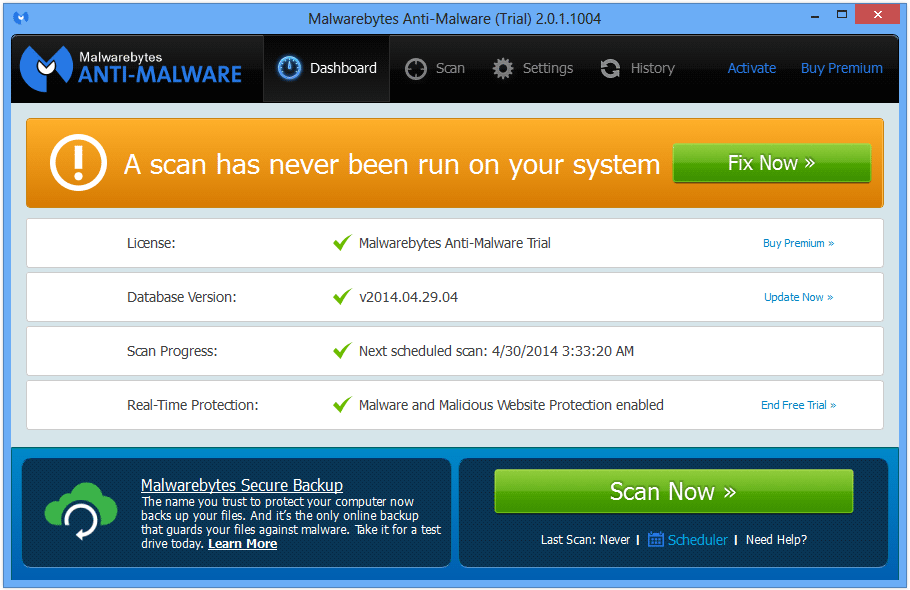 Download MalwareBytes Anti-Malware :
Premium Version Free Version (without Real-time protection)
Install MalwareBytes Anti-Malware using the installation wizard.
Once installed, Malwarebytes Anti-Malware will automatically start and you will see a message stating that you should update the program, and that a scan has never been run on your system. To start a system scan you can click on the Fix Now button.
Malwarebytes Anti-Malware will now check for updates, and if there are any, you will need to click on the Update Now button.
Once the program has loaded, select Scan now.
When the scan is done, you will now be presented with a screen showing you the malware infections that Malwarebytes' Anti-Malware has detected. To remove the malicious programs that Malwarebytes Anti-malware has found, click on the Quarantine All button, and then click on the Apply Now button.
When removing the files, Malwarebytes Anti-Malware may require a reboot in order to remove some of them. If it displays a message stating that it needs to reboot your computer, please allow it to do so.
Remove StartupMaximizer with HitmanPro
HitmanPro is a second opinion scanner, designed to rescue your computer from malware. HitmanPro is designed to work alongside existing security programs without any conflicts. HitmanPro offers you a Free Scan for a second opinion.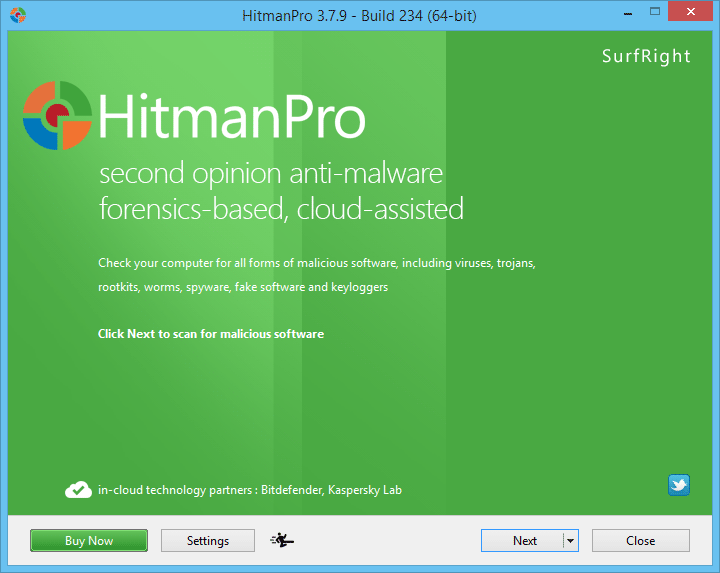 You can download HitmanPro from the below link:
Download HitmanPro
Double-click on the file named HitmanPro.exe (for 32-bit versions of Windows) or HitmanPro_x64.exe (for 64-bit versions of Windows).
Click on the Next button, to install HitmanPro on your computer.
HitmanPro will now begin to scan your computer for StartupMaximizer malicious files.
When it has finished it will display a list of all the malware that the program found as shown in the image below. Click on the Next button, to remove StartupMaximizer virus.
Your computer should now be free of StartupMaximizer. If you are still experiencing problems while trying to remove StartupMaximizer from your computer, please start a new thread in our support page. Someone will give you free assistance very fast !
Click here to go to our support page
.