Serpent Ransomware is a software that asks for a ransom to release personal files it has taken as hostages. Serpent Ransomware acts by encrypting user files which won't be available again unless you get the needed key. Serpent Ransomware asks for money in exchange for this key. All this information is given usually through a text file left on the user's desktop. Serpent Ransomware also adds the extension .serpent to all encrypted files.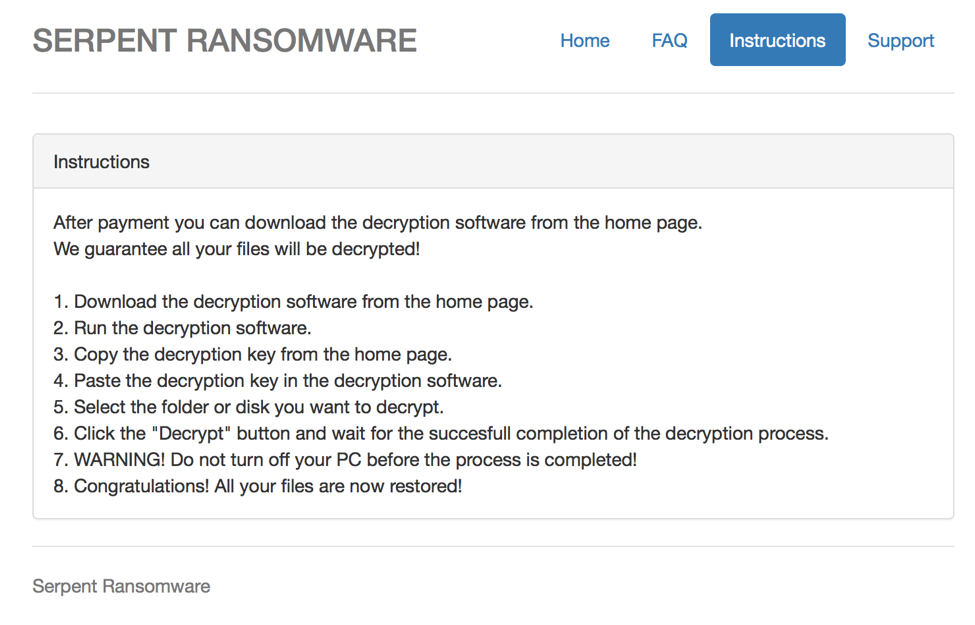 To minimize your risks if you are ever infected you must regularly perform backups. On the other hand, don't open e-mails whose sender you don't know, always make sure the address is correct. Mistrust addresses who seem familiar but are not 100% the one you know, attackers might discover familiar names (such as company names) to trick you into a mistake. When in doubt is best not to open them at all. Specially avoid opening files with the following extensions: SCR, CAB, JS or EXE. Don't read your e-mail or browse the internet if you're using an administrator kind of account. Make sure to create a "user" account. Install an antivirus and keep it up to date. On the same lines, make sure your OS is always updated.
The following guide will help you remove Serpent Ransomware and stop this infection.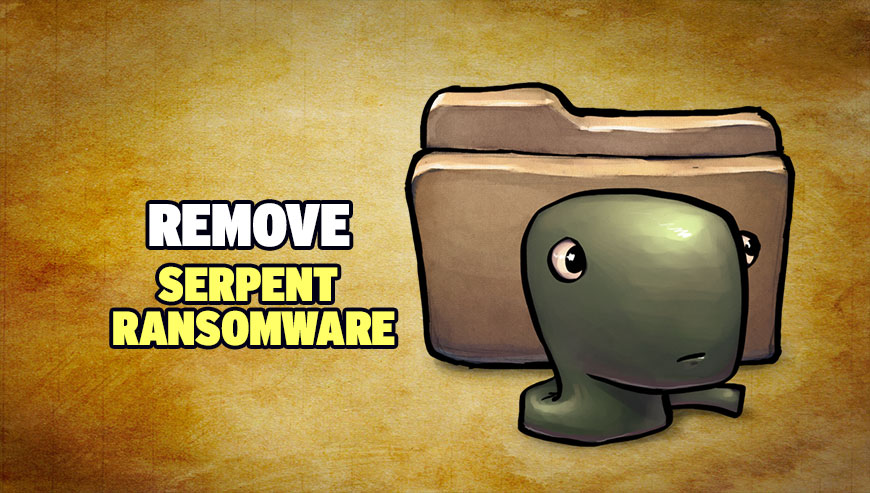 How to remove Serpent Ransomware ?
This is a detailed removal instruction to eliminate Serpent Ransomware from your computer. Please perform all the procedures in the right order. All the tool offered in this removal guide is totally free and known to clean and boost your computer.
Remove Serpent Ransomware with MalwareBytes Anti-Malware
Malwarebytes Anti-Malware is a light-weight anti-malware program that is excellent at removing the latest detections.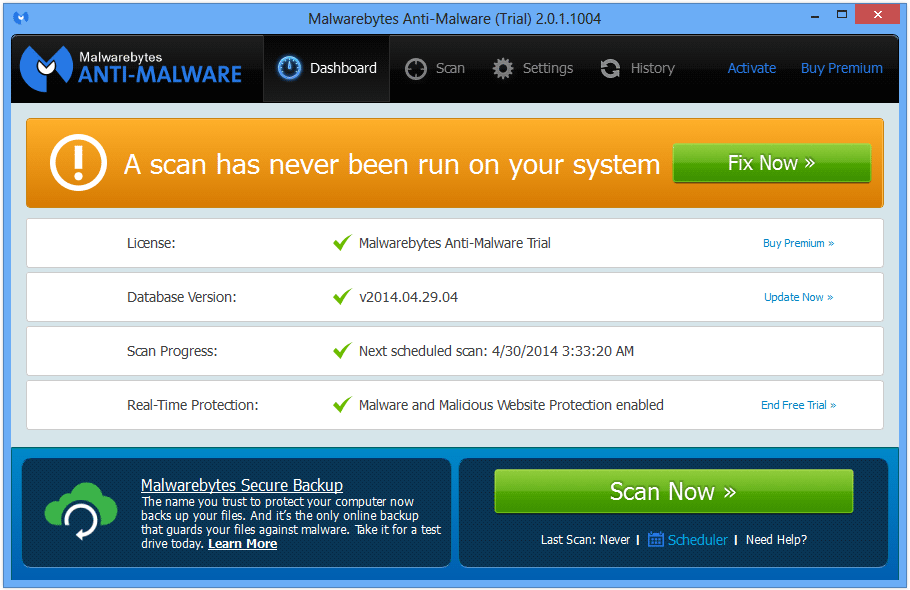 Download Malwarebytes Anti-Malware to your desktop.
Premium Version Free Version (without Real-time protection)
Install MalwareBytes Anti-Malware using the installation wizard.
Once installed, Malwarebytes Anti-Malware will automatically start and you will see a message stating that you should update the program, and that a scan has never been run on your system. To start a system scan you can click on the Fix Now button.
If an update is found, you will be prompted to download and install the latest version.
Malwarebytes Anti-Malware will now start scanning your computer for Serpent Ransomware.
When the scan is complete, make sure that everything is set to Quarantine, and click Apply Actions.
When removing the files, Malwarebytes Anti-Malware may require a reboot in order to remove some of them. If it displays a message stating that it needs to reboot your computer, please allow it to do so.
Remove Serpent Ransomware with HitmanPro
HitmanPro is a second opinion scanner designed to rescue computers that have become infected with viruses, spyware, Trojans, rootkits and other malware, despite continuous protection from up-to-date antivirus software.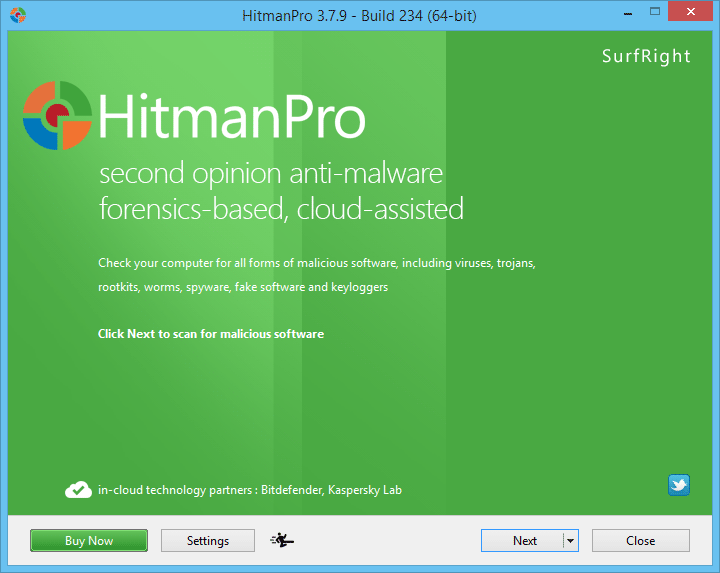 You can download HitmanPro from the below link:
Download HitmanPro
Double-click on the file named HitmanPro.exe (for 32-bit versions of Windows) or HitmanPro_x64.exe (for 64-bit versions of Windows).
Click on the Next button, to install HitmanPro on your computer.
HitmanPro will now begin to scan your computer for Serpent Ransomware malicious files.
When it has finished it will display a list of all the malware that the program found as shown in the image below. Click on the Next button, to remove Serpent Ransomware virus.
Your machine should now be free of Serpent Ransomware. If you are still experiencing problems while trying to remove Serpent Ransomware from your machine, please start a new thread in our support page. Someone will give you free assistance very fast !
Click here to go to our support page
.