Search Protect by Conduit is a utility that Conduit Search puts on your computer to ensure that the default home pages and search engine installed by it cannot be replaced by anything else. In fact, when you install (voluntarily or not) a toolbar powered by Conduit, your home page is automatically changed if you do not care to customize the installation of this toolbar. You can end up with a search engine like Bing or other spyware like qvo6, zoom nation or awesomehp … and Search Protect protects this configuration from all modifications.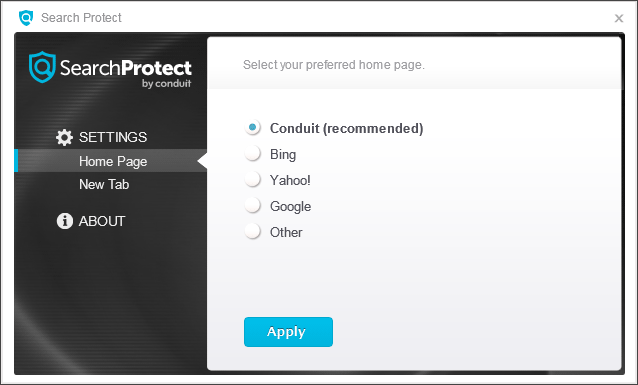 For your information please know that
Search Protect
is detected as suspicious by 17 security software.
Common path:
C:\Users\Jean\AppData\Roaming\Searchprotect\Bin\cltmng.exe
Analysis date:
31 March 2015
Scanner detections:
17 / 54
Malwarebytes
PUP.Optional.Conduit.A
ESET-NOD32
a variant of Win32/Conduit.SearchProtect.B potentially unwanted
Kaspersky
not-a-virus:WebToolbar.Win32.Agent.azm
Comodo
Application.Win32.Conduit.~A
K7AntiVirus
Unwanted-Program ( 0040f9021 )
K7GW
Unwanted-Program ( 0040f9021 )
Agnitum
Riskware.SearchProtect!
Sophos
Conduit Search Protect
Zillya
Adware.Agent.Win32.28577
Antiy-AVL
GrayWare[WebToolbar:not-a-virus]/Win32.Agent.azm
GData
Win32.Adware.Conduit.B
Baidu-International
Adware.Win32.BHO.50
Show the other 13 anti-virus detections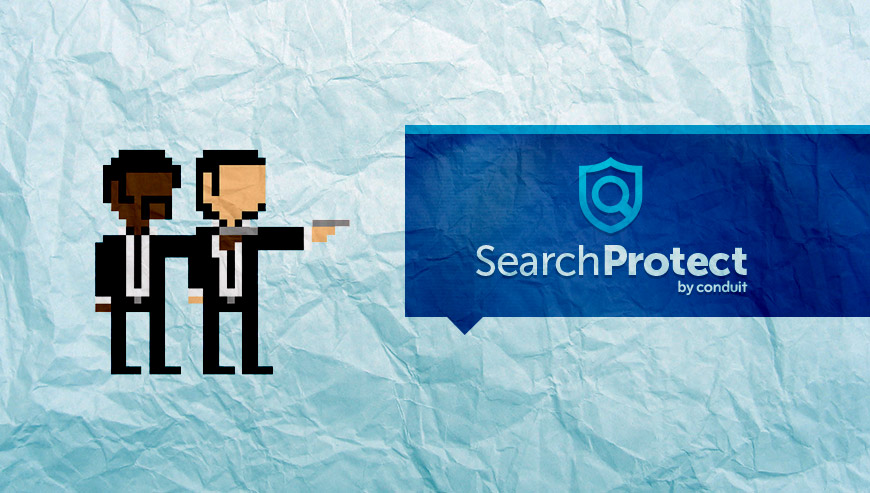 How to remove Search Protect ?
This page is a comprehensive guide, which will remove Search Protect from your computer. Please perform all the steps in the correct order.
Remove Search Protect with AdwCleaner
AdwCleaner is a very useful tool designed to delete unwanted toolbars, browser hijackers, redirects and potentially unwanted programs (PUPs) in Internet Explorer, Firefox, Chrome or Opera. AdwCleaner needs no set up and can be ran in a instantaneous to scan your system.
Please download AdwCleaner by Xplode and save to your Desktop :
Download AdwCleaner
Double-click on AdwCleaner.exe to run the tool (Windows Vista/7/8 users : right-click and select Run As Administrator).
Click on the Scan button.
After the scan has finished, click on the Clean button..
Press OK again to allow AdwCleaner to restart the computer and complete the removal process.
Remove Search Protect with MalwareBytes Anti-Malware
Malwarebytes Anti-Malware is a light-weight anti-malware program that is excellent at removing the latest detections.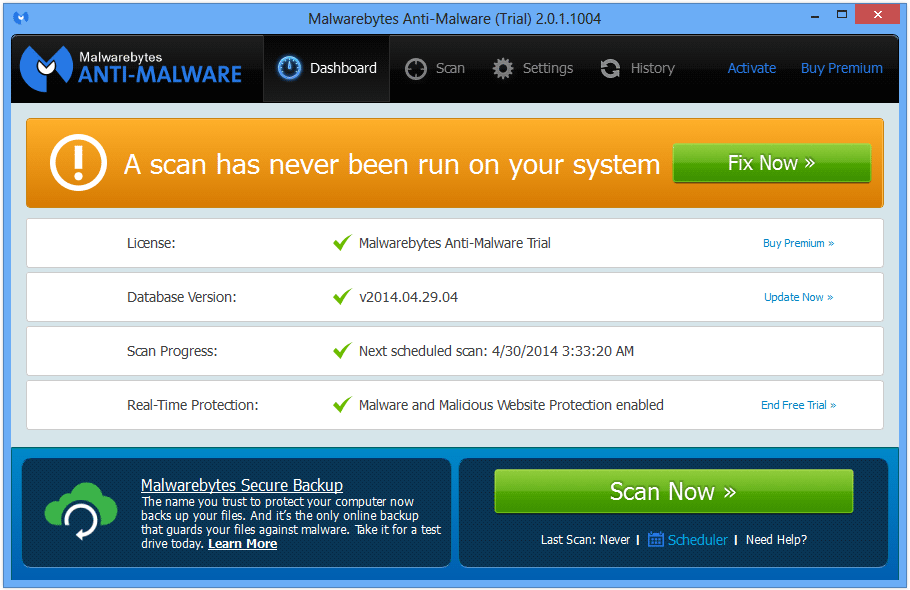 Download Malwarebytes Anti-Malware to your desktop.
Premium Version Free Version (without Real-time protection)
Install MalwareBytes Anti-Malware using the installation wizard.
Once installed, Malwarebytes Anti-Malware will automatically start and you will see a message stating that you should update the program, and that a scan has never been run on your system. To start a system scan you can click on the Fix Now button.
If an update is found, you will be prompted to download and install the latest version.
Malwarebytes Anti-Malware will now start scanning your computer for Search Protect.
When the scan is complete, make sure that everything is set to Quarantine, and click Apply Actions.
When removing the files, Malwarebytes Anti-Malware may require a reboot in order to remove some of them. If it displays a message stating that it needs to reboot your computer, please allow it to do so.
Your machine should now be free of Search Protect. If you are still experiencing problems while trying to remove Search Protect from your computer, please start a new thread in our support page. Someone will give you free assistance very fast !
Click here to go to our support page
.