Search Maven is the adware behind the ads marked as ad by Search Maven, powered by Search Maven or Search Maven Ads either in Chrome, Firefox or Internet Explorer. Here's an example of what these ads might look like:

What is Search Maven?
Nothing more than the latest version developed by SuperWeb LLC of the BrowseFox adware; this explains of course why it's detected under that name by several anti-virus. Seen for the first time in October 2014, this adware has recently resurfaced. Search Maven has its own official website, for no other reason that to make public the general conditions of use.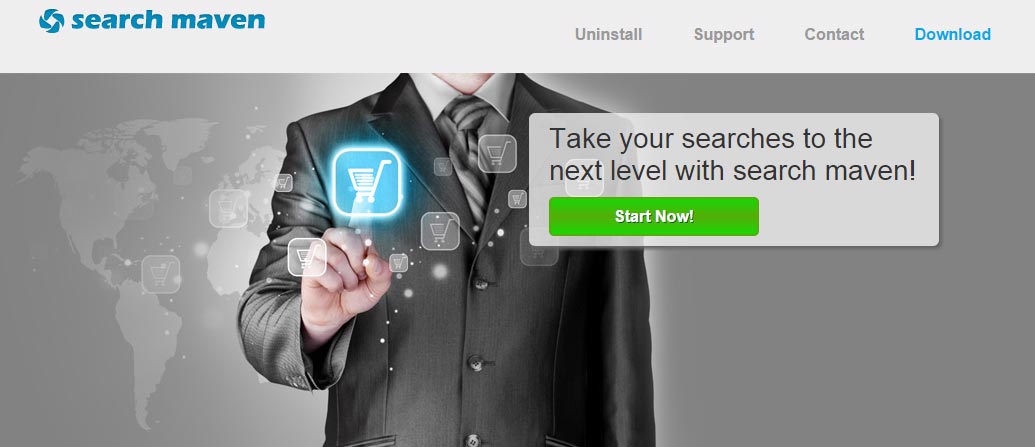 Is Search Maven dangerous?
Search Maven is not considered a virus but as a very annoying unwanted program. First reason for this is the tons of advertisement it shows without any warning; this will not only ruin the visual look of many websites, but will also take on a lot of your computer's resources (memory, CPU) because those ads are inserted directly into the code in real time. Your PC will slow down and even stop working at all, making even the smallest of task nearly impossible to handle, whether your browsing the net or not.
Search Maven also works as a spy, in the sense that it registers everything you do while browsing, according to them this is done so they can show you personalized ads. Even though their terms of use promise all data will remain anonymous, there's enough evidence to support us being doubtful of such promise.
How did I get infected with Search Maven?
Search Maven trusts that user won't pay attention while installing new programs in their computers.This unwanted program is offered in setup programs for free software found is several websites such as download.com or sourceforge.com. Please avoid using this kind of setup programs, and if you really need them, make sure to take the time to customize it to remove every unwanted program that might be offered with your chosen software.
For your information please know that
Search Maven
is detected as suspicious by 33 anti-viruses.
File name:
updatesearchmaven.exe
Common path:
C:\Program Files\Search maven\updatesearchmaven.exe
Analysis date:
24 December 2014
Scanner detections:
33 / 54
Malwarebytes
PUP.Optional.SearchMaven.A
ESET-NOD32
a variant of Win32/BrowseFox.H
BitDefender
Gen:Variant.Adware.SwiftBrowse.4
Kaspersky
not-a-virus:HEUR:AdWare.MSIL.Kranet.heur
Avira
ADWARE/BrowseFox.Gen7
MicroWorld-eScan
Gen:Variant.Adware.SwiftBrowse.4
nProtect
Trojan-Clicker/W32.Agent.323360.E
CAT-QuickHeal
AdWare.MSIL.r3 (Not a Virus)
ALYac
Gen:Variant.Adware.SwiftBrowse.4
K7GW
Unwanted-Program ( 004a8e8b1 )
K7AntiVirus
Unwanted-Program ( 004a8e8b1 )
NANO-Antivirus
Riskware.Win32.BPlug.djpkri
F-Prot
W32/S-481ec56b!Eldorado
TrendMicro-HouseCall
TROJ_GEN.R0C1C0EKH14
Gen:Variant.Adware.SwiftBrowse.4
F-Secure
Gen:Variant.Adware.SwiftBrowse.4
TrendMicro
TROJ_GEN.R0C1C0EKH14
McAfee-GW-Edition
BrowseFox.c
Emsisoft
Gen:Variant.Adware.SwiftBrowse.4 (B)
Antiy-AVL
GrayWare[AdWare:not-a-virus,HEUR]/MSIL.Kranet
GData
Gen:Variant.Adware.SwiftBrowse.4
AhnLab-V3
PUP/Win32.Downloader
Baidu-International
Adware.Win32.BrowseFox.BH
Qihoo-360
Win32/Virus.Adware.e4c
Show the other 29 anti-virus detections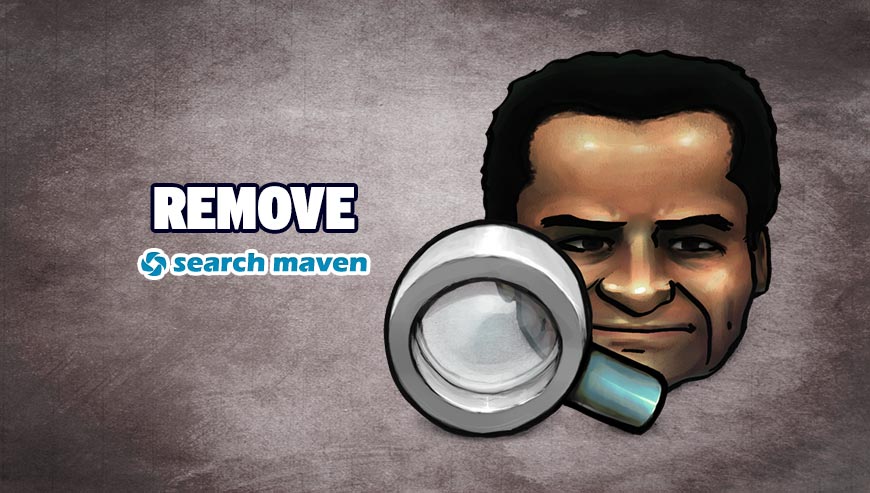 How to remove Search Maven ?
This is a comprehensive guide to remove Search Maven from your pc. Please perform all the instructions in the correct order. All the tool available in this removal guide is free and known to clean and boost your computer.
Remove Search Maven from Windows (XP, Vista, 7, 8)
In this first step, we will try to identify and remove any malicious program that might be installed on your computer.
Go to the Control Panel
Go to Programs and select Uninstall a program
Search for Search Maven and click the Uninstall button
Remove Search Maven with AdwCleaner
The AdwCleaner tool will scan your pc and internet browser for Search Maven, browser plugins and registry keys, that may have been installed on your computer without your agreement.
You can download AdwCleaner utility from the below button :
Download AdwCleaner
Before starting AdwCleaner, close all open programs and internet browsers, then double-click on the file AdwCleaner.exe.
If Windows prompts you as to whether or not you wish to run AdwCleaner, please allow it to run.
When the AdwCleaner program will open, click on the Scan button.
To remove malicious files that were detected in the previous step, please click on the Clean button.
Please click on the OK button to allow AdwCleaner reboot your computer.
Remove Search Maven with MalwareBytes Anti-Malware
Malwarebytes Anti-Malware is an important security program for any computer user to have installed on their computer. It is light-weight, fast, and best of all, excellent at removing the latest infections like Search Maven.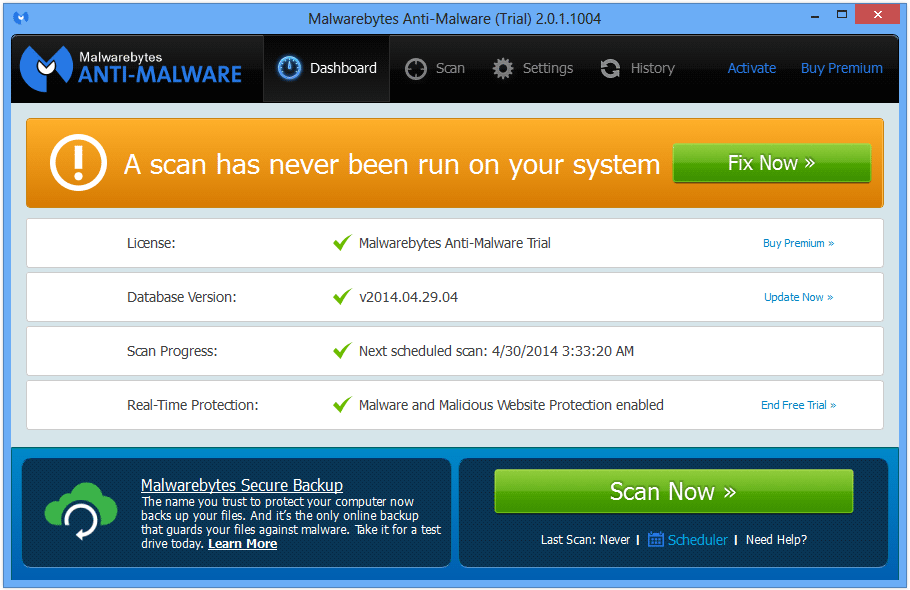 Download MalwareBytes Anti-Malware :
Premium Version Free Version (without Real-time protection)
Double-click mbam-setup-consumer.exe and follow the prompts to install the program.
Once installed, Malwarebytes Anti-Malware will automatically start and you will see a message stating that you should update the program, and that a scan has never been run on your system. To start a system scan you can click on the Fix Now button.
Malwarebytes Anti-Malware will now check for updates, and if there are any, you will need to click on the Update Now button.
Malwarebytes Anti-Malware will now start scanning your computer for Search Maven.
When the scan is done, you will now be presented with a screen showing you the malware infections that Malwarebytes' Anti-Malware has detected. To remove the malicious programs that Malwarebytes Anti-malware has found, click on the Quarantine All button, and then click on the Apply Now button.
Reboot your computer if prompted.
Reset your browser (if necessary)
If after following the above steps Search Maven is still present on your computer, you can reset your browser by following the instructions below.
Your bookmarks and saved passwords are not deleted or modified.
Open Chrome.
Click on the three stripes button in the right top corner.
Select Settings.
Scroll down to the end of the page, search for Show advanced settings.
Scroll down once again to the end of the page and click Reset browser settings button.
Click Reset once more.
Your bookmarks and saved passwords are not deleted or modified.
Open Firefox
Go to the orange Firefox button in the top left.
Go over to the Help sub-menu, then select Troubleshooting Information.
Click on the Repair Firefox button and confirm.
Mozilla Firefox will automatically restart.
Your bookmarks and saved passwords are not deleted or modified.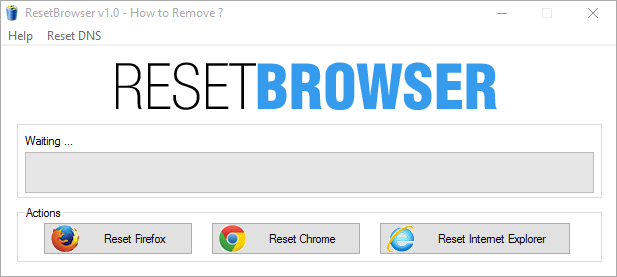 Download ResetBrowser :
Download ResetBrowser
Download the tool, save it on your desktop and double-click on it.
Read the disclaimer and press the Ok button.
Click the Reset Chrome button and wait.
Once the process is finished, click onOpen Chrome Search Maven should now be deleted from Firefox.
Your computer should now be free of Search Maven. If you are still experiencing problems while trying to remove Search Maven from your machine, please start a new thread in our support page. Someone will give you free assistance very fast !
Click here to go to our support page
.