PC Speed Maximizer is nothing but a fraud, a fake optimization software that tries to convince you it will be able to make your computer go faster. Usually installed counting on you not noticing it, it will show non-stop messages telling you your computer is at a critic state. All false!
PC Speed Maximizer is nothing close to a real optimization software that we would recommend, like CCleaner for example. This program is usually offered in freeware setup programs. For example telecharger.com (01net/cnet) won't hesitate in offering you this program along with CCleaner.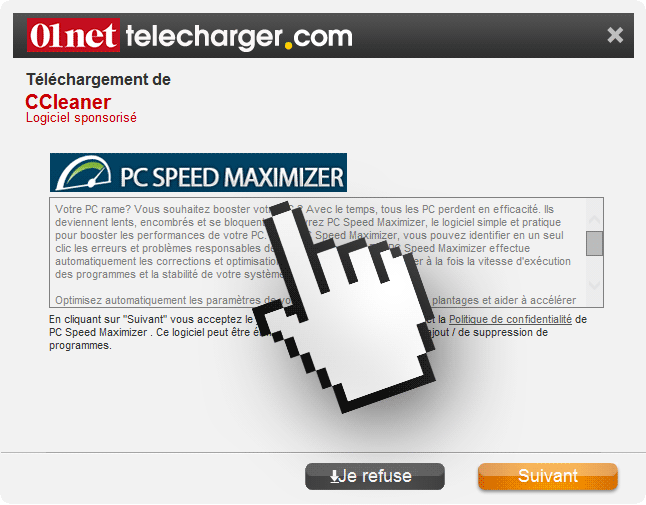 We can also find it in other places like streaming websites where they ask you to install fake video players,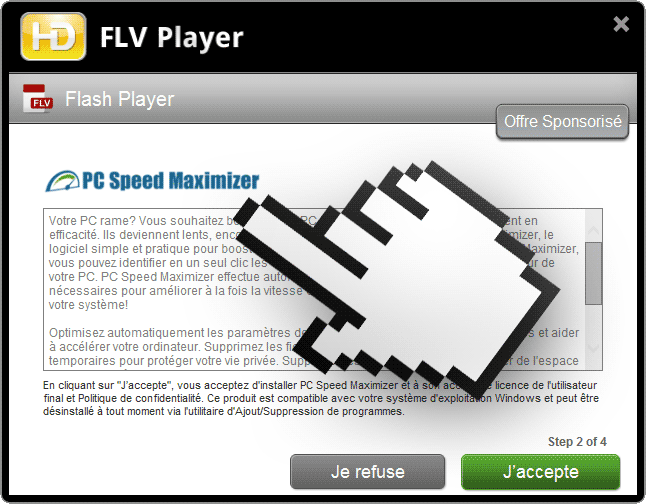 Once installed in a computer, it will start a scan…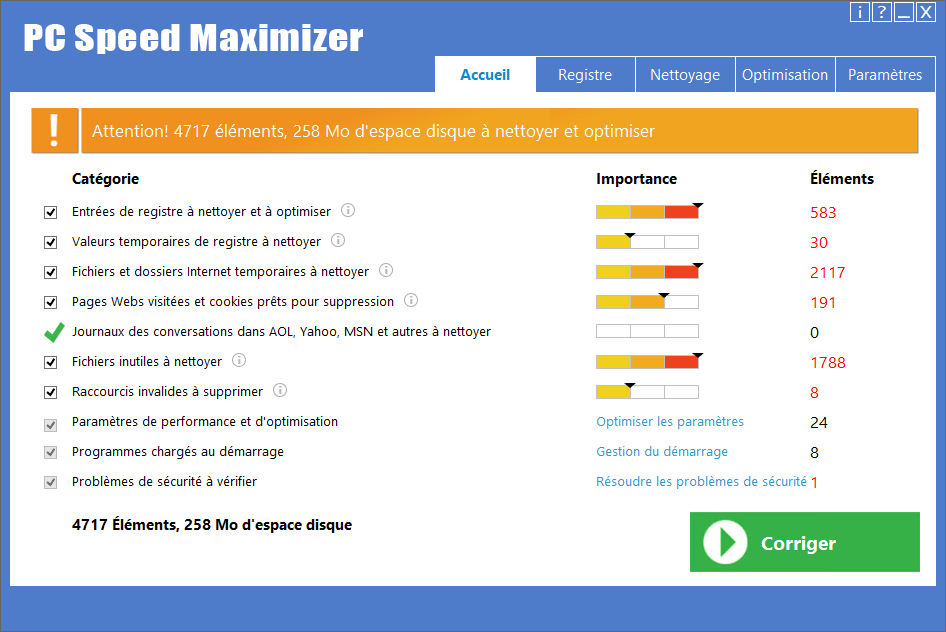 It will count all temporary files (Windows and browsers), shortcuts and files on the recycle bin as problems.
You should know that erasing those files won't make your computer faster. Specially since these files exist to make your browsing faster.
Finally, every "function" offered by PC Speed Maximizer can be done with Windows itself or with CCleaner (truly free software).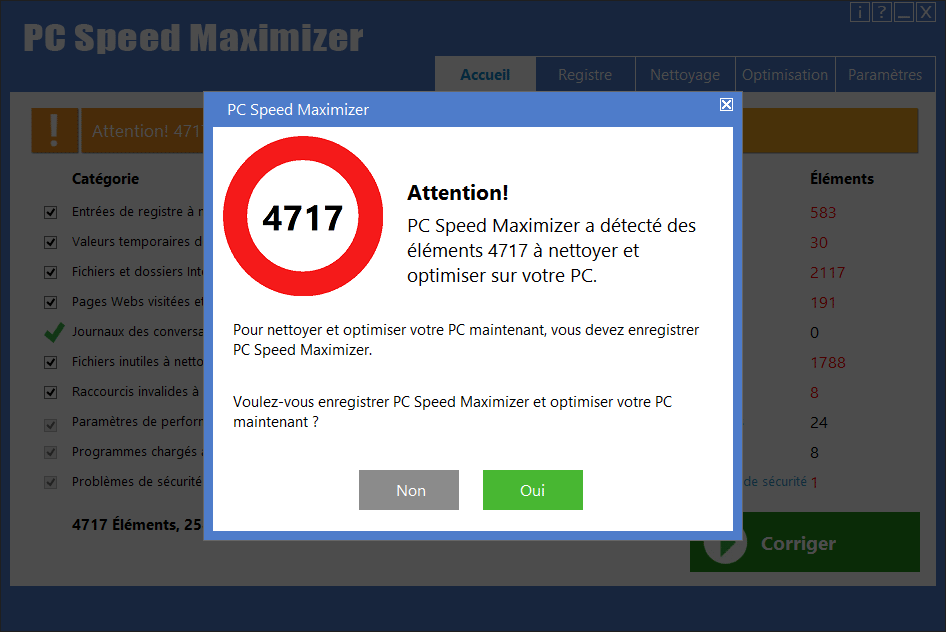 If you try to "solve" these problems with PC Speed Maximizer it will ask you to register, meaning to buy a license.
Don't fall into their trap, and don't give them a dime, more likely remove this program as soon as possible following the guide presented below.
For your information please know that
PC Speed Maximizer
is considered as a malware only by ESET-NOD32.
File name:
pcspeedmaximizer.exe
Common path:
C:\Program Files\Pc speed maximizer\pcspeedmaximizer.exe
Signed by:
Smart PC Solutions, Inc.
Analysis date:
21 February 2014
Scanner detections:
1 / 54
ESET-NOD32
a variant of Win32/SpeedingUpMyPC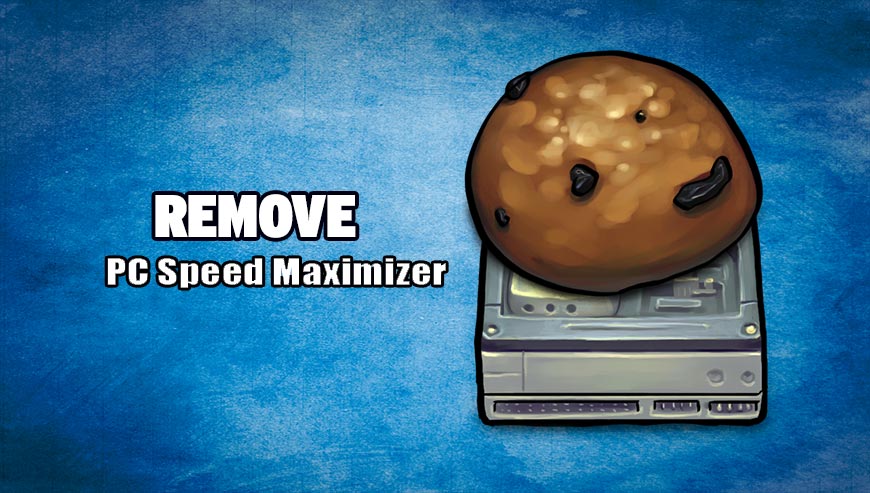 How to remove PC Speed Maximizer ?
This guide and removal tools are completely FREE. Follow all steps in correct order to completely and successfully remove PC Speed Maximizer.
Remove PC Speed Maximizer with AdwCleaner
AdwCleaner is a helpful tool made to remove undesired toolbars, browser hijackers, redirects and potentially unwanted programs (PUPs) in Internet Explorer, Firefox, Chrome or Opera. AdwCleaner requires no installation and can be ran in a instant to examine your system.
Please download AdwCleaner by Xplode and save to your Desktop :
Download AdwCleaner
Double-click on AdwCleaner.exe to run the tool (Windows Vista/7/8 users : right-click and select Run As Administrator).
Click on the Scan button.
After the scan has finished, click on the Clean button..
Press OK again to allow AdwCleaner to restart the computer and complete the removal process.
Remove PC Speed Maximizer with ZHPCleaner
ZHPCleaner is a program that searches for and deletes Adware, Toolbars, Potentially Unwanted Programs (PUP), and browser Hijackers from your computer. By using ZHPCleaner you can easily remove many of these types of programs for a better user experience on your computer and while browsing the web.
If Avast is installed on you computer you have to disable it during the process.
You can download AdwCleaner utility from the below button :
Download ZHPCleaner
Select ZHPCleaner.exe with right mouse click and Run as Administrator.
Accept the user agreement.
Click on the Scanner button.
After the scan has finished, click on the Repair button.
Reboot your computer.
Remove PC Speed Maximizer with MalwareBytes Anti-Malware
Malwarebytes Anti-Malware is an important security program for any computer user to have installed on their computer. It is light-weight, fast, and best of all, excellent at removing the latest infections like PC Speed Maximizer.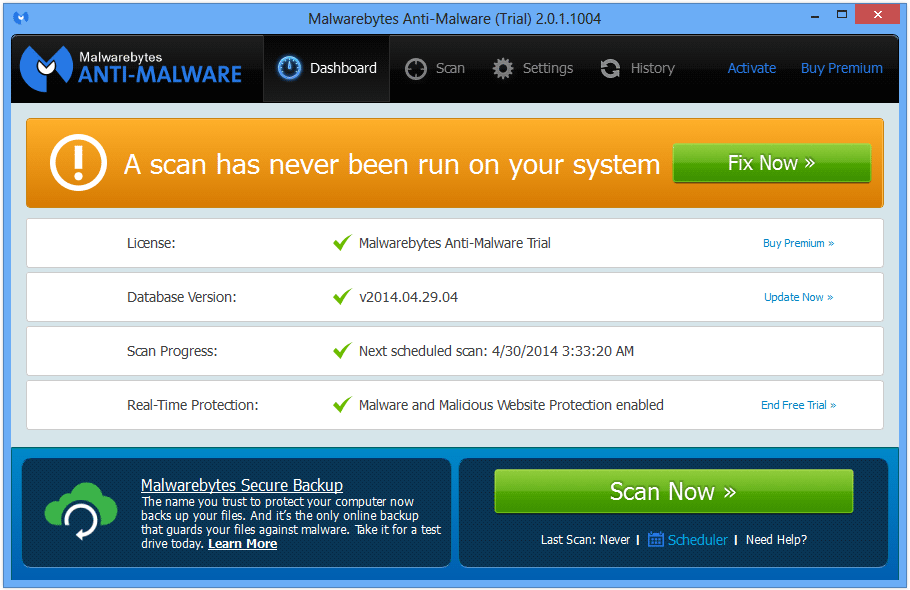 Download MalwareBytes Anti-Malware :
Premium Version Free Version (without Real-time protection)
Double-click mbam-setup-consumer.exe and follow the prompts to install the program.
Once installed, Malwarebytes Anti-Malware will automatically start and you will see a message stating that you should update the program, and that a scan has never been run on your system. To start a system scan you can click on the Fix Now button.
Malwarebytes Anti-Malware will now check for updates, and if there are any, you will need to click on the Update Now button.
Malwarebytes Anti-Malware will now start scanning your computer for PC Speed Maximizer.
When the scan is done, you will now be presented with a screen showing you the malware infections that Malwarebytes' Anti-Malware has detected. To remove the malicious programs that Malwarebytes Anti-malware has found, click on the Quarantine All button, and then click on the Apply Now button.
Reboot your computer if prompted.
Your machine should now be free of PC Speed Maximizer. If you are still experiencing problems while trying to remove PC Speed Maximizer from your machine, please start a new thread in our support page. Someone will give you free assistance very fast !
Click here to go to our support page
.