NueSearch is considered among technology professionals as a browser hijacker. The term might seem too much, but it really does hijack your browser's settings. This manipulation is done so they can set up their own homepage and search engine replacing those you had previously configured as default settings. Although that's not all they do because they take measures so you can not manually modify those settings back.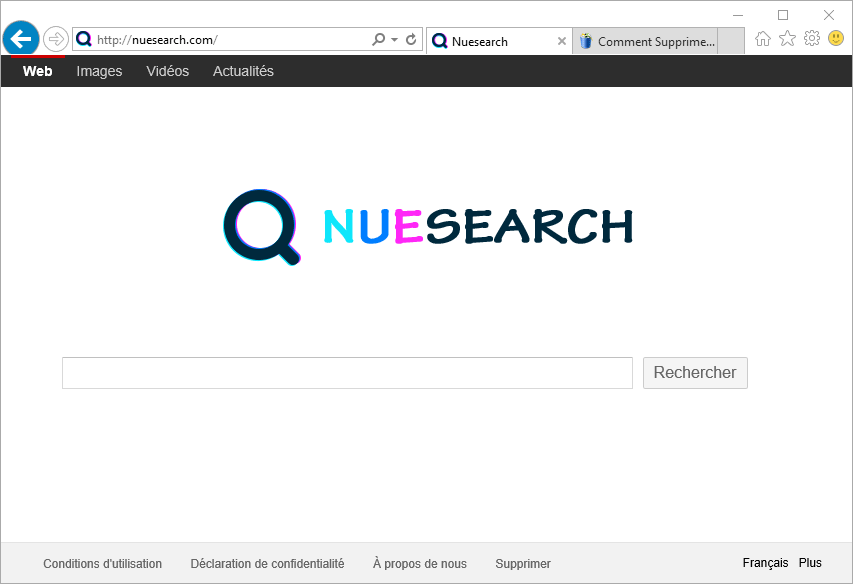 Actually NueSearch's main goal as it is with many browser hijackers, is to force yo to use their own search engine which will show you modified result pages where many sponsored links will be inserted. These websites pay NueSearch's creators to do so. The problem is that those links could guide you towards malicious e-commerce websites or other similar threats.
To remove NueSearch manually can become quite the annoying challenge, specially if you're not an expert on Windows' registry manipulation nor keen to manually change and handle system files. Fortunately there have been some nice developers that have created free programs that are able to get rid of unwanted programs like NueSearch. Those programs are listed in our guide and we strongly advice you to use them all, is the only way to make sure no unwanted programs remain installed in your computer.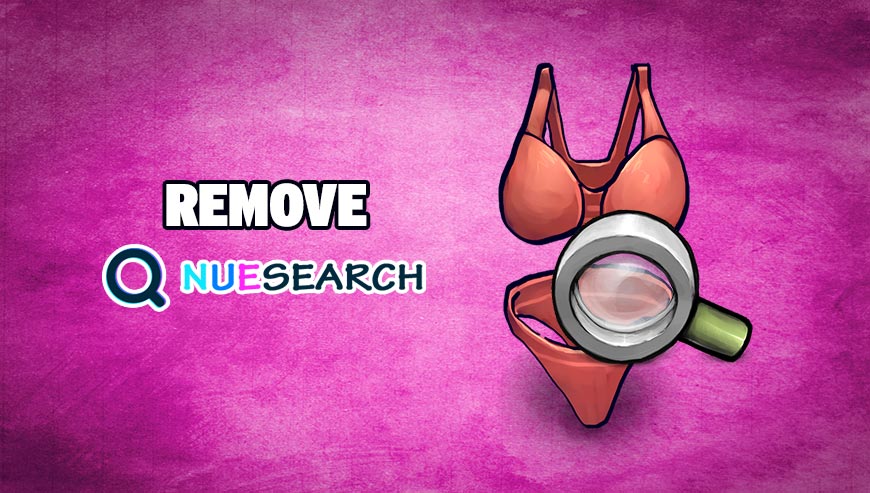 How to remove NueSearch ?
Please note that all the software we offer to remove NueSearch is free, our instruction is tested and works to remove this threat from Chrome, Internet Explorer or Firefox. We do not supply any shareware which detects the threat and asks a license in order to remove NueSearch. Follow all steps in correct order to completely and successfully remove NueSearch.
Remove NueSearch with MalwareBytes Anti-Malware
Malwarebytes Anti-Malware detects and removes malware like worms, Trojans, rootkits, rogues, spyware, and more. All you have to do is launch Malwarebytes Anti-Malware Free and run a scan. If you want even better protection, consider Malwarebytes Anti-Malware Premium and its instant real-time scanner that automatically prevents malware and websites from infecting your PC.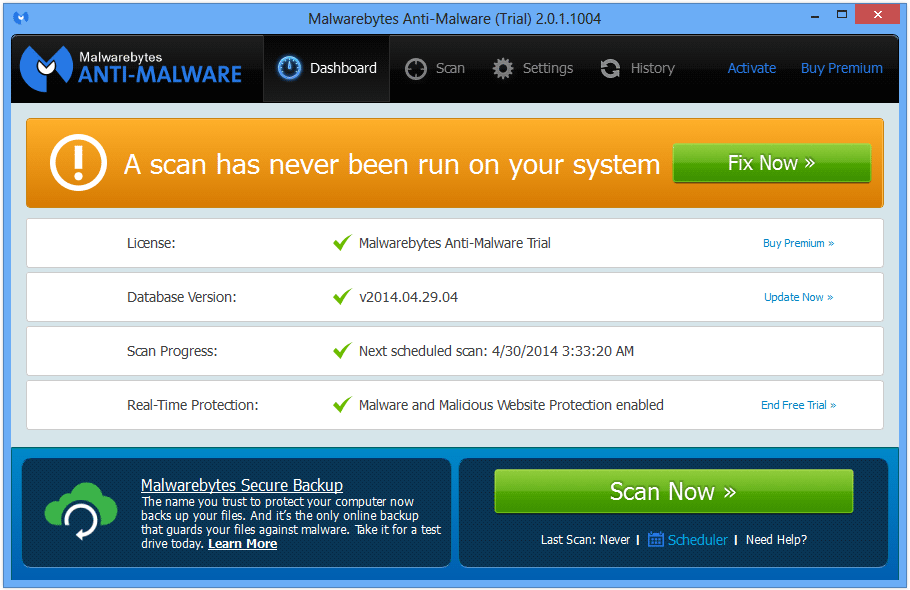 Download MalwareBytes Anti-Malware :
Premium Version Free Version (without Real-time protection)
Install MalwareBytes Anti-Malware using the installation wizard.
Once installed, Malwarebytes Anti-Malware will automatically start and you will see a message stating that you should update the program, and that a scan has never been run on your system. To start a system scan you can click on the Fix Now button.
Malwarebytes Anti-Malware will now check for updates, and if there are any, you will need to click on the Update Now button.
Once the program has loaded, select Scan now.
When the scan is done, you will now be presented with a screen showing you the malware infections that Malwarebytes' Anti-Malware has detected. To remove the malicious programs that Malwarebytes Anti-malware has found, click on the Quarantine All button, and then click on the Apply Now button.
When removing the files, Malwarebytes Anti-Malware may require a reboot in order to remove some of them. If it displays a message stating that it needs to reboot your computer, please allow it to do so.
Remove NueSearch with AdwCleaner
The AdwCleaner tool will scan your pc and internet browser for NueSearch, browser plugins and registry keys, that may have been put in your system without your permission.
You can download AdwCleaner utility from the below button :
Download AdwCleaner
Before starting AdwCleaner, close all open programs and internet browsers, then double-click on the file AdwCleaner.exe.
If Windows prompts you as to whether or not you wish to run AdwCleaner, please allow it to run.
When the AdwCleaner program will open, click on the Scan button.
To remove malicious files that were detected in the previous step, please click on the Clean button.
Please click on the OK button to allow AdwCleaner reboot your computer.
Remove NueSearch with ZHPCleaner
ZHPCleaner is a program that searches for and deletes Adware, Toolbars, Potentially Unwanted Programs (PUP), and browser Hijackers from your computer. By using ZHPCleaner you can easily remove many of these types of programs for a better user experience on your computer and while browsing the web.
If Avast is installed on you computer you have to disable it during the process.
You can download AdwCleaner utility from the below button :
Download ZHPCleaner
Select ZHPCleaner.exe with right mouse click and Run as Administrator.
Accept the user agreement.
Click on the Scanner button.
After the scan has finished, click on the Repair button.
Reboot your computer.
Reset your browser (if necessary)
If after following the above steps NueSearch is still present on your computer, you can reset your browser by following the instructions below.
Your bookmarks and saved passwords are not deleted or modified.
Open Chrome.
Click on the Chrome menu button on the browser toolbar.
Select Settings.
Scroll down to the end of the page, search for Show advanced settings.
Scroll down once again to the end of the page and click Reset browser settings button.
Click Reset once more.
Your bookmarks and saved passwords are not deleted or modified.
Open Firefox
Go to the orange Firefox button in the top left.
Click on Help then Troubleshooting information.
Click on the Repair Firefox button and confirm.
Mozilla Firefox will automatically restart.
Your bookmarks and saved passwords are not deleted or modified.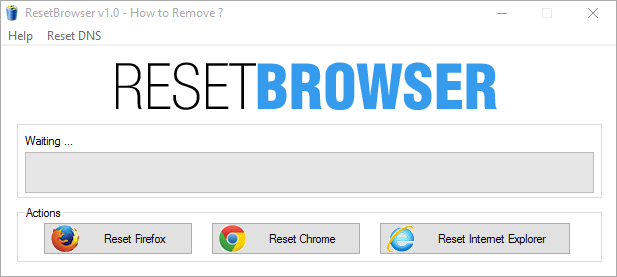 Download ResetBrowser :
Download ResetBrowser
Download the tool, save it on your desktop and double-click on it.
Read the disclaimer and press the Ok button.
Click the Reset Chrome button and wait.
Once the process is finished, click onOpen Chrome NueSearch should now be deleted from Firefox.
Reset default homepage (if necessary)
Open Google Chrome then go to the three stripes in the right top corner
Select Settings
Go to the header: On Startup
Click on the blue link: Set Pages behind Open a specific page or set of pages
Remove the actual homepage by clicking the X icon.
Enter a new homepage of your choice in textbox "Enter Url..."
Go to the header: Search
Click on the button: Manage search engines
Select Google.com from the list, hover over it and click blue button Make Defaults
Hover over NueSearch and click the X to remove it from the list.
Open Mozilla Firefox and at the top of the Firefox window, click the Firefox button, then select Options
Click on the General tab.
Replace the homepage with one of your choice and click on OK.
Open Internet Explorer
Click on the gear icon , in the upper right part of your browser, then click again on Internet Options..
Click on the General tab.
Replace the homepage with one of your choice, for example: google.com
Your computer should now be free of NueSearch. If you are still experiencing problems while trying to remove NueSearch from your machine, please start a new thread in our support page. Someone will give you free assistance very fast !
Click here to go to our support page
.