Max Adblock is an adware whose presence in your computer will result in the sudden showing of a huge amount of ads. This adware can affect Firefox, Chrome and Internet Explorer. It goes without saying that following these ads is not on your best interest. They could direct your browsing towards dangerous websites.
Max Adblock can also become a threat for your privacy, thus you should remove it ASAP!
What does Max Adblock do?
Max Adblock shows ads with codes, discounts and other offers like that. They might seem interesting, specially since it's likely that they match your interests. Actually Max Adblock customizes its ads to match your browsing habits. This adware can also have access to other data like every web search you perform, your geographical position, etc… all of it can be sold afterwards in the black market.
Most ads shown by Max Adblock will take you to e-commerce websites. While some of them are legitimate, there's no warranty that they could also be dangerous websites. If you want to avoid this risk, you must stay away from these ads and you ought to uninstall the program.
How did Max Adblock arrive on my PC?
Max Adblock uses mischievous techniques to be installed in your PC. It's usually installed at the same time as some free software found in the net. If you have recently downloaded and installed either a multimedia player, a PDF creator, a downloads manager or some other application of that sort, you've found the explanation of how Max Adblock was installed. If you wish to avoid this problem in the future, you must always make sure to customize every setup process started in your system. Look for cases offering optional software so you can reject them every time.
You should know that
Max Adblock
is detected as a malware by 18 security software.
File name:
adblock-plus-1-7-2.exe
Common path:
C:\Users\user\Downloads\adblock-plus-1-7-2.exe
Analysis date:
1 March 2015
Scanner detections:
18 / 54
Malwarebytes
PUP.Optional.MaxSetup
ESET-NOD32
a variant of Win32/InstallCore.BY potentially unwanted
DrWeb
Trojan.Packed.24524
Avira
ADWARE/InstallCore.Gen7
K7AntiVirus
Unwanted-Program ( 0040f8211 )
K7GW
Unwanted-Program ( 0040f8211 )
F-Prot
W32/A-dbe1ec51!Eldorado
McAfee-GW-Edition
BehavesLike.Win32.CryptInno.jc
Sophos
Install Core Click run software
Cyren
W32/A-dbe1ec51!Eldorado
Antiy-AVL
Trojan/Win32.TSGeneric
GData
Win32.Application.InstallCore.L
AVware
Adware.InstallCore
VBA32
Downware.InstallCore
Show the other 14 anti-virus detections
How to remove Max Adblock ?
This page is a comprehensive guide, which will remove Max Adblock from your computer. Please perform all the steps in the correct order.
Remove Max Adblock with AdwCleaner
AdwCleaner is a tool that research for and deletes Adware, Toolbars, Potentially Unwanted Programs (PUP), and browser Hijackers from your system. If you use AdwCleaner you can easily get rid of many of these types of applications for a better user experience on your system and while browsing the web.
Download AdwCleaner (Official link and direct-download) :
Download AdwCleaner
Select AdwCleaner.exe with right mouse click and Run as Administrator.
If User Account Control asks you to allow AdwCleaner.exe to make changes to your computer, press Yes to continue.
Start scanning your computer for any malicious threats by selecting the Scan button, please wait.
If AdwCleaner is done, it will display a list of malicious items detected, If you have nothing to uncheck, continue to the removal process and select the Clean button.
Reboot your computer.
Remove Max Adblock with MalwareBytes Anti-Malware
Malwarebytes Anti-Malware is an important security program for any computer user to have installed on their computer. It is light-weight, fast, and best of all, excellent at removing the latest infections like Max Adblock.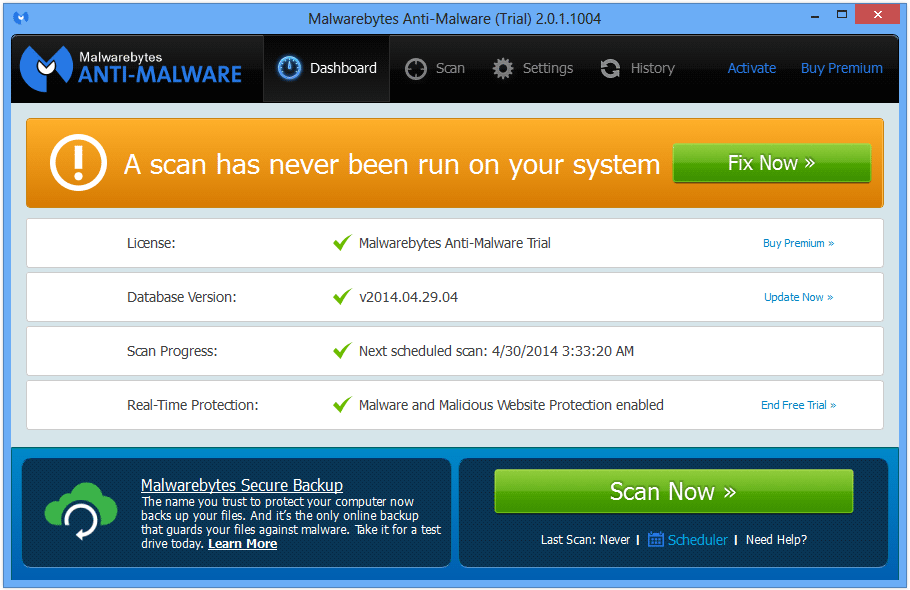 Download MalwareBytes Anti-Malware :
Premium Version Free Version (without Real-time protection)
Double-click mbam-setup-consumer.exe and follow the prompts to install the program.
Once installed, Malwarebytes Anti-Malware will automatically start and you will see a message stating that you should update the program, and that a scan has never been run on your system. To start a system scan you can click on the Fix Now button.
Malwarebytes Anti-Malware will now check for updates, and if there are any, you will need to click on the Update Now button.
Malwarebytes Anti-Malware will now start scanning your computer for Max Adblock.
When the scan is done, you will now be presented with a screen showing you the malware infections that Malwarebytes' Anti-Malware has detected. To remove the malicious programs that Malwarebytes Anti-malware has found, click on the Quarantine All button, and then click on the Apply Now button.
Reboot your computer if prompted.
Reset your browser (if necessary)
If after following the above steps Max Adblock is still present on your computer, you can reset your browser by following the instructions below.
Your bookmarks and saved passwords are not deleted or modified.
Open Chrome.
Click on the three stripes button in the right top corner.
Select Settings.
Scroll down to the end of the page, search for Show advanced settings.
Scroll down once again to the end of the page and click Reset browser settings button.
Click Reset once more.
Your bookmarks and saved passwords are not deleted or modified.
Open Firefox
Go to the orange Firefox button in the top left.
Go over to the Help sub-menu, then select Troubleshooting Information.
Click on the Repair Firefox button and confirm.
Mozilla Firefox will automatically restart.
Your bookmarks and saved passwords are not deleted or modified.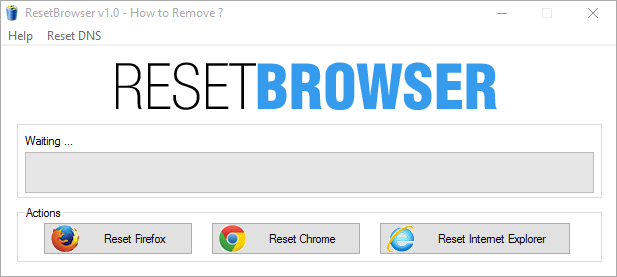 Download ResetBrowser :
Download ResetBrowser
Download the tool, save it on your desktop and double-click on it.
Read the disclaimer and press the Ok button.
Click the Reset Chrome button and wait.
Once the process is finished, click onOpen Chrome Max Adblock should now be deleted from Firefox.
Your computer should now be free of Max Adblock. If you are still experiencing problems while trying to remove Max Adblock from your machine, please start a new thread in our support page. Someone will give you free assistance very fast !
Click here to go to our support page
.