Until recently, the Mac OSX users had no security issues because they assimilated "security" to "virus" and everybody thought that there was no virus on Mac. Adware, spyware and other scareware are obviously pretty rare on Mac (more than 99% of the articles How to Remove are intended to Windows users) but things tend to change a little after the success of Apple products.
Therefore, MacVx is an adware designed to be installed on the Apple computers. MacVx has an official page but in general it's not the common way for this unwanted program to be spread.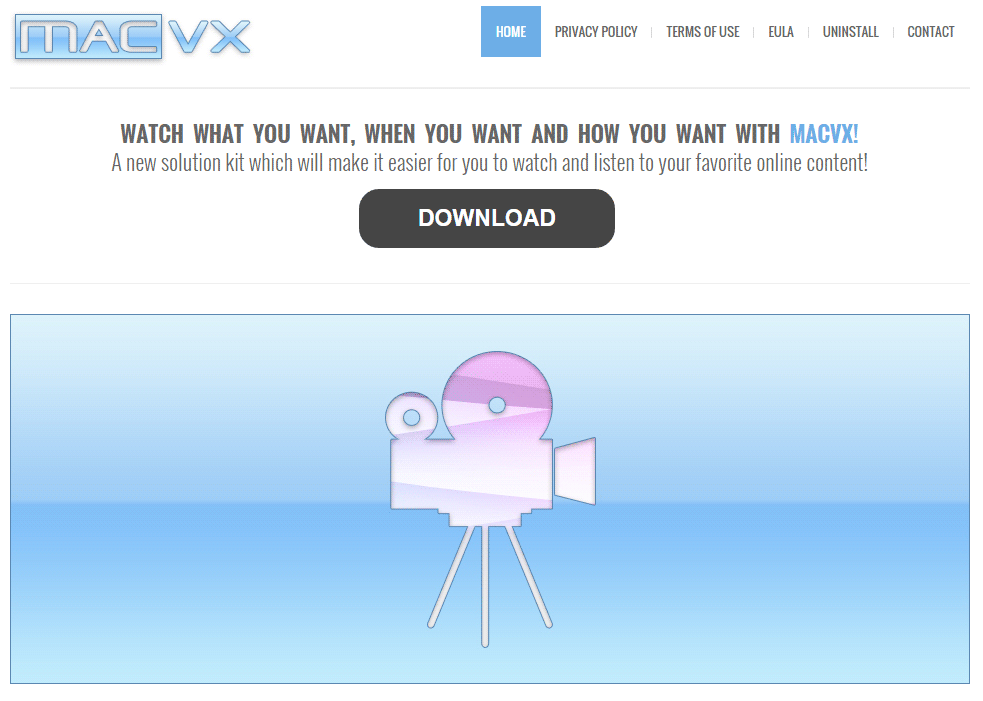 If you see ads by MacVx, you have probably attempted to download hacked software on sharing networks. MacVx can mostly be found on Photoshop CS6 files, GTA 5, The Sims 4, Clash of Clans Hack Tool, code generators for PSN etc…
MacVx is installed as a browser extension and it's often enough to remove it from the browser settings. However, we recommend that you run an antivirus just to be sure that you have totally removed it. The entire procedure is below.
You should know that
MacVx
is considered as a malware by 24 anti-viruses.
ESET-NOD32
OSX/TrojanDownloader.Agent.B
BitDefender
Adware.MAC.OSX.Vindinstaller.O
Kaspersky
HEUR:Trojan-Downloader.OSX.Vidsler.a
DrWeb
Trojan.Vindinstaller.1
Comodo
UnclassifiedMalware
Avira
ADWARE/OSX.FkCodec.8
MicroWorld-eScan
Adware.MAC.OSX.Vindinstaller.O
nProtect
Adware.MAC.OSX.Vindinstaller.O
CAT-QuickHeal
Adware.OSX.FakeCodec.A
NANO-Antivirus
Riskware.Mac.Vindinstaller.dgjtyn
TrendMicro-HouseCall
MACOS_VINDINSTALLER.MCMFP15
Avast
Other:Malware-gen [Trj]
Adware.MAC.OSX.Vindinstaller.O
McAfee-GW-Edition
OSX/Adware.gen.a
Emsisoft
Adware.MAC.OSX.Vindinstaller.O (B)
Arcabit
Adware.MAC.OSX.Vindinstaller.O
GData
Adware.MAC.OSX.Vindinstaller.O
ALYac
Adware.MAC.OSX.Vindinstaller.O
Tencent
Win32.Adware.Fkcodec.Peza
Show the other 20 anti-virus detections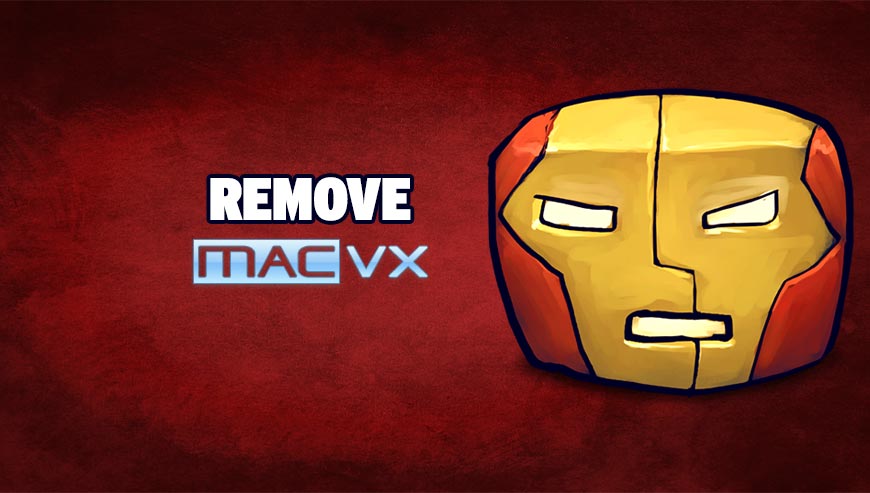 How to remove MacVx ?
All tools used in this guide are completely free to use and should remove any trace of MacVx from your computer. Follow all steps as described in this removal guide to remove MacVx and all additional adware that may have been installed on your computer.
Remove MacVx from your browser
Open Chrome and go to the 3 stripes icon in top right corner.
Select Settings and on the left side Extensions.
Remove MacVx, Macfest by clicking the trash can icon.
Restart Chrome.
Open Firefox
Click on the Big Orange Firefox button in top left corner, then select Add-ons
Remove MacVx, Macfest by clicking the Remove button.
Restart Firefox
Open Internet Explorer
Click on the Gear icon , then click on Manage Addons
Go to the tabToolbars and Extensions
Select and disable MacVx, Macfest if you can't find them or if you can't remove them, go to the next step.
Restart Internet Explorer
Remove MacVx with AdwareMedic
AdwareMedic is a program dedicated to fighting adware. AdwareMedic can identify and remove malicious adware from your computer. When your computer becomes infected, AdwareMedic can provide the needed assistance to remove the infection and restore the machine back to optimum performance.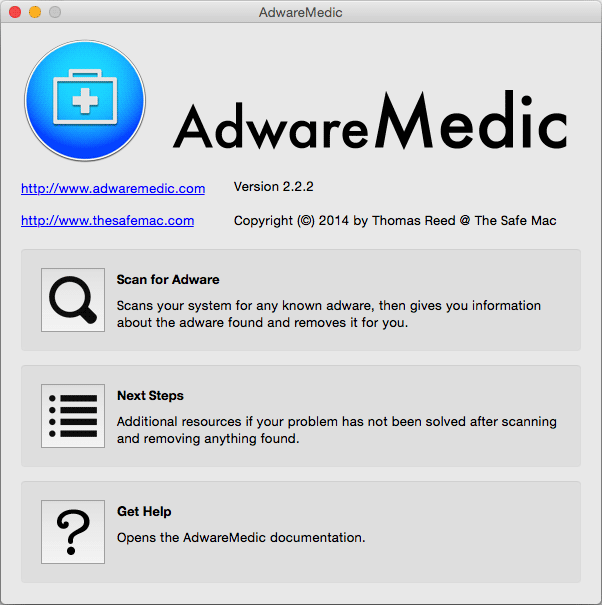 Download AdwareMedic from the below button :
Download AdwareMedic
Double-click on AdwareMedic.dmg file and drag the AdwareMedic app (the blue, circular icon with the medical case in the middle) onto the icon for the Applications folder and release the mouse.
Get the lastest Adware signatures, go to the Menu bar and select Scanner and then Update Adware Signatures.
Click the Scan for Adware button to immediately scan your Mac for components of any known adware.
After the scan finishes, if your system is clean, you will be told that nothing was found. Otherwise, a window will open showing the adware that was detected.
The checkboxes allow you to specify which items are to be removed. (By default, only files that are definitively bad will be checked.) Clicking the Remove Selected button will remove any items that are checked, and will leave any that are not checked in place..
Reset your browser (if necessary)
If you still see traces of MacVx after following all the steps above you can reset your browser performing this operation:
Your bookmarks and saved passwords are not deleted or modified.
Open Chrome.
Click on the Chrome menu button on the browser toolbar.
Select Settings.
Scroll down to the end of the page, search for Show advanced settings.
Scroll down once again to the end of the page and click Reset browser settings button.
Click Reset once more.
Your bookmarks and saved passwords are not deleted or modified.
Open Firefox
At the top of the Firefox window, click the Firefox button.
Go over to the Help sub-menu, then select Troubleshooting Information.
Click the Repair Firefox button in the upper-right corner of the page.
Firefox will automatically restart.
Open your Safari web browser by clicking on the Safari icon in the dock.
Click on Safari in your Safari menu, located at the top of your screen.
A drop-down menu will now appear. Choose the option labeled Reset Safari....
A warning dialog will now appear detailing the items that will be removed.
Click the button on the dialog labeled Reset to complete the process.
Your Safari browser will now restart automatically.
Reset default homepage (if necessary)
Open Google Chrome then go to the three stripes in the right top corner
Select Settings
Go to the header: On Startup
Click on the blue link: Set Pages behind Open a specific page or set of pages
Remove the actual homepage by clicking the X icon.
Enter a new homepage of your choice in textbox "Enter Url..."
Go to the header: Search
Click on the button: Manage search engines
Select Google.com from the list, hover over it and click blue button Make Defaults
Hover over MacVx and click the X to remove it from the list.
Open Mozilla Firefox and at the top of the Firefox window, click the Firefox button, then select Options
Click on the General tab.
Replace the homepage with one of your choice and click on OK.
Open Internet Explorer
Click on the gear icon , in the upper right part of your browser, then click again on Internet Options..
Click on the General tab.
Replace the homepage with one of your choice, for example: google.com
Your machine should now be free of MacVx. If you are still experiencing problems while trying to remove MacVx from your machine, please start a new thread in our support page. Someone will give you free assistance very fast !
Click here to go to our support page
.