GoGameGo is an unwanted program, which means that it is a software that manages to be installed all over the place with the help of free tools offered in certain download platforms that make sure GoGameGo is added in their install processes. If you don't customize such install programs you will end up with GoGameGo broadcasting ads in your PC and making sure some other threats are installed as well.
What GoGameGo goes after is quite simple, to show as much ads as possible when you're browsing the net. To achieve this goal it won't go beating around the bushes, this adware will directly insert ads in every website you visit, specially those related to online shopping, like Amazon. GoGameGo can also be considered a spyware because it saves data about your online activity.
These ads are shown as pop-ups, banners or as green/blue words turned into links directly onto the content of websites you visit.
Usually we notice GoGameGo has infected our computer when we notice ads tagged as GoGameGo Ads or Ads by GoGameGo.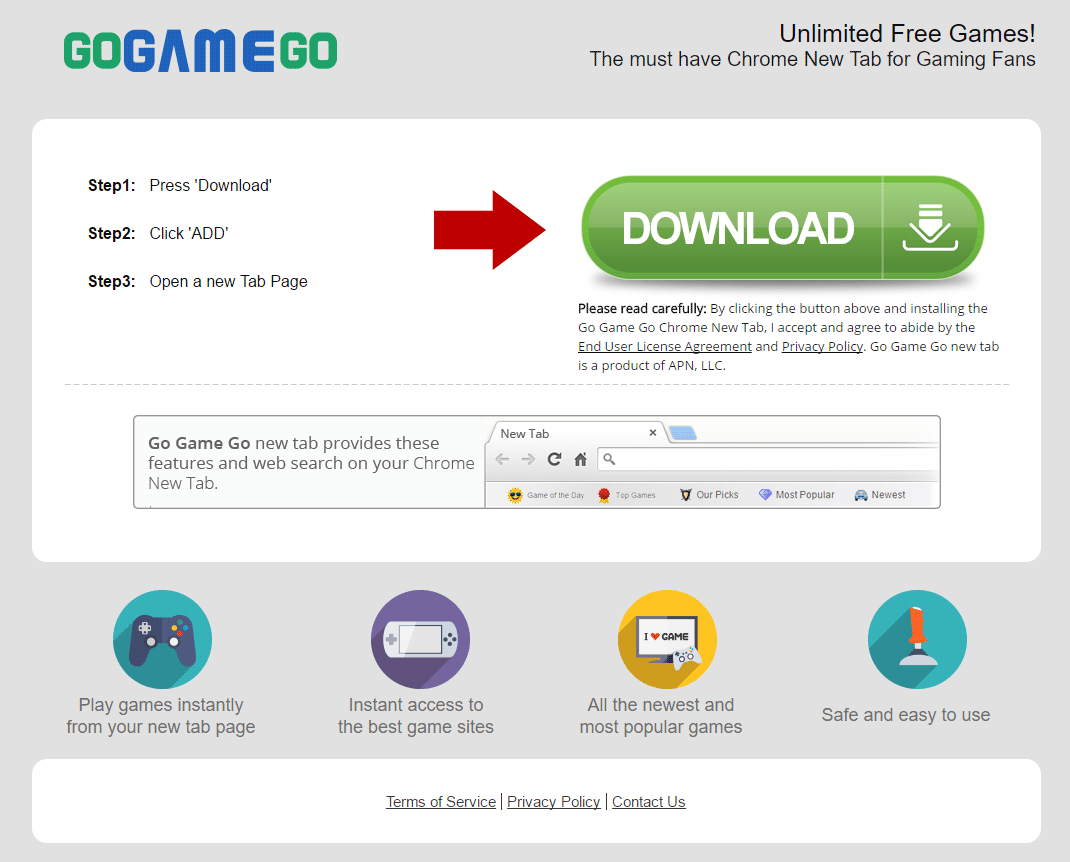 As explained before, if you were infected with GoGameGo nothing you do online is a secret anymore for those behind this program, because it will collect and save some important data about you, such as your OS version, information about your web browser, websites you visit, searches you perform, your IP address, and geographical setting among other data that might be useful to identify you.
To avoid this kind of issue in the future, be careful with what you install on your computer, always make sure you understand the consequences of accepting any pre-selected cases on install processes before clicking on Next. Always use the advanced options to reject anything you don't need.
How to remove GoGameGo ?
This page is a comprehensive guide, which will remove GoGameGo from your computer. Please perform all the steps in the correct order.
Remove GoGameGo from your browser
Open Chrome and go to the 3 stripes icon in top right corner.
Select Settings and on the left side Extensions.
Remove GoGameGo by clicking the trash can icon.
Restart Google Chrome.
Open Firefox
Click on the Big Orange Firefox button in top left corner, then select Add-ons
Remove GoGameGo by clicking the Remove button.
Restart Mozilla Firefox
Open Internet Explorer
Click on the Gear icon , then click on Manage Addons
Go to the tabToolbars and Extensions
Select and disable GoGameGo if you can't find it or if you can't remove it, go to the next step.
Restart Internet Explorer
Remove GoGameGo with MalwareBytes Anti-Malware
Malwarebytes Anti-Malware is a light-weight anti-malware program that is excellent at removing the latest detections.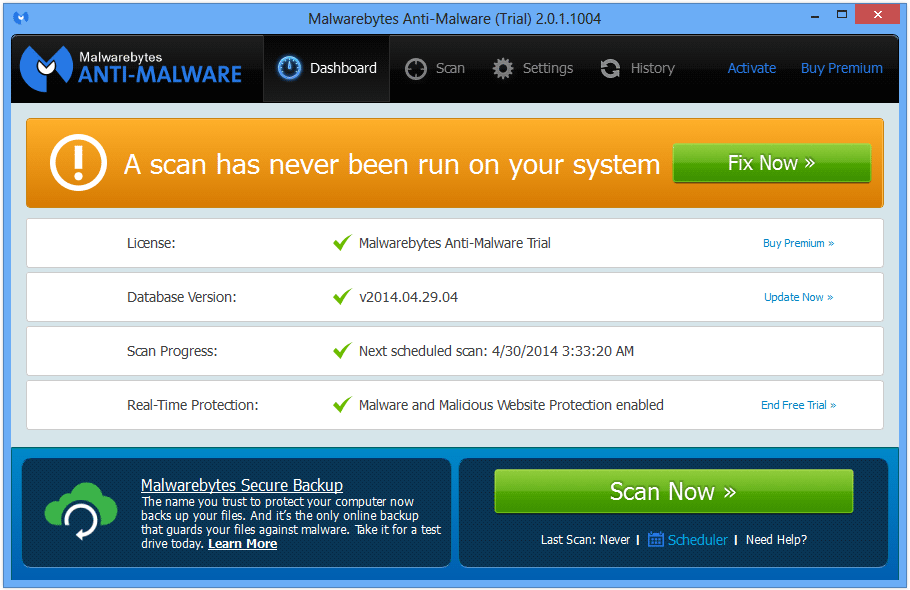 Download Malwarebytes Anti-Malware to your desktop.
Premium Version Free Version (without Real-time protection)
Install MalwareBytes Anti-Malware using the installation wizard.
Once installed, Malwarebytes Anti-Malware will automatically start and you will see a message stating that you should update the program, and that a scan has never been run on your system. To start a system scan you can click on the Fix Now button.
If an update is found, you will be prompted to download and install the latest version.
Malwarebytes Anti-Malware will now start scanning your computer for GoGameGo.
When the scan is complete, make sure that everything is set to Quarantine, and click Apply Actions.
When removing the files, Malwarebytes Anti-Malware may require a reboot in order to remove some of them. If it displays a message stating that it needs to reboot your computer, please allow it to do so.
Remove GoGameGo with AdwCleaner
AdwCleaner is a useful tool made to eliminate unwanted toolbars, browser hijackers, redirects and potentially unwanted programs (PUPs) in Internet Explorer, Firefox, Chrome or Opera. AdwCleaner requires no set up and can be ran in a instant to scan your computer.
Please download AdwCleaner by Xplode and save to your Desktop :
Download AdwCleaner
Double-click on AdwCleaner.exe to run the tool (Windows Vista/7/8 users : right-click and select Run As Administrator).
Click on the Scan button.
After the scan has finished, click on the Clean button..
Press OK again to allow AdwCleaner to restart the computer and complete the removal process.
Remove GoGameGo with Junkware Removal Tool
Junkware Removal Tool is a security utility that searches for and removes common adware, toolbars, and potentially unwanted programs (PUPs) from your computer. A common tactics among freeware publishers is to offer their products for free, but bundle them with PUPs in order to earn revenue. This tool will help you remove these types of programs.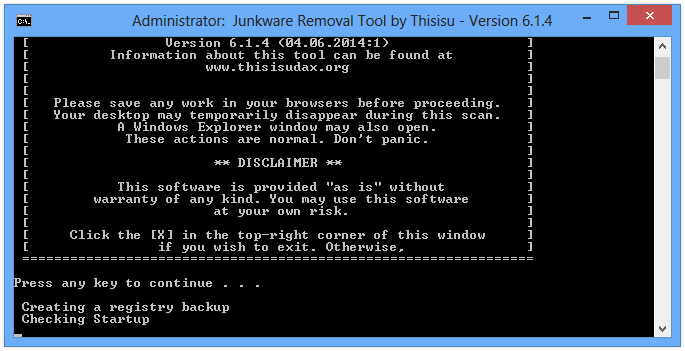 Download Junkware Removal Tool (Official link and direct-download) :
Download Junkware Removal Tool
Select JRT.exe with right mouse click and Run as Administrator
If User Account Control asks you to allow JRT.exe to make changes to your computer, press Yes to continue..
Close all your browsers, save any work and then press any key to continue.
When Junkware Removal Tool is done scanning and removing malicious items from your computer a logfile will open.
Remove GoGameGo with ZHPCleaner
ZHPCleaner is a program that searches for and deletes Adware, Toolbars, Potentially Unwanted Programs (PUP), and browser Hijackers from your computer. By using ZHPCleaner you can easily remove many of these types of programs for a better user experience on your computer and while browsing the web.
If Avast is installed on you computer you have to disable it during the process.
You can download AdwCleaner utility from the below button :
Download ZHPCleaner
Select ZHPCleaner.exe with right mouse click and Run as Administrator.
Accept the user agreement.
Click on the Scanner button.
After the scan has finished, click on the Repair button.
Reboot your computer.
Reset your browser (if necessary)
If you still see traces of GoGameGo after following all the steps above you can reset your browser performing this operation:
Your bookmarks and saved passwords are not deleted or modified.
Open Chrome.
Click on the Chrome menu button on the browser toolbar.
Select Settings.
Scroll down to the end of the page, search for Show advanced settings.
Scroll down once again to the end of the page and click Reset browser settings button.
Click Reset once more.
Your bookmarks and saved passwords are not deleted or modified.
Open Firefox
Go to the orange Firefox button in the top left.
Click on Help then Troubleshooting information.
Click on the Repair Firefox button and confirm.
Firefox will automatically restart.
Your bookmarks and saved passwords are not deleted or modified.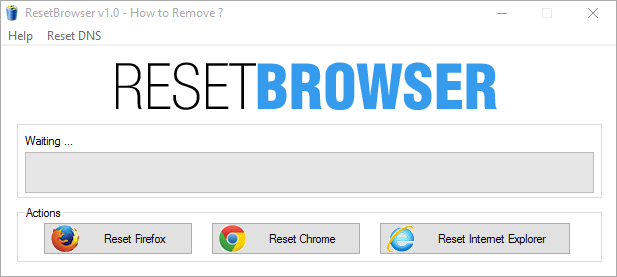 Download ResetBrowser :
Download ResetBrowser
Download the tool, save it on your desktop and double-click on it.
Read the disclaimer and press the Ok button.
Click the Reset Chrome button and wait.
Once the process is finished, click onOpen Chrome GoGameGo should now be deleted from Firefox.
Your machine should now be free of GoGameGo. If you are still experiencing problems while trying to remove GoGameGo from your machine, please start a new thread in our support page. Someone will give you free assistance very fast !
Click here to go to our support page
.