Fast Clean Pro is a rogue, which means it's a fake protection software or optimization program that tells you your computer's operating system is infected or having problems; usually, this software does a quick scan and displays its findings, 99% of which are fake. The goal is to make you buy the software.
In Fast Clean Pro's case, we're looking at a fake PC optimization software program on Windows that's trying to make you think your computer's operating system is slow and that this software program is the only one that can fix it.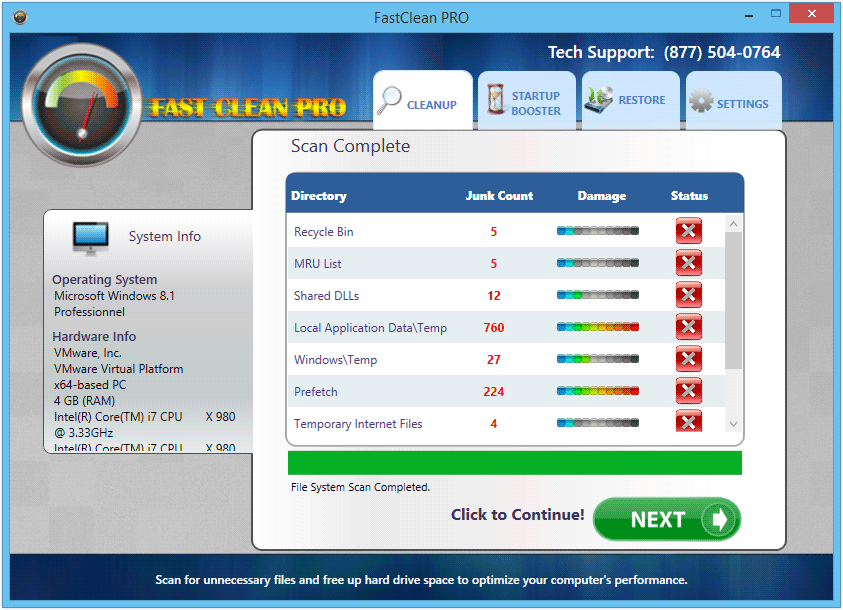 Even if it has an official website (http://fastcleanpro.com), Fast Clean Pro often gets onto your PC secretly when you're downloading free programs from certain downloading platforms—Softonic or Zdnet, for example.
If you buy this software, it will of course do a few things but nothing that you couldn't do without its help; for example, emptying the Trash, removing temporary files from Windows and the Internet, etc. Ccleaner can do those jobs, too, and for free. If you paid for it, you can try and get your money back with a form on the Support page of the official Fast Clean Pro website.
You should know that
Fast Clean Pro
is considered as a malware by 3 anti-viruses.
File name:
fastcleanpro.exe
Common path:
C:\Users\Jean\AppData\Local\Temp\Random.tmp\216692_stp\fastcleanpro.exe
Signed by:
Asap Tech Help LLC
Analysis date:
19 March 2014
Scanner detections:
3 / 54
ClamAV
Trojan.Refroso-2330
Jiangmin
Trojan/Refroso.jum
Antiy-AVL
Trojan/Win32.Refroso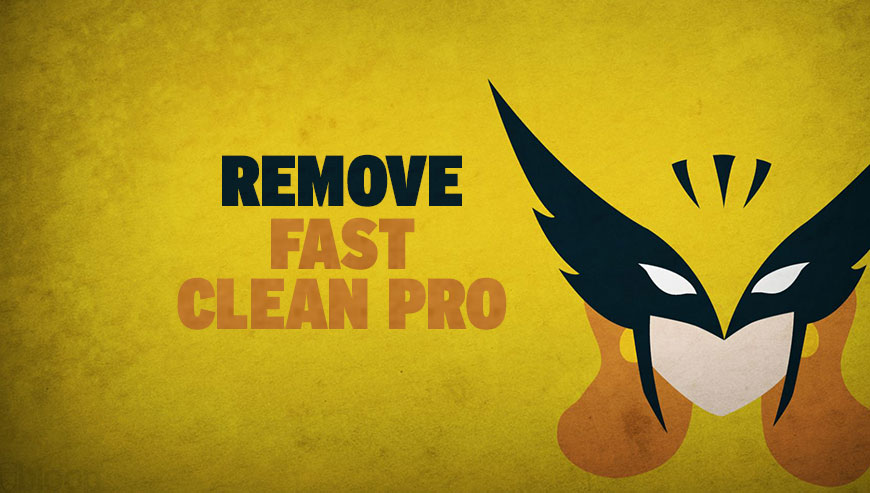 How to remove Fast Clean Pro ?
This page is a comprehensive guide, which will remove Fast Clean Pro from your computer. Please perform all the steps in the correct order.
Remove Fast Clean Pro from Windows (XP, Vista, 7, 8)
In this first step, we will try to identify and remove any malicious program that might be installed on your computer.
Go to the Control Panel
Go to Programs and select Uninstall a program
Search for Fast Clean Pro and click the Uninstall button
Remove Fast Clean Pro with AdwCleaner
AdwCleaner is a program that looks for and removes Adware, Toolbars, Potentially Unwanted Programs (PUP), and browser Hijackers from your system. By using AdwCleaner you can simply get rid of many of these types of applications for a much better user experience on your computer and while browsing the web.
Download AdwCleaner (Official link and direct-download) :
Download AdwCleaner
Select AdwCleaner.exe with right mouse click and Run as Administrator.
If User Account Control asks you to allow AdwCleaner.exe to make changes to your computer, press Yes to continue.
Start scanning your computer for any malicious threats by selecting the Scan button, please wait.
If AdwCleaner is done, it will display a list of malicious items detected, If you have nothing to uncheck, continue to the removal process and select the Clean button.
Reboot your computer.
Remove Fast Clean Pro with MalwareBytes Anti-Malware
Malwarebytes Anti-Malware is a light-weight anti-malware program that is excellent at removing the latest detections.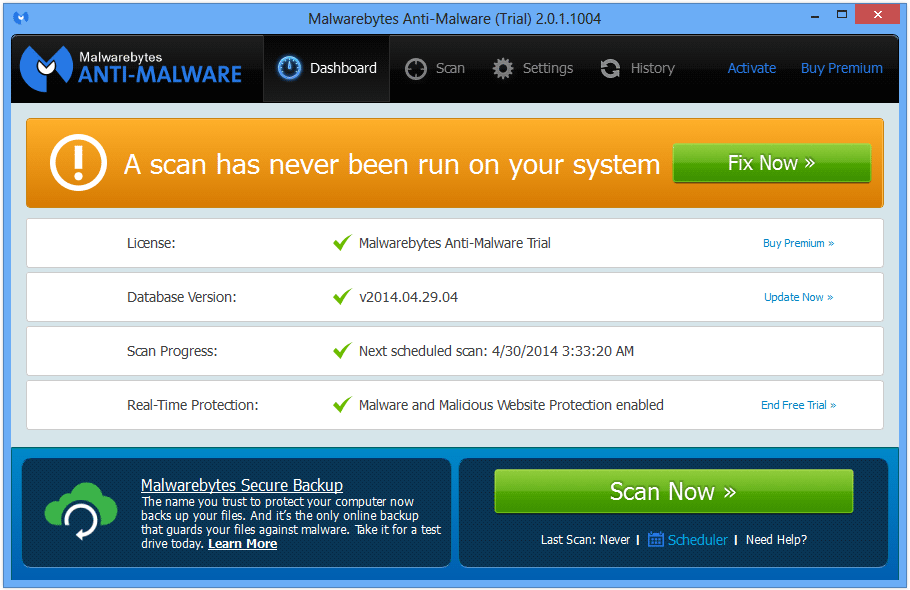 Download Malwarebytes Anti-Malware to your desktop.
Premium Version Free Version (without Real-time protection)
Install MalwareBytes Anti-Malware using the installation wizard.
Once installed, Malwarebytes Anti-Malware will automatically start and you will see a message stating that you should update the program, and that a scan has never been run on your system. To start a system scan you can click on the Fix Now button.
If an update is found, you will be prompted to download and install the latest version.
Malwarebytes Anti-Malware will now start scanning your computer for Fast Clean Pro.
When the scan is complete, make sure that everything is set to Quarantine, and click Apply Actions.
When removing the files, Malwarebytes Anti-Malware may require a reboot in order to remove some of them. If it displays a message stating that it needs to reboot your computer, please allow it to do so.
Your computer should now be free of Fast Clean Pro. If you are still experiencing problems while trying to remove Fast Clean Pro from your computer, please start a new thread in our support page. Someone will give you free assistance very fast !
Click here to go to our support page
.