Epic Scale (or EpicScale) is a software that allows "volunteers" to be part of scientific projects aiming to "change the world". "Volunteers" is used with quotation marks because even if it is possible to download it by choice, it's also offered in the same way as many unwanted programs through free software like uTorrent, which allows a large number of discrete installations. A lot of users are unaware that their computers is being used by Epic Scale, and only discover the program is running after noticing the significant increase in processor load. This is the main reason why it has been classified as potentially unwanted program by at least a dozen anti-virus.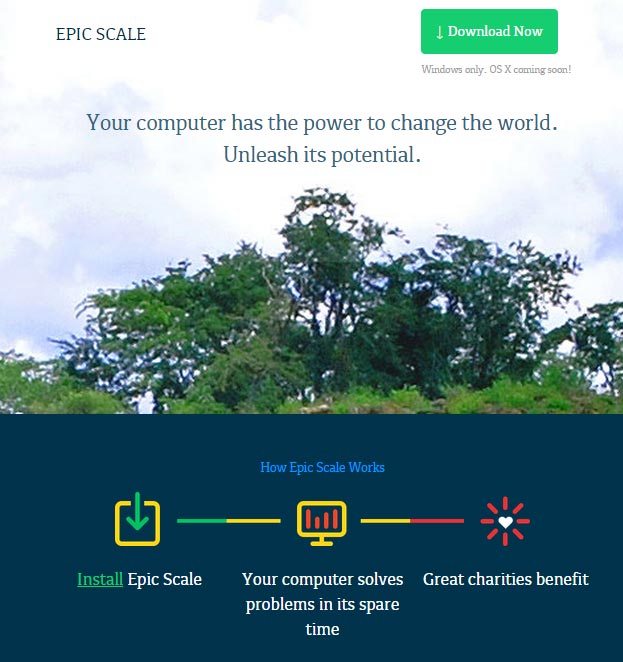 Epic Scale works while the computer is under little pressure or no use at all. All results are supposedly sent to a scientific project. On their site, Epic Scale says that all data is used to solve math problems for weather projections, physics, cryptography including Cryptocurrency mining among others. You should now that cryptocurrency mining burns more than just spare system resources. By making the CPU work harder than it normally would, it also consumes more energy, potentially raising users' electricity bills.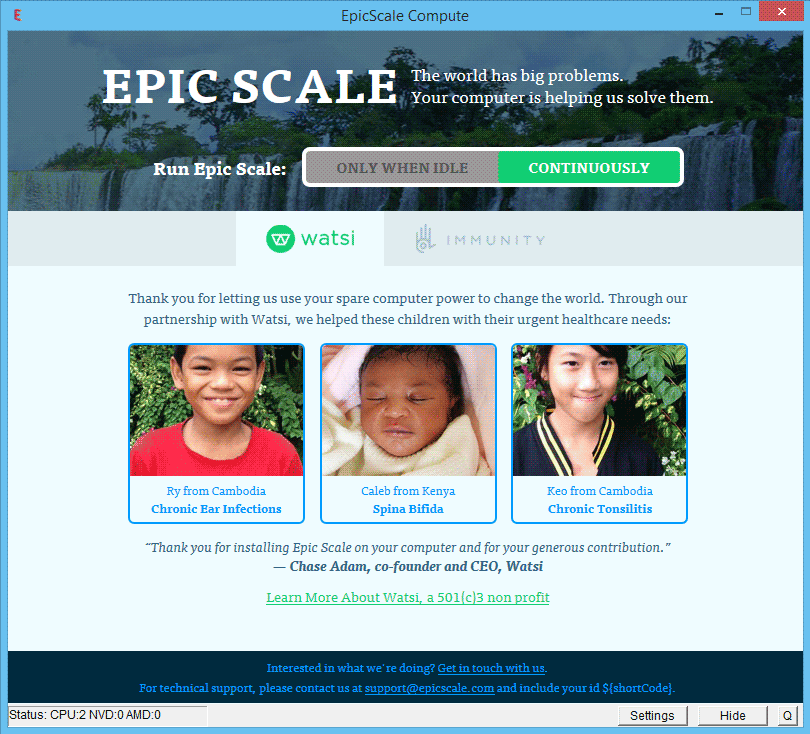 Epic Scale is configured to run by default continuously, slowing down your computer if you try to use it for anything else.
You should know that
Epic Scale
is detected as suspicious by 12 anti-viruses.
Common path:
C:\ProgramData\Application data\Epicscale\EpicScale.exe
Signed by:
Epic Scale, Inc.
Analysis date:
23 February 2015
Scanner detections:
12 / 54
ESET-NOD32
Win32/EpicScale.A potentially unwanted
Kaspersky
not-a-virus:RiskTool.Win32.BitCoinMiner.xrd
K7GW
Unwanted-Program ( 004b578c1 )
K7AntiVirus
Unwanted-Program ( 004b578c1 )
TrendMicro-HouseCall
TROJ_GEN.R047H07BG15
VIPRE
Trojan.Win32.Generic!BT
GData
Win32.Application.Agent.G98TNR
AVware
Trojan.Win32.Generic!BT
Fortinet
Riskware/BitCoinMiner
Show the other 8 anti-virus detections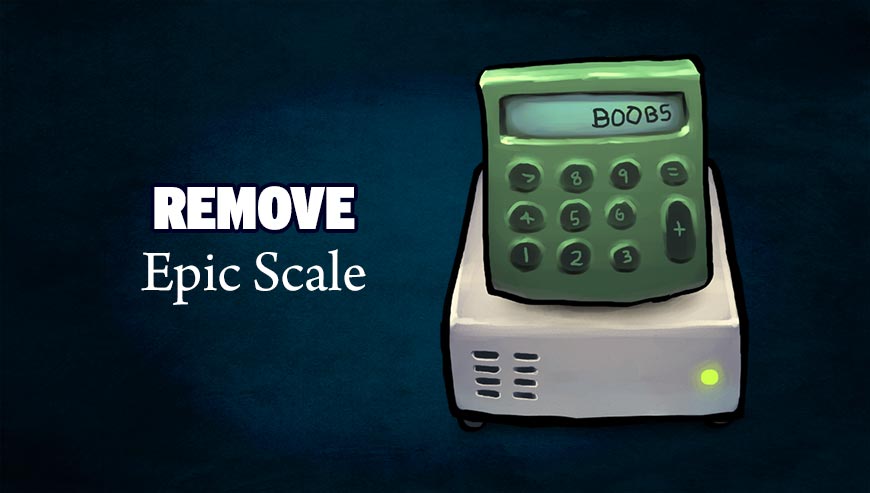 How to remove Epic Scale ?
This page is a comprehensive guide, which will remove Epic Scale from your computer. Please perform all the steps in the correct order.
Remove Epic Scale with CCleaner
Download and install CCleaner by Piriform by clicking the button below.
Download CCleaner

Once the program is installed go to the Cleaner section and click the Analyze button. Once the scan is complete, click the Run Cleaner button.
Then go to Tools > Startup and locate in each tab (starting with Windows, Internet Explorer) of suspicious statements which involve Epic Scale or similar names. Whenever click Remove and Delete .
Finally go to Tools > Uninstall , search for Epic Scale from the list and click Remove if you find it.
Remove Epic Scale with AdwCleaner
AdwCleaner is a helpful tool designed to delete unwelcome toolbars, browser hijackers, redirects and potentially unwanted programs (PUPs) in Internet Explorer, Firefox, Chrome or Opera. AdwCleaner will require no installation and can be ran in a instant to scan your pc.
Please download AdwCleaner by Xplode and save to your Desktop :
Download AdwCleaner
Double-click on AdwCleaner.exe to run the tool (Windows Vista/7/8 users : right-click and select Run As Administrator).
Click on the Scan button.
After the scan has finished, click on the Clean button..
Press OK again to allow AdwCleaner to restart the computer and complete the removal process.
Remove Epic Scale with MalwareBytes Anti-Malware
Malwarebytes Anti-Malware is an important security program for any computer user to have installed on their computer. It is light-weight, fast, and best of all, excellent at removing the latest infections like Epic Scale.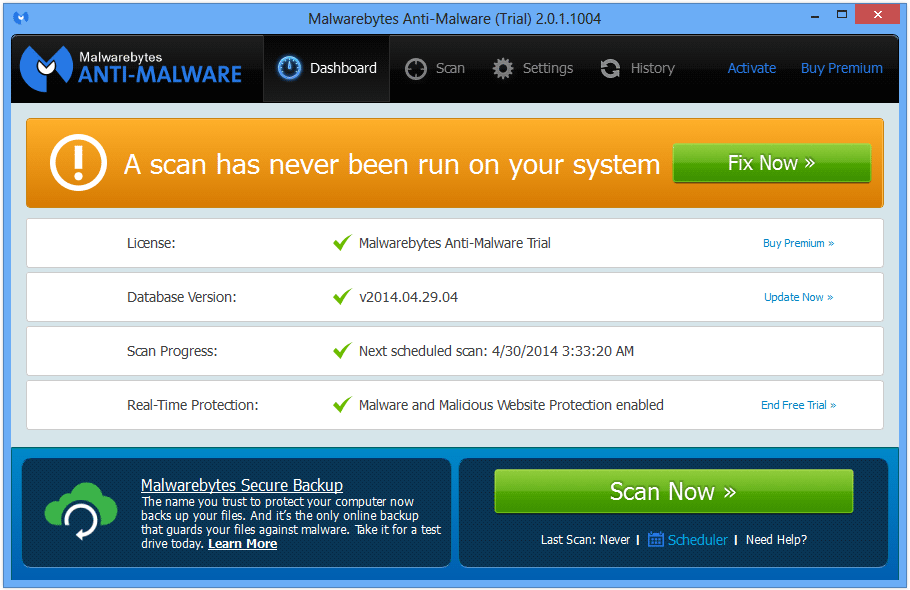 Download MalwareBytes Anti-Malware :
Premium Version Free Version (without Real-time protection)
Double-click mbam-setup-consumer.exe and follow the prompts to install the program.
Once installed, Malwarebytes Anti-Malware will automatically start and you will see a message stating that you should update the program, and that a scan has never been run on your system. To start a system scan you can click on the Fix Now button.
Malwarebytes Anti-Malware will now check for updates, and if there are any, you will need to click on the Update Now button.
Malwarebytes Anti-Malware will now start scanning your computer for Epic Scale.
When the scan is done, you will now be presented with a screen showing you the malware infections that Malwarebytes' Anti-Malware has detected. To remove the malicious programs that Malwarebytes Anti-malware has found, click on the Quarantine All button, and then click on the Apply Now button.
Reboot your computer if prompted.
Remove Epic Scale with HitmanPro
HitmanPro is a second opinion scanner, designed to rescue your computer from malware. HitmanPro is designed to work alongside existing security programs without any conflicts. HitmanPro offers you a Free Scan for a second opinion.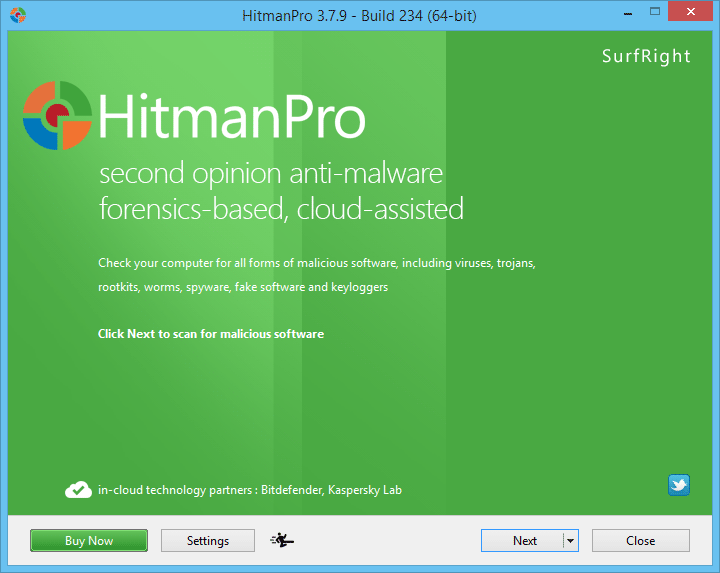 You can download HitmanPro from the below link:
Download HitmanPro
Double-click on the file named HitmanPro.exe (for 32-bit versions of Windows) or HitmanPro_x64.exe (for 64-bit versions of Windows).
Click on the Next button, to install HitmanPro on your computer.
HitmanPro will now begin to scan your computer for Epic Scale malicious files.
When it has finished it will display a list of all the malware that the program found as shown in the image below. Click on the Next button, to remove Epic Scale virus.
Your machine should now be free of Epic Scale. If you are still experiencing problems while trying to remove Epic Scale from your computer, please start a new thread in our support page. Someone will give you free assistance very fast !
Click here to go to our support page
.