Desktop Improver is supposed to be a software that will scan and present a report regarding the current state of your computer and any hardware attached to it, including recommendations if any of them needs to be updated. According to their official website, as easy as clicking once and we'll have the needed update downloaded in the most secure way…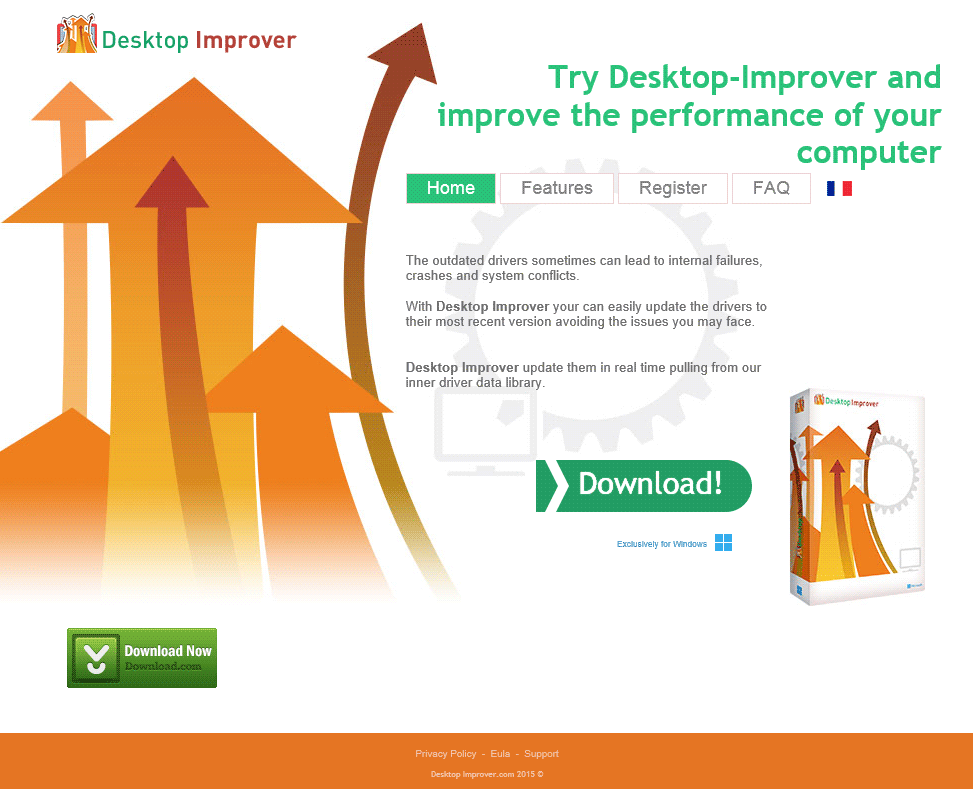 The first thing we need to know about Desktop Improver is that it was developed by an enterprise called Eorezo / Tuto4PC. This French company sadly has an awful reputation due to their habit of developing adware and malicious software in recent years.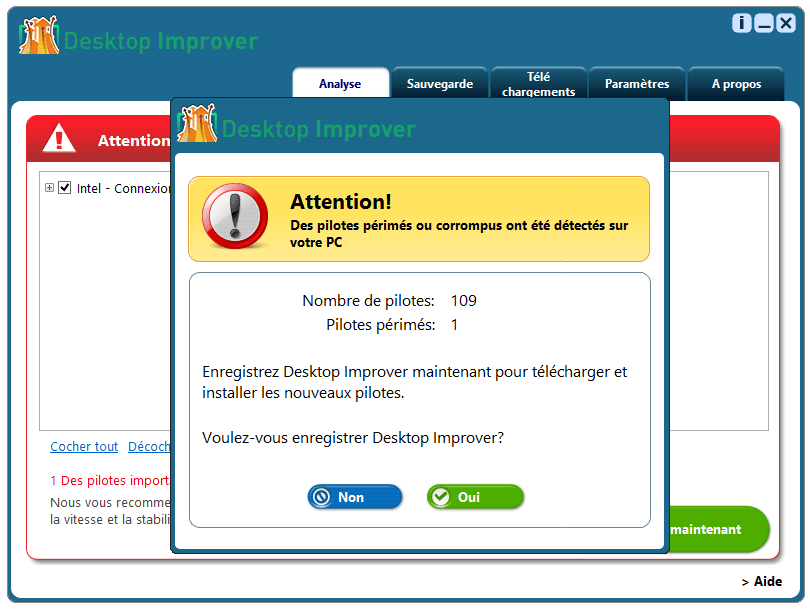 On the other hand, we must take into consideration that Desktop Improver actually acts like many other software that takes advantage of fear that many users have when it comes to their PC's state, by taking the opportunity to shamefully charge for a "license" that is supposed to be required, much like what Driver Scanner does. Plus, it doesn't really  matter what the real state of your computer is, Desktop Improver always finds trouble. While testing the software on a brand new and up-to-date computer, Desktop Improver told us it had found a corrupt driver that unless repaired it would certainly affect the performances and stability of our computer.
Giving the reputation of Tuto4PC, we can assure you that we didn't pay a dime just to see what else it would do.
You should know that
Desktop Improver
is considered as a malware by 8 anti-viruses.
File name:
desktop_improver.exe
Common path:
C:\Users\user\desktop_improver.exe
Signed by:
J.O.H.N. (Tuto4pc.com)
Analysis date:
16 November 2015
Scanner detections:
8 / 54
Malwarebytes
PUP.Optional.Tuto4PC
ESET-NOD32
a variant of Win32/Adware.SpeedingUpMyPC.AV
Symantec
Suspicious.Cloud.9
DrWeb
Program.Unwanted.901
McAfee-GW-Edition
Adware-Tuto4PC
Baidu-International
Adware.Win32.SpeedingUpMyPC.AV
Show the other 4 anti-virus detections
How to remove Desktop Improver ?
This is a comprehensive tutorial to delete Desktop Improver from your system. Please perform all the steps in the right order. All the software provided in this removal guide is free and known to clean and optimize your computer.
Remove Desktop Improver with MalwareBytes Anti-Malware
Malwarebytes Anti-Malware is a light-weight anti-malware program that is excellent at removing the latest detections.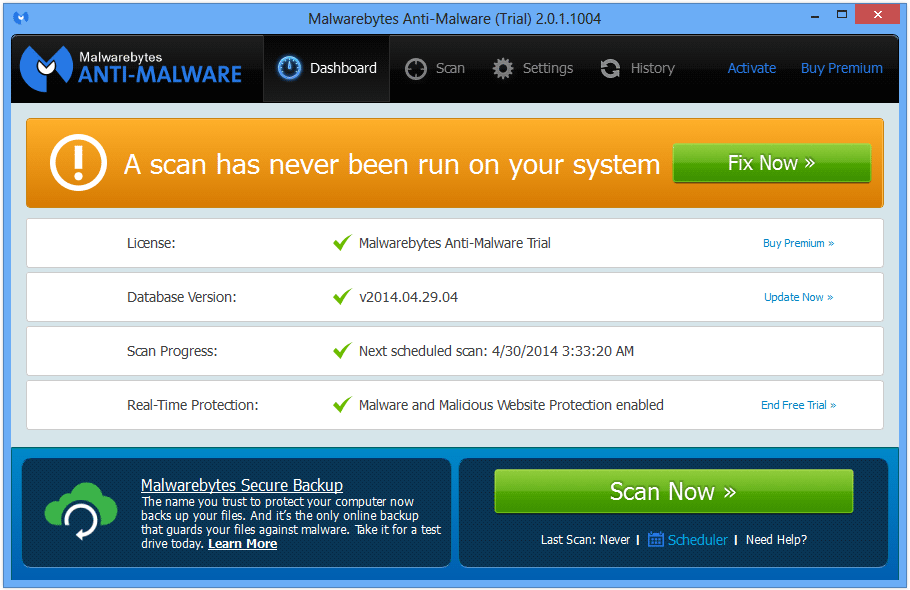 Download Malwarebytes Anti-Malware to your desktop.
Premium Version Free Version (without Real-time protection)
Install MalwareBytes Anti-Malware using the installation wizard.
Once installed, Malwarebytes Anti-Malware will automatically start and you will see a message stating that you should update the program, and that a scan has never been run on your system. To start a system scan you can click on the Fix Now button.
If an update is found, you will be prompted to download and install the latest version.
Malwarebytes Anti-Malware will now start scanning your computer for Desktop Improver.
When the scan is complete, make sure that everything is set to Quarantine, and click Apply Actions.
When removing the files, Malwarebytes Anti-Malware may require a reboot in order to remove some of them. If it displays a message stating that it needs to reboot your computer, please allow it to do so.
Remove Desktop Improver with AdwCleaner
The AdwCleaner program will scan your pc and internet browser for Desktop Improver, browser extensions and registry keys, that may have been installed on your pc without your permission.
You can download AdwCleaner utility from the below button :
Download AdwCleaner
Before starting AdwCleaner, close all open programs and internet browsers, then double-click on the file AdwCleaner.exe.
If Windows prompts you as to whether or not you wish to run AdwCleaner, please allow it to run.
When the AdwCleaner program will open, click on the Scan button.
To remove malicious files that were detected in the previous step, please click on the Clean button.
Please click on the OK button to allow AdwCleaner reboot your computer.
Remove Desktop Improver with ZHPCleaner
ZHPCleaner is a program that searches for and deletes Adware, Toolbars, Potentially Unwanted Programs (PUP), and browser Hijackers from your computer. By using ZHPCleaner you can easily remove many of these types of programs for a better user experience on your computer and while browsing the web.
If Avast is installed on you computer you have to disable it during the process.
You can download AdwCleaner utility from the below button :
Download ZHPCleaner
Select ZHPCleaner.exe with right mouse click and Run as Administrator.
Accept the user agreement.
Click on the Scanner button.
After the scan has finished, click on the Repair button.
Reboot your computer.
Your computer should now be free of Desktop Improver. If you are still experiencing problems while trying to remove Desktop Improver from your machine, please start a new thread in our support page. Someone will give you free assistance very fast !
Click here to go to our support page
.