Chromium is a free web browser which is used as base for Google's browsers. That's not all however, because being an open source code browser a lot of malicious developers use it to create unwanted browsers.
Chrome which is also based on Chromium presents no problems whatsoever, even when some people judge it as useless and even troublesome; the rest of browsers based on Chromium however, are used to broadcast great amounts of ads and do represent a real threat for your privacy and security.
You won't have any issues if you decide for yourself to download and install this web browser, but if you unexpectedly started seeing messages related to Chromium when you never installed it by choice, it means some other program was responsible for installing it, no doubt looking to torture you with ads and/or to track you down online.
We show below a screenshot of a program attempting to install CrossBrowser, a malicious web browser based of  course on Chromium's source code.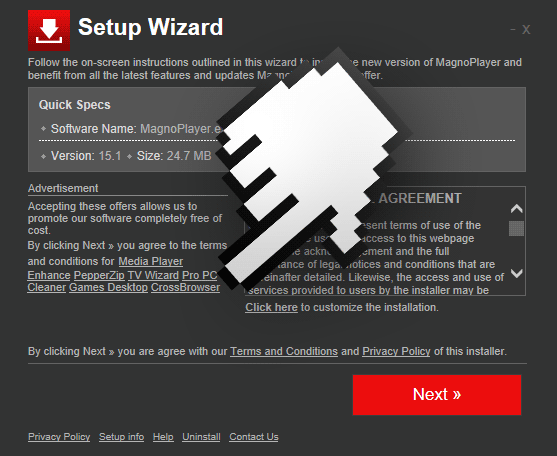 Web browsers based on Chromium usually include their own settings for homepage and search engine, furthermore they take any measure necessary to remove the possibility to manually change those settings. Because browsers based on Chromium look a lot like Chrome, their developers hope you don't feel tempted to remove it.
To achieve a complete and efficient removal (including all hidden traces) use guide presented below, taking advantage of every program recommended.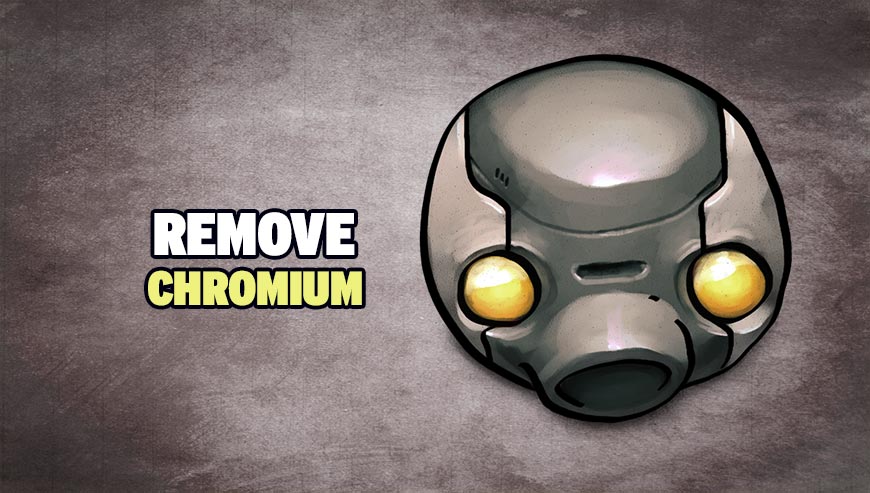 How to remove Chromium ?
Please note that all the software we offer to remove Chromium is free, our instruction is tested and works to remove this threat from Chrome, Internet Explorer or Firefox. We do not supply any shareware which detects the threat and asks a license in order to remove Chromium. Follow all steps in correct order to completely and successfully remove Chromium.
Remove Chromium with CCleaner
Download and install CCleaner by Piriform by clicking the button below.
Download CCleaner

Once the program is installed go to the Cleaner section and click the Analyze button. Once the scan is complete, click the Run Cleaner button.
Then go to Tools > Startup and locate in each tab (starting with Windows, Internet Explorer) of suspicious statements which involve Chromium or similar names. Whenever click Remove and Delete .
Finally go to Tools > Uninstall , search for Chromium from the list and click Remove if you find it.
Remove Chromium with AdwCleaner
The AdwCleaner program will scan your pc and web browser for Chromium, browser plugins and registry keys, that may have been installed on your pc without your agreement.
You can download AdwCleaner utility from the below button :
Download AdwCleaner
Before starting AdwCleaner, close all open programs and internet browsers, then double-click on the file AdwCleaner.exe.
If Windows prompts you as to whether or not you wish to run AdwCleaner, please allow it to run.
When the AdwCleaner program will open, click on the Scan button.
To remove malicious files that were detected in the previous step, please click on the Clean button.
Please click on the OK button to allow AdwCleaner reboot your computer.
Remove Chromium with MalwareBytes Anti-Malware
Malwarebytes Anti-Malware is a light-weight anti-malware program that is excellent at removing the latest detections.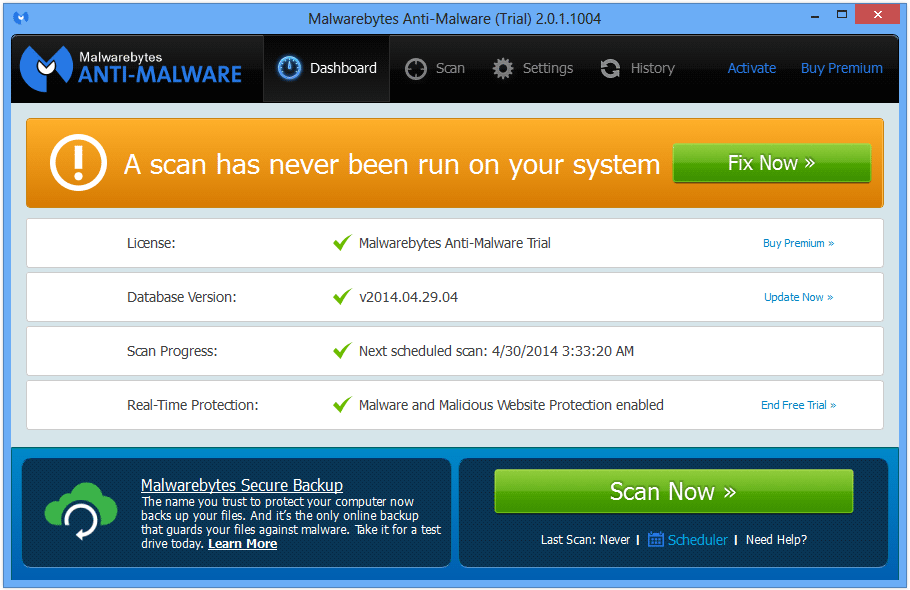 Download Malwarebytes Anti-Malware to your desktop.
Premium Version Free Version (without Real-time protection)
Install MalwareBytes Anti-Malware using the installation wizard.
Once installed, Malwarebytes Anti-Malware will automatically start and you will see a message stating that you should update the program, and that a scan has never been run on your system. To start a system scan you can click on the Fix Now button.
If an update is found, you will be prompted to download and install the latest version.
Malwarebytes Anti-Malware will now start scanning your computer for Chromium.
When the scan is complete, make sure that everything is set to Quarantine, and click Apply Actions.
When removing the files, Malwarebytes Anti-Malware may require a reboot in order to remove some of them. If it displays a message stating that it needs to reboot your computer, please allow it to do so.
Remove Chromium with ZHPCleaner
ZHPCleaner is a program that searches for and deletes Adware, Toolbars, Potentially Unwanted Programs (PUP), and browser Hijackers from your computer. By using ZHPCleaner you can easily remove many of these types of programs for a better user experience on your computer and while browsing the web.
If Avast is installed on you computer you have to disable it during the process.
You can download AdwCleaner utility from the below button :
Download ZHPCleaner
Select ZHPCleaner.exe with right mouse click and Run as Administrator.
Accept the user agreement.
Click on the Scanner button.
After the scan has finished, click on the Repair button.
Reboot your computer.
Remove Chromium with HitmanPro
HitmanPro is a second opinion scanner, designed to rescue your computer from malware. HitmanPro is designed to work alongside existing security programs without any conflicts. HitmanPro offers you a Free Scan for a second opinion.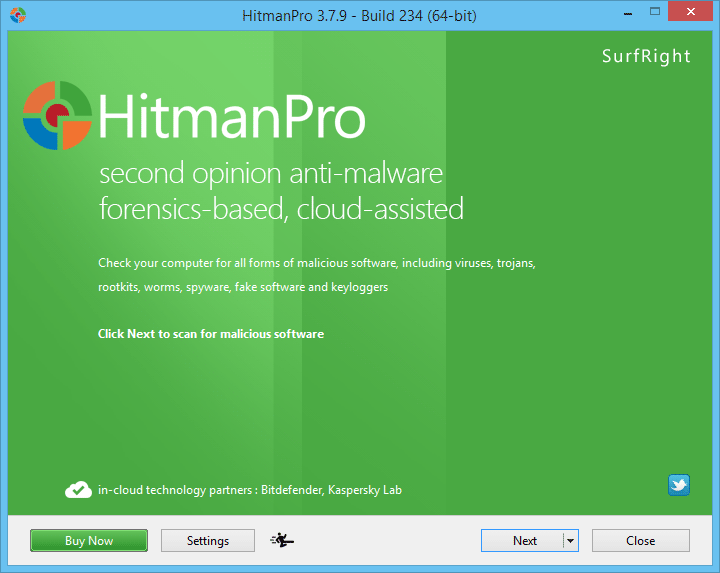 You can download HitmanPro from the below link:
Download HitmanPro
Double-click on the file named HitmanPro.exe (for 32-bit versions of Windows) or HitmanPro_x64.exe (for 64-bit versions of Windows).
Click on the Next button, to install HitmanPro on your computer.
HitmanPro will now begin to scan your computer for Chromium malicious files.
When it has finished it will display a list of all the malware that the program found as shown in the image below. Click on the Next button, to remove Chromium virus.
Your computer should now be free of Chromium. If you are still experiencing problems while trying to remove Chromium from your computer, please start a new thread in our support page. Someone will give you free assistance very fast !
Click here to go to our support page
.