Anyprotect is a online backup solution that tries to expand its customer base through forced installation and sale of its services. Anyprotect actually gets installed at the same time as other programs downloaded off the Internet, usually by fake Java or Flash updates that are offered on streaming websites. Once Anyprotect gets installed on your computer's operating system, it will run a scan and display a video with kitties, puppies and children frolicking about in nature while at the same time scanning the content on your PC in order to find your personal files. It will then tell you that you should seriously consider protecting those files by using their service.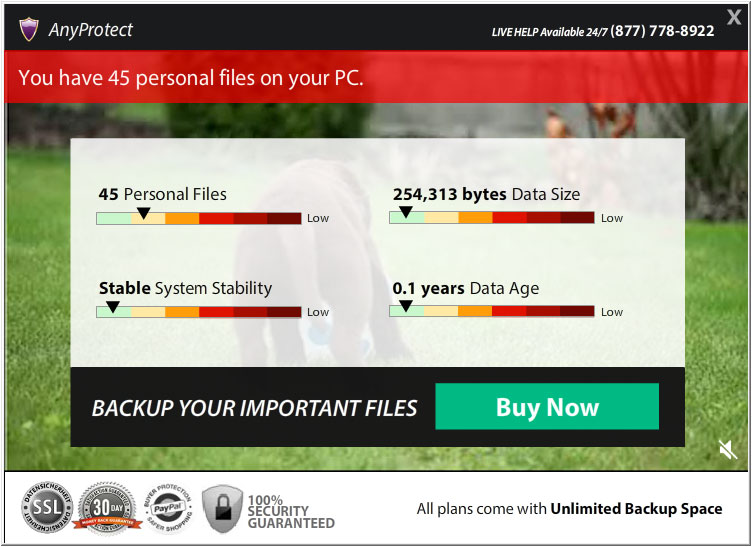 This is pretty much a case of forced sale and for such security reasons, we advise you to get rid of Anyprotect as quickly as possible by following the directions below (free guide).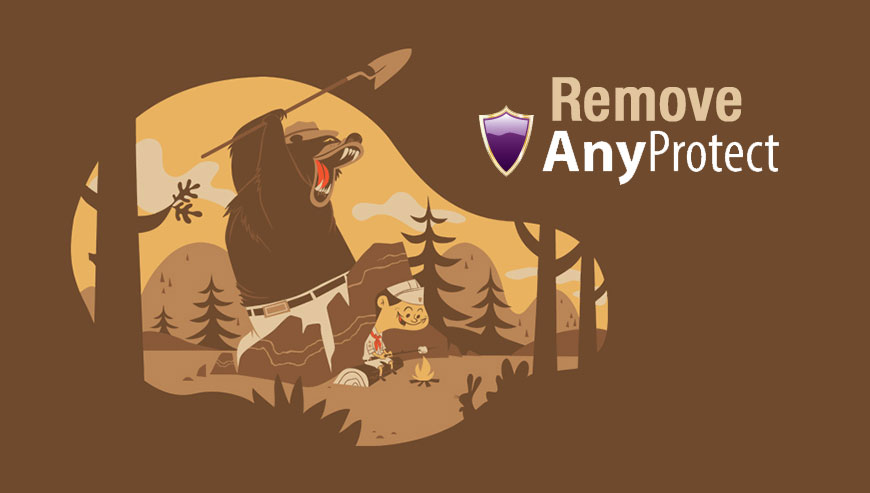 How to remove Anyprotect ?
This guide and removal tools are completely FREE. Follow all steps in correct order to completely and successfully remove Anyprotect.
Remove Anyprotect with CCleaner
Download and install CCleaner by Piriform by clicking the button below.
Download CCleaner

Once the program is installed go to the Cleaner section and click the Analyze button. Once the scan is complete, click the Run Cleaner button.
Then go to Tools > Startup and locate in each tab (starting with Windows, Internet Explorer) of suspicious statements which involve Anyprotect or similar names. Whenever click Remove and Delete .
Finally go to Tools > Uninstall , search for Anyprotect from the list and click Remove if you find it.
Remove Anyprotect with AdwCleaner
AdwCleaner is a helpful tool developed to eliminate unwanted toolbars, browser hijackers, redirects and potentially unwanted programs (PUPs) in Internet Explorer, Firefox, Chrome or Opera. AdwCleaner requires no set up and can be ran in a instant to scan your pc.
Please download AdwCleaner by Xplode and save to your Desktop :
Download AdwCleaner
Double-click on AdwCleaner.exe to run the tool (Windows Vista/7/8 users : right-click and select Run As Administrator).
Click on the Scan button.
After the scan has finished, click on the Clean button..
Press OK again to allow AdwCleaner to restart the computer and complete the removal process.
Remove completly Anyprotect with Junkware Removal Tool
Junkware Removal Tool (JRT) purges your system of PUPs (potentially unwanted programs) like Anyprotect almost as easily as they find their way into your system. JRT targets adware, toolbars, and other malicious, suspicious, and pernicious system parasites, removing not only the unwanted program but also any traces left behind in your registry and other places where debris accumulates.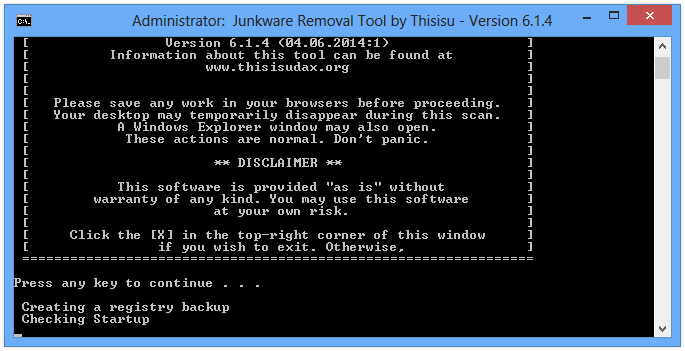 Download Junkware Removal Tool :
Download Junkware Removal Tool
Shut down your anti-virus, anti-spyware, and firewall software now to avoid potential conflicts.
Run the tool by double-clicking it. If you are using Windows Vista or Windows 7, right-click it and select Run as administrator.
The tool will open and start scanning your system.
Please be patient as this can take a while to complete depending on your system's specifications.
On completion, a log is saved to your desktop and will automatically open.
Remove Anyprotect with MalwareBytes Anti-Malware
Malwarebytes Anti-Malware is an important security program for any computer user to have installed on their computer. It is light-weight, fast, and best of all, excellent at removing the latest infections like Anyprotect.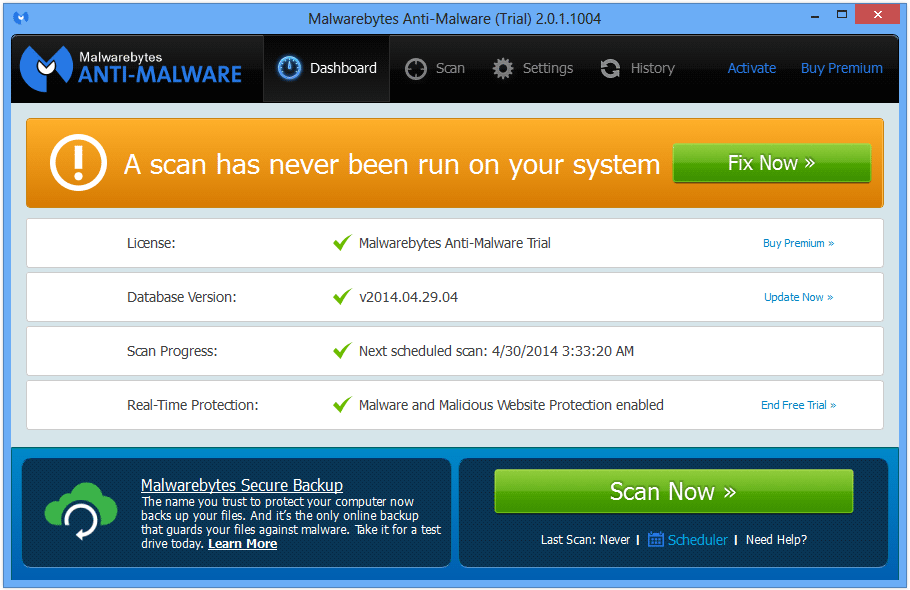 Download MalwareBytes Anti-Malware :
Premium Version Free Version (without Real-time protection)
Double-click mbam-setup-consumer.exe and follow the prompts to install the program.
Once installed, Malwarebytes Anti-Malware will automatically start and you will see a message stating that you should update the program, and that a scan has never been run on your system. To start a system scan you can click on the Fix Now button.
Malwarebytes Anti-Malware will now check for updates, and if there are any, you will need to click on the Update Now button.
Malwarebytes Anti-Malware will now start scanning your computer for Anyprotect.
When the scan is done, you will now be presented with a screen showing you the malware infections that Malwarebytes' Anti-Malware has detected. To remove the malicious programs that Malwarebytes Anti-malware has found, click on the Quarantine All button, and then click on the Apply Now button.
Reboot your computer if prompted.
Your computer should now be free of Anyprotect. If you are still experiencing problems while trying to remove Anyprotect from your computer, please start a new thread in our support page. Someone will give you free assistance very fast !
Click here to go to our support page
.