22Find is a malware program that modifies the settings of your Internet browsers, installs add-ons without asking your permission and slows down your PC and Internet connection.
22Find probably came into contact with your PC when you downloaded free software from a download portal such as Softonic, Eazel or Zdnet.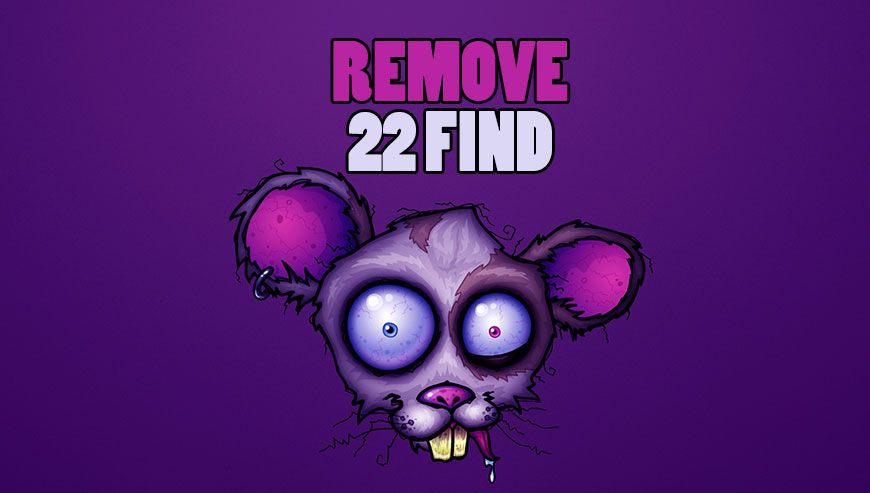 How to remove 22find ?
This is a comprehensive guide to eliminate 22find from your pc. Please perform all the instructions in the right order. All the software available in this removal guide is free and known to clean and optimize your computer.
Reset your browser (if necessary)
If after following the above steps 22find is still present on your computer, you can reset your browser by following the instructions below.
Your bookmarks and saved passwords are not deleted or modified.
Open Chrome.
Click on the Chrome menu button on the browser toolbar.
Select Settings.
Scroll down to the end of the page, search for Show advanced settings.
Scroll down once again to the end of the page and click Reset browser settings button.
Click Reset once more.
Your bookmarks and saved passwords are not deleted or modified.
Open Firefox
Go to the orange Firefox button in the top left.
Go over to the Help sub-menu, then select Troubleshooting Information.
Click the Repair Firefox button in the upper-right corner of the page.
Mozilla Firefox will automatically restart.
Open Internet Explorer.
Click on the gear icon , in the upper right part of your browser, then click again on Internet Options..
Click on the Advanced tab, then click on the Reset button.
In the Reset Internet Explorer settings section, select the Delete personal settings check box, then click on Reset button.
When Internet Explorer has completed its task, click on the Close button in the confirmation dialogue box.
Remove 22find with AdwCleaner
The AdwCleaner tool will examine your pc and internet browser for 22find, browser extensions and registry keys, that may have been put in your computer without your consent.
You can download AdwCleaner utility from the below button :
Download AdwCleaner
Before starting AdwCleaner, close all open programs and internet browsers, then double-click on the file AdwCleaner.exe.
If Windows prompts you as to whether or not you wish to run AdwCleaner, please allow it to run.
When the AdwCleaner program will open, click on the Scan button.
To remove malicious files that were detected in the previous step, please click on the Clean button.
Please click on the OK button to allow AdwCleaner reboot your computer.
Clean your shorcuts infected by 22find
This step is important !
Shortcut Cleaner is a utility that will scan your computer for Windows shortcuts that have been hijacked by 22find . When Shortcut Cleaner finds bad shortcuts, it will automatically clean them so that they do not open unwanted programs.
Download Shortcut Cleaner :
Download Shortcut Cleaner
Right click on the file sc-cleaner.exe and choose run as administrator, Windows XP user can just doubleclick on sc-cleaner.exe to start the program.
If the tool detects hijacked shortcuts, it will automatically clean them.
When the tool is ready, it will save a log file on your desktop, this file contains the information of the scanned and repaired shortcuts.
Remove 22find with MalwareBytes Anti-Malware
Malwarebytes Anti-Malware is a light-weight anti-malware program that is excellent at removing the latest detections.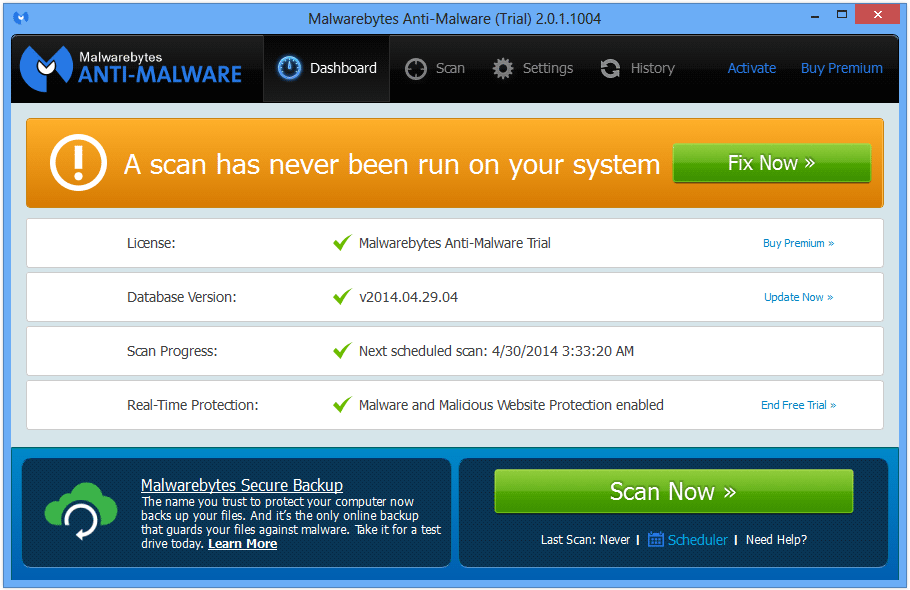 Download Malwarebytes Anti-Malware to your desktop.
Premium Version Free Version (without Real-time protection)
Install MalwareBytes Anti-Malware using the installation wizard.
Once installed, Malwarebytes Anti-Malware will automatically start and you will see a message stating that you should update the program, and that a scan has never been run on your system. To start a system scan you can click on the Fix Now button.
If an update is found, you will be prompted to download and install the latest version.
Malwarebytes Anti-Malware will now start scanning your computer for 22find.
When the scan is complete, make sure that everything is set to Quarantine, and click Apply Actions.
When removing the files, Malwarebytes Anti-Malware may require a reboot in order to remove some of them. If it displays a message stating that it needs to reboot your computer, please allow it to do so.
Your machine should now be free of 22find. If you are still experiencing problems while trying to remove 22find from your machine, please start a new thread in our support page. Someone will give you free assistance very fast !
Click here to go to our support page
.