123plays.com is a web address belonging to a domain often associated with unexpected ads seen as pop-ups or new tabs. As you can see 123plays.com is nothing but yet another advertising server among the thousands already out there.  This server is not directly infecting your server, however you're probably experiencing unexpected ads coming from 123plays.com opening-up all the time on your computer. What this shows is that there's at least one unwanted program installed on your computer. If you wish to remove 123plays.com you must start by finding out the adware calling up on this address so you can properly remove it. Note that you probable have more than one adware already installed on your system.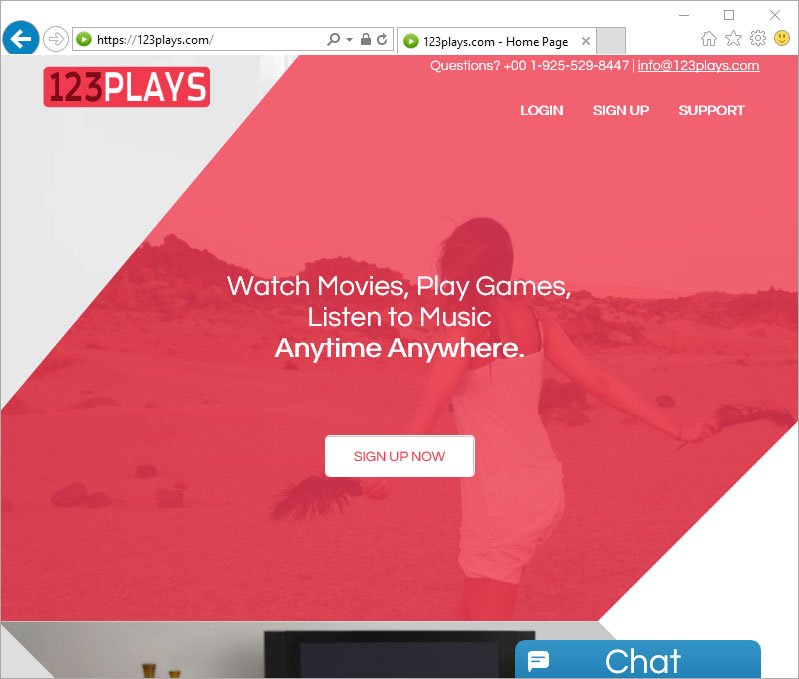 Usually when an adware has infected your computer, you installed yourself without noticing as you were adding a freeware to your system. Every time you download a free programs for certain websites, you'll be more than likely "forced" to install a potentially unwanted program as well. That's why you should be extra careful whenever you're installing something new.
Pop-ups shown by 123plays.com are not dangerous on their own, unless a malware is misusing them. It's not uncommon to see messages posing as security alerts that will take you to install malware. Besides that, there's no doubt that 123plays.com will slow down your computer, as well as visually contaminate your screen and last but not least it represents a threat for your privacy. Therefore the urgent need to remove 123plays.com as soon as we notice the slightest ad coming from that address.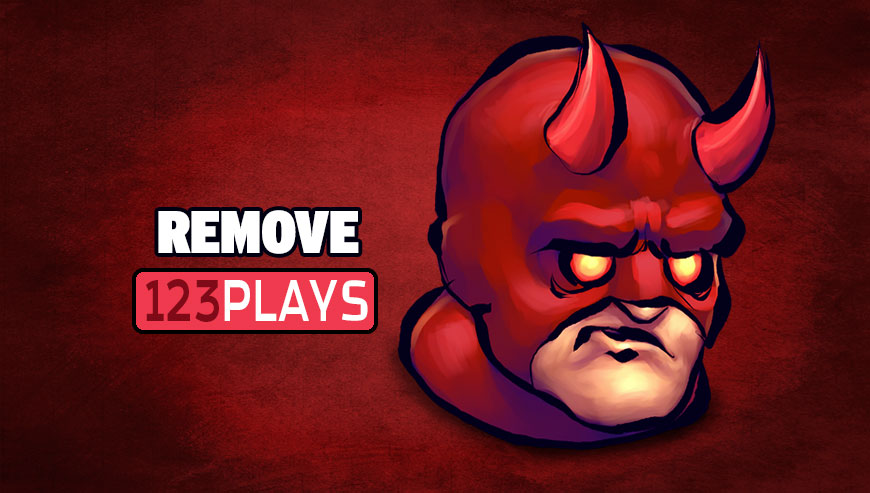 How to remove 123plays.com ?
This page is a comprehensive guide, which will remove 123plays.com from your computer. Please perform all the steps in the correct order.
Remove 123plays.com with MalwareBytes Anti-Malware
Malwarebytes Anti-Malware is a light-weight anti-malware program that is excellent at removing the latest detections.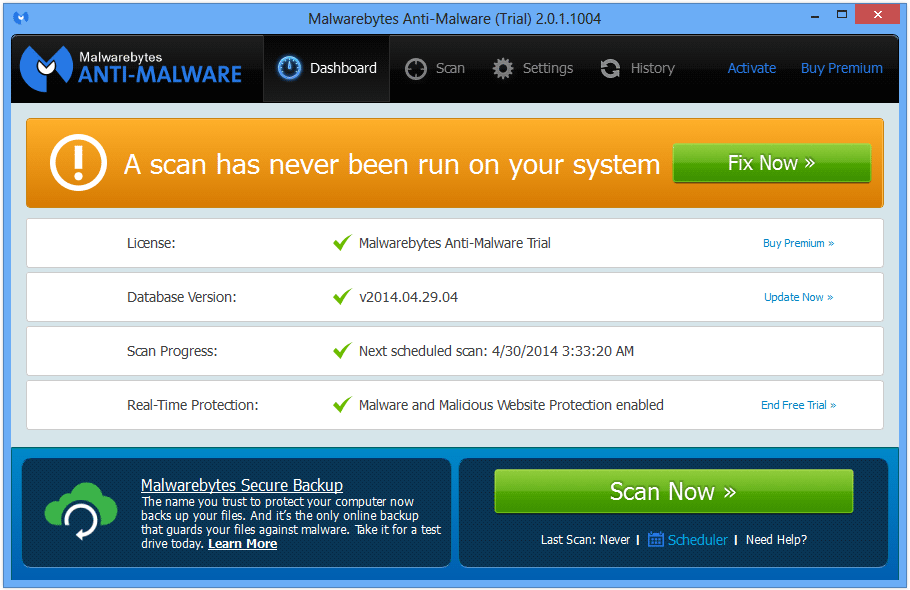 Download Malwarebytes Anti-Malware to your desktop.
Premium Version Free Version (without Real-time protection)
Install MalwareBytes Anti-Malware using the installation wizard.
Once installed, Malwarebytes Anti-Malware will automatically start and you will see a message stating that you should update the program, and that a scan has never been run on your system. To start a system scan you can click on the Fix Now button.
If an update is found, you will be prompted to download and install the latest version.
Malwarebytes Anti-Malware will now start scanning your computer for 123plays.com.
When the scan is complete, make sure that everything is set to Quarantine, and click Apply Actions.
When removing the files, Malwarebytes Anti-Malware may require a reboot in order to remove some of them. If it displays a message stating that it needs to reboot your computer, please allow it to do so.
Remove 123plays.com with AdwCleaner
AdwCleaner is a tool that looks for and removes Adware, Toolbars, Potentially Unwanted Programs (PUP), and browser Hijackers from your system. By using AdwCleaner you can quickly remove many of these types of applications for a better user experience on your computer and while browsing the internet.
Download AdwCleaner (Official link and direct-download) :
Download AdwCleaner
Select AdwCleaner.exe with right mouse click and Run as Administrator.
If User Account Control asks you to allow AdwCleaner.exe to make changes to your computer, press Yes to continue.
Start scanning your computer for any malicious threats by selecting the Scan button, please wait.
If AdwCleaner is done, it will display a list of malicious items detected, If you have nothing to uncheck, continue to the removal process and select the Clean button.
Reboot your computer.
Remove 123plays.com with HitmanPro
HitmanPro is a second opinion scanner, designed to rescue your computer from malware. HitmanPro is designed to work alongside existing security programs without any conflicts. HitmanPro offers you a Free Scan for a second opinion.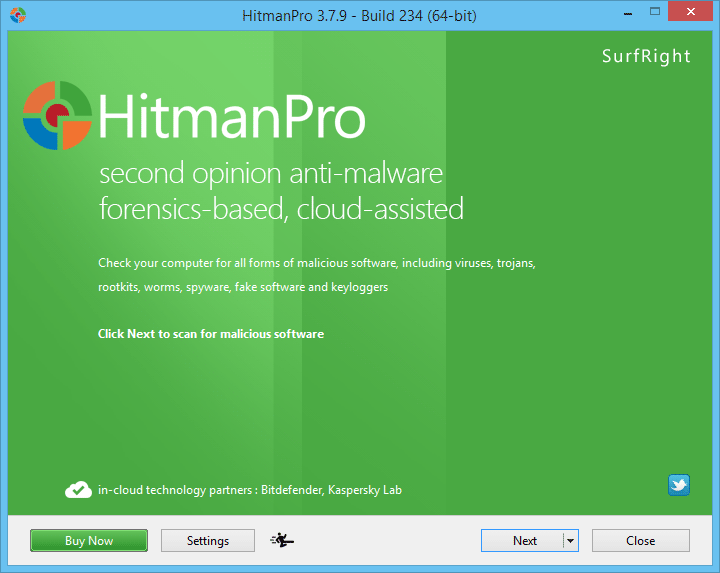 You can download HitmanPro from the below link:
Download HitmanPro
Double-click on the file named HitmanPro.exe (for 32-bit versions of Windows) or HitmanPro_x64.exe (for 64-bit versions of Windows).
Click on the Next button, to install HitmanPro on your computer.
HitmanPro will now begin to scan your computer for 123plays.com malicious files.
When it has finished it will display a list of all the malware that the program found as shown in the image below. Click on the Next button, to remove 123plays.com virus.
Reset your browser (if necessary)
If you still see traces of 123plays.com after following all the steps above you can reset your browser performing this operation:
Your bookmarks and saved passwords are not deleted or modified.
Open Chrome.
Click on the Chrome menu button on the browser toolbar.
Select Settings.
Scroll down to the end of the page, search for Show advanced settings.
Scroll down once again to the end of the page and click Reset browser settings button.
Click Reset once more.
Your bookmarks and saved passwords are not deleted or modified.
Open Firefox
At the top of the Firefox window, click the Firefox button.
Go over to the Help sub-menu, then select Troubleshooting Information.
Click the Repair Firefox button in the upper-right corner of the page.
Firefox will automatically restart.
Your bookmarks and saved passwords are not deleted or modified.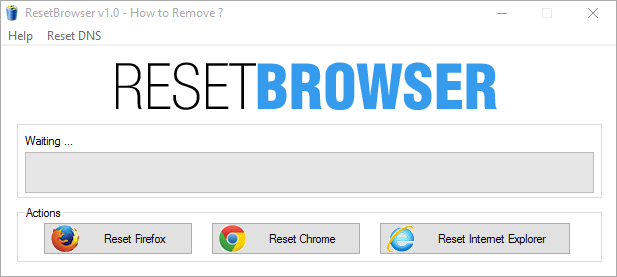 Download ResetBrowser :
Download ResetBrowser
Download the tool, save it on your desktop and double-click on it.
Read the disclaimer and press the Ok button.
Click the Reset Chrome button and wait.
Once the process is finished, click onOpen Chrome 123plays.com should now be deleted from Firefox.
Your computer should now be free of 123plays.com. If you are still experiencing problems while trying to remove 123plays.com from your computer, please start a new thread in our support page. Someone will give you free assistance very fast !
Click here to go to our support page
.