Web Bar is an adware, in other words an unwanted software. It's a new way for the browser hijacker called Trovi (developed by ClientConnect) to enter you computer. In this particular case Web Bar presents itself as a new search bar available at the top of your screen.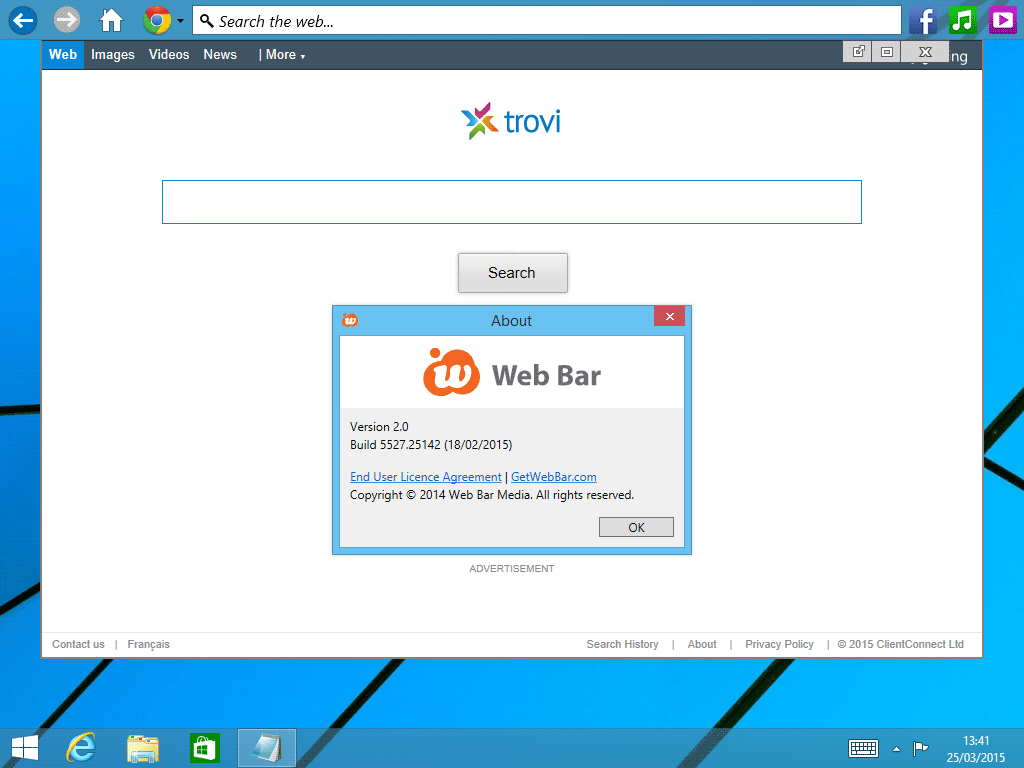 This bar allows you to go directly to Facebook or YouTube with its icons. However if you use the home button (shown as a little house) you'll be redirected to the browser hijacker Trovi…
This malicious software is distributed from different sources: you can download it from their "official" website or you could have gotten infected with a fake plug-in or fake software like the ones easily found in streaming websites. See below a good example of a setup program discretely offering Web Bar.
This annoying tool is always running in your computer trying to take out a good analysis of the way you browse, first of all to be able to show you customized ads that will pay them for it. However, you should know that adware like this also use all collected data to sell them afterwards.
It is best always to check with mindful attention everything offered when you're installing something. Don't try to go too fast by just clicking "Next". Whenever possible use the "Advanced" or "Customize" option so you can remove every optional software offered along, as they can easily be dangerous for your computer.
You should know that
Web Bar
is detected as suspicious by 19 anti-viruses.
File name:
web_bar_setup_2.0.5604.20722_2pdc570ab9.exe
Common path:
C:\Users\Jean\AppData\Local\Microsoft\Windows\Inetcache\Content.ie5\Random\web_bar_setup_2.0.5604.20722_2pdc570ab9.exe
Analysis date:
16 August 2016
Scanner detections:
19 / 54
Malwarebytes
PUP.Optional.WebBar
ESET-NOD32
a variant of Win32/WebBar.A potentially unwanted
Kaspersky
not-a-virus:WebToolbar.Win32.WebBar.a
SUPERAntiSpyware
PUP.WebBar/Variant
K7GW
Adware ( 004cec2c1 )
K7AntiVirus
Adware ( 004cec2c1 )
NANO-Antivirus
Riskware.Win32.WebBar.ebdovo
Zillya
Adware.WebBarCRTD.Win32.301
Jiangmin
WebToolbar.WebBar.af
Antiy-AVL
RiskWare[WebToolbar]/Win32.WebBar.a
GData
Win32.Application.Agent.J76LHA
Show the other 15 anti-virus detections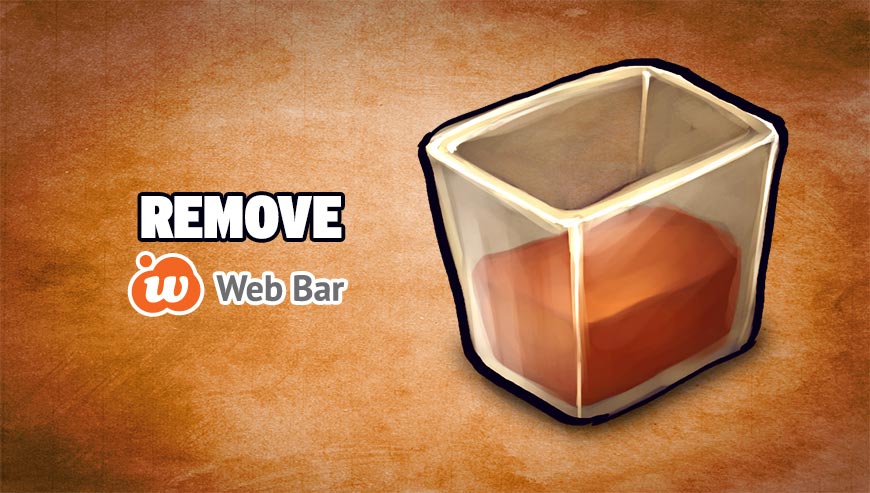 How to remove Web Bar ?
This guide and removal tools are completely FREE. Follow all steps in correct order to completely and successfully remove Web Bar.
Remove Web Bar with CCleaner
Download and install CCleaner by Piriform by clicking the button below.
Download CCleaner

Once the program is installed go to the Cleaner section and click the Analyze button. Once the scan is complete, click the Run Cleaner button.
Then go to Tools > Startup and locate in each tab (starting with Windows, Internet Explorer) of suspicious statements which involve Web Bar or similar names. Whenever click Remove and Delete .
Finally go to Tools > Uninstall , search for Web Bar from the list and click Remove if you find it.
Remove Web Bar with AdwCleaner
The AdwCleaner program will examine your computer and internet browser for Web Bar, browser extensions and registry keys, that may have been installed on your system without your agreement.
You can download AdwCleaner utility from the below button :
Download AdwCleaner
Before starting AdwCleaner, close all open programs and internet browsers, then double-click on the file AdwCleaner.exe.
If Windows prompts you as to whether or not you wish to run AdwCleaner, please allow it to run.
When the AdwCleaner program will open, click on the Scan button.
To remove malicious files that were detected in the previous step, please click on the Clean button.
Please click on the OK button to allow AdwCleaner reboot your computer.
Remove Web Bar with MalwareBytes Anti-Malware
Malwarebytes Anti-Malware is an important security program for any computer user to have installed on their computer. It is light-weight, fast, and best of all, excellent at removing the latest infections like Web Bar.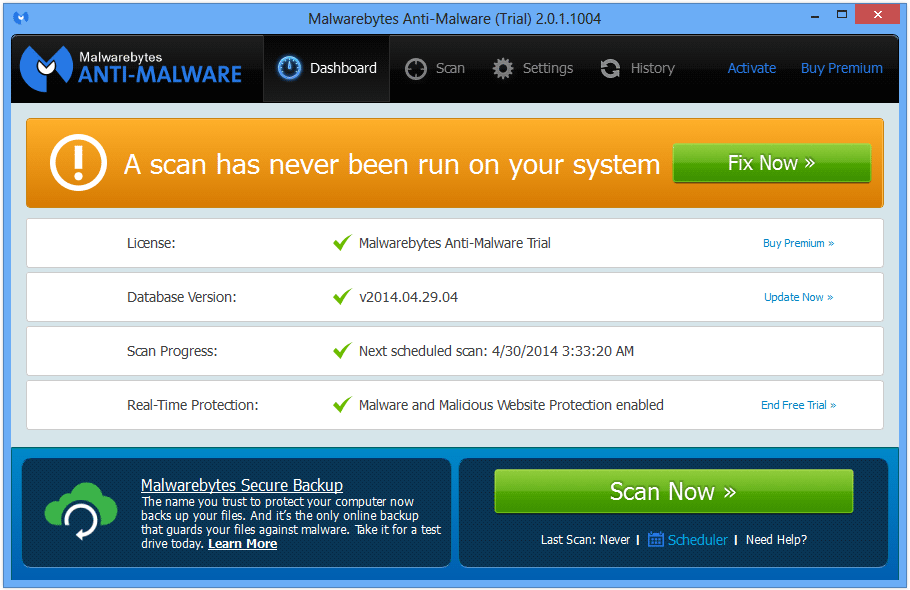 Download MalwareBytes Anti-Malware :
Premium Version Free Version (without Real-time protection)
Double-click mbam-setup-consumer.exe and follow the prompts to install the program.
Once installed, Malwarebytes Anti-Malware will automatically start and you will see a message stating that you should update the program, and that a scan has never been run on your system. To start a system scan you can click on the Fix Now button.
Malwarebytes Anti-Malware will now check for updates, and if there are any, you will need to click on the Update Now button.
Malwarebytes Anti-Malware will now start scanning your computer for Web Bar.
When the scan is done, you will now be presented with a screen showing you the malware infections that Malwarebytes' Anti-Malware has detected. To remove the malicious programs that Malwarebytes Anti-malware has found, click on the Quarantine All button, and then click on the Apply Now button.
Reboot your computer if prompted.
Reset your browser (if necessary)
If you still see traces of Web Bar after following all the steps above you can reset your browser performing this operation:
Your bookmarks and saved passwords are not deleted or modified.
Open Chrome.
Click on the three stripes button in the right top corner.
Select Settings.
Scroll down to the end of the page, search for Show advanced settings.
Scroll down once again to the end of the page and click Reset browser settings button.
Click Reset once more.
Your bookmarks and saved passwords are not deleted or modified.
Open Firefox
Go to the orange Firefox button in the top left.
Go over to the Help sub-menu, then select Troubleshooting Information.
Click on the Repair Firefox button and confirm.
Firefox will automatically restart.
Your bookmarks and saved passwords are not deleted or modified.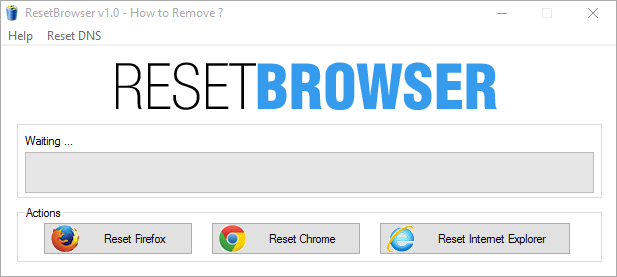 Download ResetBrowser :
Download ResetBrowser
Download the tool, save it on your desktop and double-click on it.
Read the disclaimer and press the Ok button.
Click the Reset Chrome button and wait.
Once the process is finished, click onOpen Chrome Web Bar should now be deleted from Firefox.
Your machine should now be free of Web Bar. If you are still experiencing problems while trying to remove Web Bar from your computer, please start a new thread in our support page. Someone will give you free assistance very fast !
Click here to go to our support page
.